An interview with Jo Ann Pegues, dietitian, author and grandmother
Jo Ann Pegues knows something about savory foods. In fact, her latest book is titled, Simple, Soulful, Savory Too, a follow-up to her 2014 book, Simple Soulful, Savory. Pegues is a registered dietitian who is a member of the Academy of Nutrition and Dietetics and has served as president of the National Organization of Blacks in Dietetics and Nutrition and the Colorado Dietetic Association among other roles. These days, she is retired but still volunteers in the community and at local churches to teach healthy lifestyle habits mostly in the form of cooking.
In the updated cookbook, Pegues gives us even more practical, truly delicious, healthy soul food concoctions—some of her own design and others offered from friends and family. True to the book's name, each recipe is pleasantly easy.
What will I do with this now? It's the question home cooks often find ourselves wondering with left over dandelion, fig leaves, horseradish root, and other difficult to use recipe ingredients. The vast majority of the spices and ingredients in Pegues' books are kitchen favorites you probably already have or are easily accessible at your local grocer. Additionally, Pegues' recipes do not require heavy duty cooking equipment and oddly specific tools; they're recipes that anyone who cooks even moderately would have the materials for. She doesn't want people to believe they need to be extravagant to cook good food.
And what about those soulful flavors?…
MSGdish got a chance to talk with Jo Ann to learn more about her life, food and her life with food.
MSGdish (M): What led you to work and focus more in African-American communities?
Jo Ann (J): During my career I worked for the US Administration on Aging, and traveled extensively but didn't necessarily get to work with African-American people. After I retired, I started working in African-American communities and realized we as African-Americans tend to fall in the high risk category of—well, everything. I wanted to help African-Americans and the people in our communities have healthier lives and eat well.
M: What types of flavors and food items define African-American food? Why do some people think healthy soul food is out of reach?
J: It's often difficult convincing people they can enjoy healthy soul food; cooked without salt, fat and sugar. A lot of what we do is because of things that were passed down from our ancestors and back then, people didn't know any better; they used what they had. You might like deep fried chicken, but you can prepare it just as well in the oven without all the fat. I have to change the mindset. What I learned is, people need to see, feel and taste. You can stand and talk all day long, but you have to be able to show what the food looks like and tastes like. When I do my hands-on cooking class, I'm always surprised at how many people have poor cooking skills (by cooking skills, she means healthy habits in the kitchen). People don't do because they don't know. It hasn't been taught to them. Food is everywhere but making healthy choices is difficult.
M: Did you know you have 32 recipes in the book that are sources of free glutamate (soy sauce, potatoes, tomatoes, parmesan, peas, mushrooms, corn)?
J: Oh I didn't know that. That's great. Now I can talk about it [in my classes]. That's good to know. I heard and learned some things about umami.
M: We previously talked a little about what the people in your classes say about MSG. What are their misconceptions and hesitations? How do you combat that?
J: Right now I'm doing a cooking class for a hunger organization and the families can come and shop in our market for donated foods. When I prepare to start my classes, I always ask if there are any allergies. People say different things; it's always interesting to hear what people say and why they think they are sensitive to certain foods. Every once in a while someone will say they're allergic to MSG. I can't tell people that they aren't allergic. So what I say is how it enhances the flavor. There's always somebody. If you don't like it, you don't need to include it.
M: What is your favorite recipe in the book that you would probably add MSG to for a flavor boost?
J: I add MSG to several things, and I'm always adding soy sauce. My grandkids come over and they want soy sauce on their rice. I add MSG to soups, I make a lot of vegetable dishes at home. Generally I'm adding MSG to mixtures like that.
M: A lot of your food is diabetic friendly; do you have a lot of personal experiences with diabetes?
J: There are people in my family who have diabetes, but none in the immediate family. There are some people on my husband's side and I've seen the impact that diabetes has had on them.
M: What would you like readers to take away from this book?
J: I would like people to focus on preparing vegetables in different ways and increase their intake from that food group. You can eat healthy and it can taste good. It can still be soul food; but it is food that it is soulfully cooked. I prepared a meal yesterday for a class and it was with spaghetti squash. Initially I was going to make it with classic spaghetti sauce, however; I discovered there was some mozzarella cheese and kale and I ended up making a kale, spaghetti squash quiche.
M: That sounds amazing!
J: It really was. I want people to know you can use what you have. If you don't have something, figure out what you have and use that instead. It'll be good.
Jo Ann was kind enough to allow us to share one of the soulful (and umami-ful!) recipes from her book: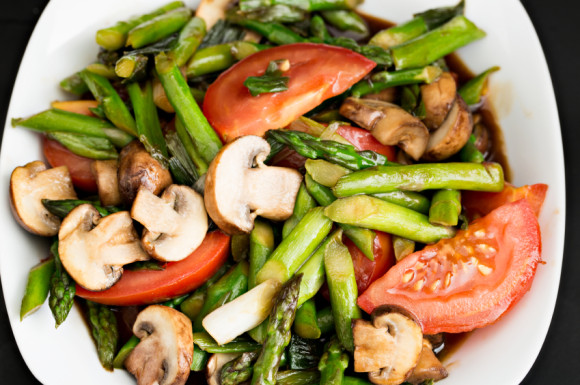 Five-Veggie Stir Fry Recipe
Ingredients
2

Tbsp

cornstarch

2

Tbsp

sugar

½

tsp

ground ginger or fresh grated

1

cup

orange juice

¼

cup

reduced-sodium soy sauce

2

garlic cloves

minced

2

large carrots (sliced)

or tomatoes

2

cups

broccoli florets

2

cups

cauliflower

cut into bite-sized pieces

4

tsp

olive oil or canola oil

divided

1

cup

fresh mushrooms

quartered

1

cup

fresh or frozen snow peas

or asparagus

4

cups

hot cooked brown rice
Instructions
In a small bowl combine cornstarch, sugar and ginger.

Stir in orange juice, soy sauce and garlic; mix well until blended. Set aside in nonstick skillet or wok.

Stir-fry carrots, broccoli and cauliflower in 3 teaspoons of oil for 4-5 minutes

Add in mushrooms, peas and remaining 1 teaspoon oil; stir-fry vegetables for 3 minutes. Stir in orange juice mixture and bring to a boil over medium high heat. Stir vegetables and liquid mixture and cook until thickened.

Serve immediately over rice.
Note: 1 serving = 1 cup rice + 1 cup veggies
More Delicious Savory Foods & Umami Recipes: