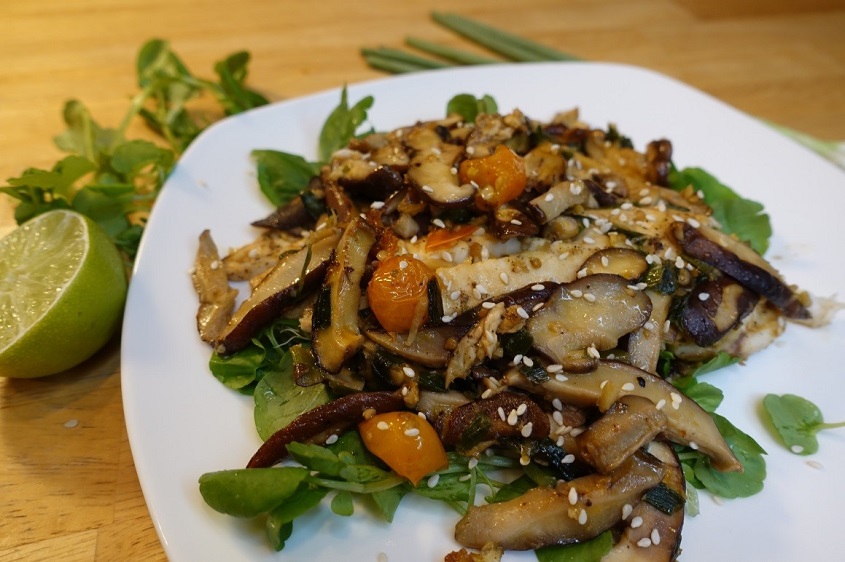 What if you couldn't taste food? Imagine not enjoying that creamy stroganoff or that salty pizza. How would you feel about that?
You're probably thinking, "OMG! Eating would be so boring." But hey, isn't that one of the reasons you haven't tried the latest diet craze? Because broccoli and avocado don't taste as good as pizza, right? So, let's look at the bright side of it.
You probably would eat healthier if you couldn't tell the difference between the taste of a hamburger and a salad, and you'd finally lose those extra pounds for that beach vacation you and your significant other have been planning for months because you would definitely eat, and only eat salad every day. Duh!
Well, there are two things to tell you, my friend. One: there is more at play here than the taste of food when it comes to eating. Ask anyone who's tried to change their eating habits for whatever reason or talked to a nutritionist. Our olfactory system and the texture of the food are also key factors to culinary enjoyment.
However, number two, you do not have to ignore your taste buds to eat healthier. As mentioned before, it is challenging to change diet and habits, that's why you have to do it slowly. A good idea is to start giving a boom of flavor in entrees that are less caloric like fish, for example (see recipe below!). Yes, I know! Fish when prepared at home can be notoriously bland (some would say boring), but with an umami burst and a little bit of creativity, you can drool over this savory dish. That way, you are eating healthier but, hopefully, still enjoying your meal.
Because we are MSG Dish, it is hard to talk about flavor without mentioning the flavor enhancer monosodium glutamate. MSG will provide your meal with less salt and more umami taste. If you have never perceived the taste of umami, think about how tomato, mushrooms, or cheese taste. Delicious, right? You can combine salt and MSG to enhance the flavor of savory dishes, while also decreasing your sodium intake. Although it can vary, you usually want to use 2/3 of salt and 1/3 of MSG when cooking, resulting in 25% less sodium (MSG has less sodium by weight than salt).
If you're interested in learning more about MSG, I suggest you check the MSGdish.com post "Great Taste with Less Salt and More Umami" from Chef Chris Koetke. 
The Keto Umami Fish Recipe
Now, let's jump directly into the most tasteful part of this blog: THE RECIPE. I prepared a special entrée for you today. It's light. It's healthy. It's keto. It's fresh. It's umami. Did I forget anything else? Oh! It's DELICIOUS (of course).
It's not a complicated recipe, and like any other fish, it does not take long to prepare and cook it. You will need a big round skillet for this one. Don't forget to serve it still warm. I hope you like it.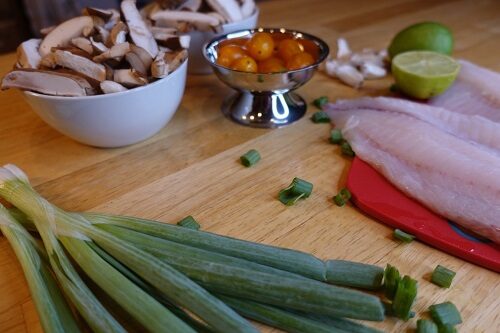 Keto Umami Tilapia
Fish when prepared at home can be notoriously bland, but with an umami burst and a little bit of creativity, you will love this savory umami fish dish.
Ingredients
1 ½

Tbsp.

soy sauce or coco aminos

200

g (7 oz.)

Shiitake mushrooms

1

bunch

scallions

trimmed (only the green part)

6

cherry tomatoes

3

cloves

garlic

finely chopped

1

lime

3

tsp.

olive oil

2

medium tilapia fillets

1

tsp.

salt

pepper

to taste

½

tsp.

MSG

aka umami seasoning

sesame seeds

thyme
Instructions
Season the tilapia with salt, pepper and half of the lime. Put it aside.

Finely chop the scallions and the garlic. Cut the tomatoes in half.

In a skillet, use 1 teaspoon of olive oil and add the scallions, garlic, tomato, and mushrooms.

Add 1 tablespoon of coco aminos (soy sauce) and ½ teaspoon of MSG. Cook for 8 minutes. Put it aside.

Warm the same skillet and place the fillets inside. Squeeze the other half of the lime and sprinkle thyme. On low heat, cook each side for about 3 minutes or until fully cooked.

Add the mushrooms, tomato, garlic and scallion mixture. Sprinkle sesame seeds.

Add ½ tablespoon of coco aminos. Let the dish cook for about 2 minutes.

Serve with desired greens. I used watercress, but this dish is yummy with any leafy green.
Hope you enjoy the video I put together while making this Keto Umami Fish!: