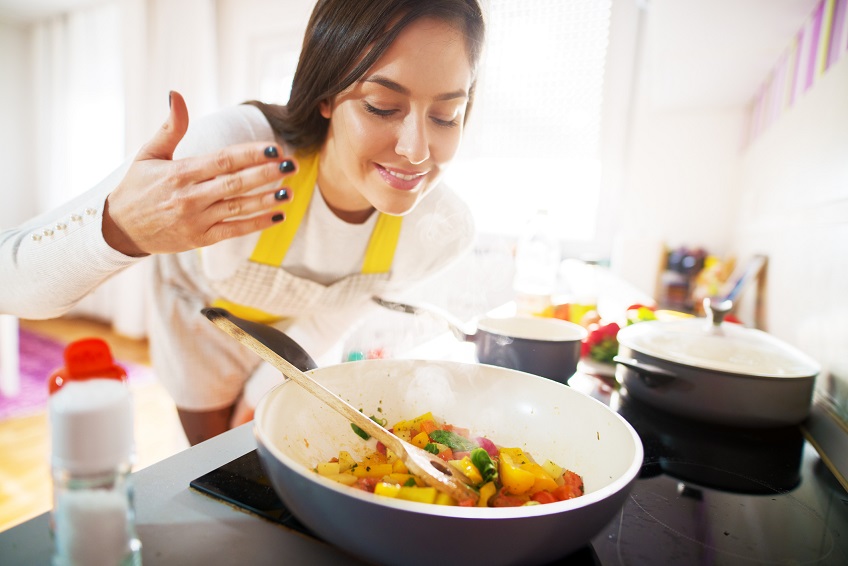 If we had no winter, the spring would not be so pleasant.
– Anne Bradstreet
Like many of us, you're probably counting the days until spring weather arrives. But even if the calendar says spring is just around the corner, winter weather often extends well into April. That's why it's not too late to prepare a few tummy-warming, savory recipes that can help make a cold night more tolerable.
In place of more traditional cold weather comfort foods (e.g., chili, macaroni and cheese), why not try something different for a change? All of these hand-selected recipes below are loaded with umami savoriness that will make anyone's taste buds smile, no matter the weather. You also don't need any special culinary skills or unusual ingredients to prepare these recipes. By simply adding flavor-enhancing glutamate (in the form of umami seasoning), the dishes will be extra savory and extra delicious.
Whether you try one of these savory recipes or all of them, be sure to bookmark this page so you can come back again, regardless of the weather. Enjoy!
Savory Appetizers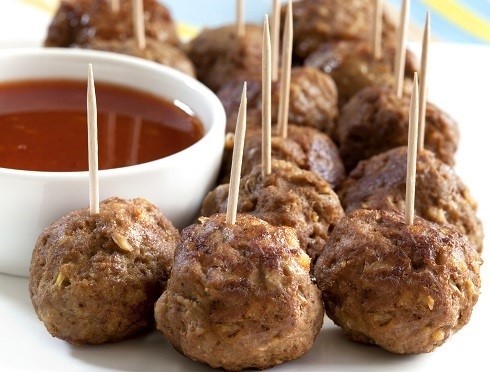 Sweet and Sour Meatballs
Ingredients
1 1/2

lb.

lean ground beef

1

egg

1/2

cup

milk

1/2

cup

seasoned dry bread crumb

1

tsp.

seasoning salt

1/2

tsp.

fresh ground black pepper

3

Tbsp.

minced dehydrated onion or 1 medium onion

finely chopped

1/2

tsp.

MSG

1

tsp.

Worcestershire sauce

1

10 oz. jars grape jelly

1

12 oz. jars chili sauce

1

tsp.

soy sauce

1/2

tsp.

ground ginger

Salt & freshly ground black pepper

optional
Instructions
Combine first 9 ingredients thoroughly. Form into 3/4″ meatballs by using a melon-baller to scoop the meatballs; roll balls between the palms of your hands to shape them; set meatballs on a cookie sheet as you go, and chill to set them. NOTE: do not precook the meatballs.

Combine jelly, chili sauce, soy sauce and ginger in a large deep skillet or serving pan over low heat. Stir until smooth and heat to boiling, stirring frequently.

Add meatballs; bring back to a boil; reduce heat, cover, and cook over moderately low heat for at least 30-40 minutes, turning gently once.

If desired, blot the surface of the sauce with paper towels to remove any grease. (Note: There should be little or no grease if you use lean ground beef.) If desired, adjust sauce seasoning with salt and pepper to taste.

Serve hot in a chafing dish or keep warm in a small crockpot.
Recipe Notes
Recipe courtesy of Food.com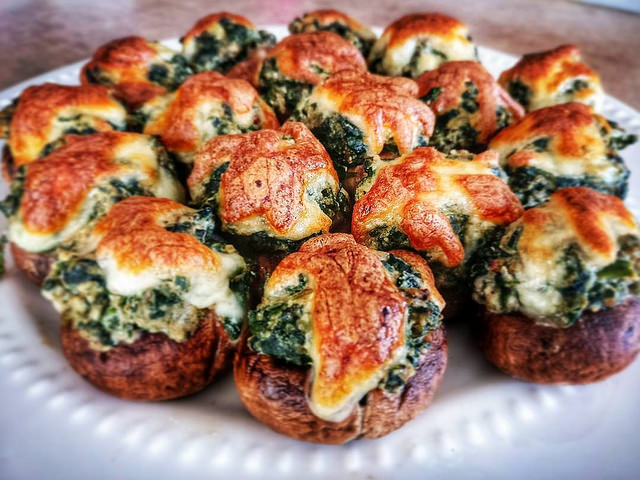 Spinach Cheese Stuffed Mushrooms
Ingredients
48

fresh whole baby portabella or white mushrooms

1 ½ to 2 inches in diameter

1

package 8 oz. cream cheese

softened

1

box 9 oz. frozen chopped spinach

thawed, squeezed to drain

1

cup

freshly grated Parmesan cheese

½

tsp.

salt

¼

tsp.

freshly ground black pepper

1/8

tsp.

ground red pepper

cayenne

¼

tsp.

MSG

½

cup

panko crispy bread crumbs

2

Tbsp.

butter or margarine

melted
Instructions
Preheat oven to 350°F. Remove stems from mushroom caps; reserve caps. Discard stems.

In large bowl, mix cream cheese, spinach, 1/2 cup of the Parmesan cheese, the salt, both peppers and MSG until well blended.

In small bowl, mix remaining 1/2 cup Parmesan cheese, the bread crumbs and butter.

Spoon filling into mushroom caps, mounding slightly. Place mushrooms in ungreased 17×12-inch half-sheet pan. Sprinkle bread crumb mixture over filled mushroom caps, pressing lightly.

Bake 20 to 22 minutes or until thoroughly heated.
Recipe Notes
Mushrooms, filling and topping can be prepared the day before, packaged separately and refrigerated. On the day of the party fill mushrooms, refrigerate, and then bake just before the party.
Parmesan Cheese: Levels of glutamate (1200mg/100g)
Mushrooms: Levels of glutamate (180 mg/100g)
Recipe courtesy of BettyCrocker.com 
Photo credit: Flickr user, Team WayLay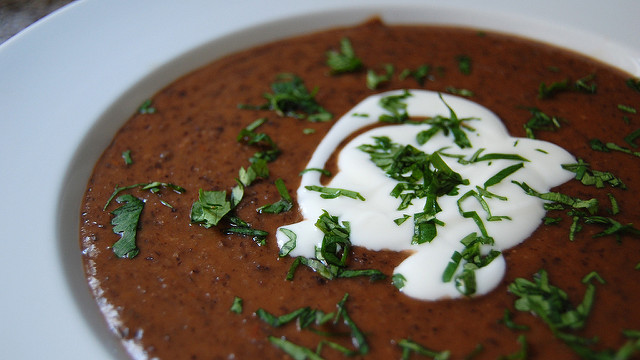 Black Bean Soup
This soup recipe was modified from The American Diabetes Association and The American Dietetic Association Family Cookbook Volume II. It is lower in sodium than that version yet has all the flavors you expect from a hearty soup such as this.
Servings
8
1-cup servings
Ingredients
1

lb.

dried black beans

2

quarts

water

1 3/4

tsp.

salt

2

Tbsp.

olive oil

2

cups

chopped onions

1

cup

chopped green pepper

optional

2

tsp.

minced garlic

1

tsp.

ground cumin

1

tsp.

oregano

1/4

tsp.

dry mustard

1

Tbsp.

lemon juice

3/4

tsp.

MSG

1

dollop

sour cream

optional; 1 dollop per bowl
Instructions
Presoak beans in water overnight or use quick-cook method on package.

After soaking beans, add salt and bring to a boil; cover and simmer on low heat for 2 hours.

Heat oil, add onions, and sauté about 5 minutes. Add green pepper and sauté until onions are tender.

Stir in remaining ingredients. Add about 3/4 cup hot bean liquid, cover and simmer 10 minutes.

Add onion mixture to beans and continue to cook 1 hour, stirring occasionally.

Serve with rice, if desired.
Savory Entrees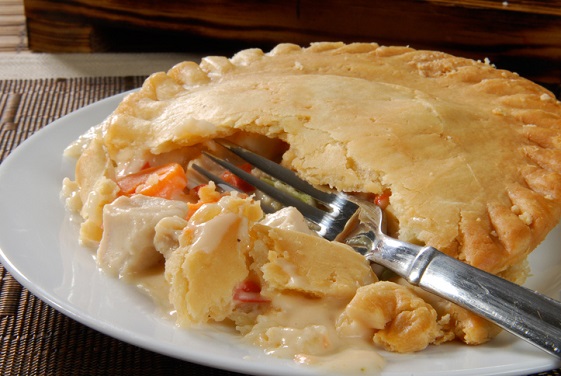 Homemade Chicken Pot Pie
Ingredients
2

potatoes

peeled, cubed and cooked

2

⁄3 cup frozen peas

cooked

2

carrots

peeled, sliced and cooked

2

tablespoons

chopped onions

2

cups

cooked chicken

2

cans condensed cream of chicken soup

dash of salt and pepper

dash of monosodium glutamate

MSG

refrigerated pie crust

melted butter
Instructions
In a bowl, combine all vegetables and chicken; mix with the cream of chicken soup and seasonings.

The mixture should be thick, but not too thick; if the mixture appears too thick, add very small amount milk to the mixture.

Scoop the mixture into individual pie pans (pans are approximately 4" in diameter). Set aside.

After laying out the pie crust on a clean surface, cut into 4-6 rounds that are large enough to top each pie.

Place one piece of crust over the chicken mixture, crimp, then brush with melted butter.

Bake in a 375 degrees F oven for 15 to 25 minutes or until pies are heated throughout and the crust is golden brown.
Peanutty Chicken with Rice
Ingredients
2

large boneless

skinless chicken breasts

1/2

teaspoon

salt

1

tablespoon

plus 1 teaspoon of soy sauce

1

tablespoon

plus 1 teaspoon of cornstarch

1

scallion

1

small clove garlic

1/8

teaspoon

monosodium glutamate

MSG

1

teaspoon

sugar

Few drops vinegar

1

teaspoon

sherry

1

slice

fresh ginger

minced

Few drops sesame seed oil

1/4

cup

cooking oil

1/4

cup

blanched peanuts

1/2

to 1 teaspoon hot chili pepper flakes

to taste

cooked rice
Instructions
Cut chicken into small pieces (each should be a little larger than the peanuts). Mix chicken with salt, 1 teaspoon soy sauce and 1 tablespoon cornstarch.

Split scallion lengthwise and cut into 1 inch sections. Cut garlic into slivers.

In a small bowl, mix together the remaining soy sauce and cornstarch, MSG, sugar, vinegar, sherry, scallion, garlic, ginger and sesame oil. Set aside.

Heat oil in frying pan. Add peanuts and stir until golden. Add hot pepper flakes, then chicken. Cook for 1 minute. Add the soy sauce mixture to the chicken and cook just until sauce thickens and coats the chicken.

Serve over cooked rice.
Recipe Notes
photo credit: http://recipes.wikia.com/wiki/Recipes_Wiki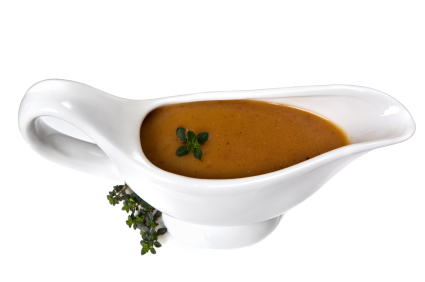 Country-Fried Steak and Gravy
Ingredients
1/2

teaspoon

freshly ground black pepper

8

tenderized beef round steak

4-ounce, often called cubed steak

1

teaspoon

seasoning salt

3/4

cup

vegetable oil

1½

teaspoons

salt

4

cups

hot water

1/2

teaspoon

monosodium glutamate

MSG

1

bunch green onions

or 1 medium yellow onion, sliced

1

teaspoon

House Seasoning

recipe below
House Seasoning:
1

cup

salt

1/4

cup

black pepper

1/4

cup

garlic powder
Instructions
Combine 1 1/2 cups flour and 1/4 teaspoon of the pepper in a small bowl. Sprinkle 1 side of the meat with one teaspoon of the House Seasoning and the other side with the seasoning salt, and then dredge the meat in the flour mixture.

Heat 1/2 cup oil in a large heavy skillet over medium-high heat. Add 2 or 4 of the steaks to the hot oil, and fry until browned, about 5-6 minutes per side.

Remove each steak to a paper towel-lined plate to drain. Repeat with the remaining steaks, adding up to 1/4 cup more oil, as needed.

Make the gravy by adding the 2 tablespoons remaining flour to the pan drippings, scraping the bottom with a wooden spoon. Stir in the remaining 1/4 teaspoon pepper and the salt.

Reduce the heat to medium and cook, stirring frequently, until the flour is medium brown and the mixture is bubbly.

Slowly add the water and the MSG, stirring constantly. Return the steaks to the skillet and bring to a boil over medium-high heat. Reduce the heat to low, and place the onions on top of the steaks. Cover the pan and simmer for 30 minutes.
Recipe Notes
The House Seasoning can be stored in an airtight container for up to 6 months.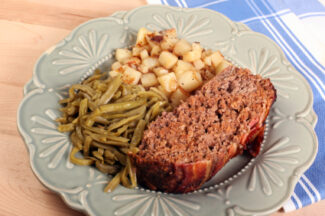 Ann Lander's Sister's Meatloaf Recipe
This recipe is rumored to have been a favorite of the late Ann Lander's sister! And just a teaspoon of MSG brings this family favorite to life!
Ingredients
2

lbs.

lean ground beef

2

eggs

1 1/2 

cups

dry bread crumbs

1/4

cup

ketchup

1

tsp.

MSG

1/2

cup

warm water

1

1 oz. pkg.

dry onion soup mix

2

slices

bacon

1

8 oz. can

tomato sauce
Instructions
Preheat oven to 350º F.

In a large bowl, combine the beef, eggs, crumbs, ketchup, MSG, water, and soup mix.

Mix well and spoon into a regular-size loaf pan.

Cover top with 2 slices of bacon, then pour tomato sauce over all.

Bake in a preheated oven for 1 hour.
Recipe Notes
Recipe courtesy of Msginfo.com.