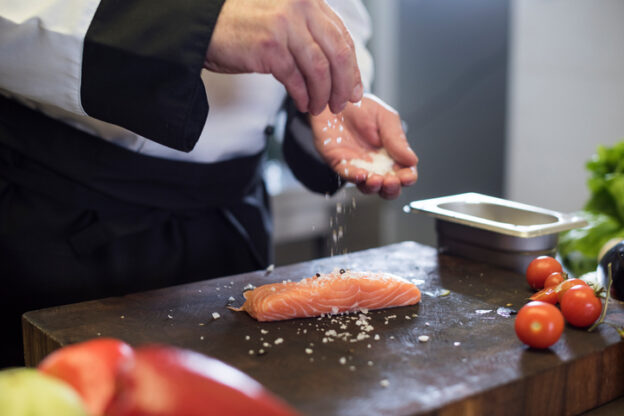 When I was in college, I had to take a mandatory science class. As a communications major, the idea of being required to take a science class in order to move on with my life felt so unjust. Luckily, I heard about a professor who cooked in his chemistry classes, so I chose his over the others. Despite only barely passing, I learned for the first time that biology and chemistry are the keys to flavor and mouthfeel balance! The best food is made with a deep understanding of how food reacts to various degrees of manipulation and how flavors interact with each other. All these years later, that experience is still helpful.
Get ready because we're diving into nucleotides.
If you're a frequent reader, you've read a bunch about the science of umami, but there's some nuance to be known: umami is one taste made up of a few layers of compounds. There's glutamate, the amino acid we all know and love, but then there are the nucleotides inosinate and guanylate. Together, inosinate and guanylate are known as an ingredient you may have seen before: "5' ribonucleotide."  Although glutamate umami is wonderful by itself, the two nucleotides boost up the glutamate's flavor!
The combination of glutamate, inosinate and guanylate are only found in nature in tomatoes and nori seaweed. But the combination can be manufactured in a variety of dishes. The Japanese have mastered this three-part synergy through the regular use of dashi, nori and miso; umami is widely credited as the reason Tokyo has the most Michelin star restaurants of any city in the world. But, the other side of the world has some great ribonucleotide combinations too; ever hear of bacon and eggs? Identifying which foods have which type of umami flavors is not an exact science for the average person. But it doesn't have to be (after all, you're not attempting to pass a college chemistry course). But more often than not, layering a variety of known umami-packed foods will bring that eye-popping flavor to your dish… and when in doubt, sprinkle a bit of MSG.
Keep reading for some rocking ribonucleotide recipes to get you started.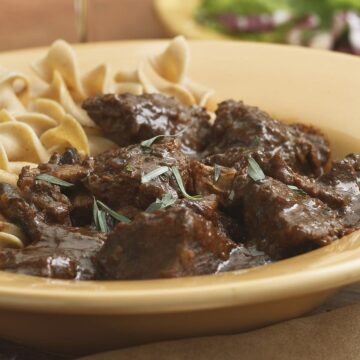 Braised Beef and Mushrooms
Beef brings glutamate flavor and mushrooms add nucleotides.
Ingredients
2

Tbsp.

canola oil

1

Tbsp.

butter

4

cups

finely diced onions

2

large cloves garlic

crushed and peeled

2

Tbsp.

tomato paste

2

Tbsp.

sweet paprika

2

tsp.

chopped fresh marjoram

or 1 teaspoon dried

4

pounds

beef chuck

trimmed and cut into 1½-inch pieces

1

tsp.

salt

divided

Freshly ground pepper

to taste

2

lbs.

cremini mushrooms

cut into ½-inch pieces

1

cup

reduced-sodium beef broth

8

large shiitake mushroom caps

cut into ½-inch pieces

2-3

teaspoons

finely minced fresh tarragon

or dill for garnish
Instructions
Preheat oven to 350°F.

Heat oil and butter in a large heavy casserole or Dutch oven over medium heat. Add onions and garlic and cook, stirring, until the onions are soft and beginning to brown, 8 to 10 minutes. Stir in tomato paste, paprika and marjoram.

Season beef with ½ teaspoon salt and plenty of pepper. Add the beef and cremini mushrooms to the pot; gently stir to combine. Add broth and cover the pot with a tight-fitting lid.

Transfer the pot to the oven and bake until the beef is very tender, 1¾ to 2½ hours. Stir in shiitake mushrooms and continue baking, covered, for 15 minutes more. Remove from the oven, uncover and let stand, undisturbed, for about 15 minutes.

Skim or blot any visible fat from the stew. Transfer the beef and mushrooms to a bowl with a slotted spoon. Return the pot to the stove and bring to a gentle simmer. Cook until the sauce just coats a spoon. Stir the beef, mushrooms and the remaining ½ teaspoon salt into the sauce and heat through, about 1 minute. Serve garnished with tarragon (or dill), if desired.
Recipe Notes
Make Ahead Tip: Prepare through Step 4; let cool to room temperature, cover and refrigerate for up to 3 days. Finish with Step 5 just before serving.
Recipe and photo from Eatingwell.com
Seared Scallops with mint, peas, and bacon
Scallops have nucleotides flavor and peas are loaded with glutamate.
Ingredients
12

large sea scallops

preferably dry-packed, side muscle removed (about 1 1/2 pounds)

Kosher salt and freshly ground black pepper

2

cups

shelled fresh peas

from about 1 1/2 pounds pods or frozen peas

3

oz.

bacon

about 3 slices, cut crosswise into 1/3–inch strips

1

medium shallot

cut crosswise into thin rings

1 1/2

tsp.

fresh lemon juice

1

Tbsp.

or more olive oil

3

Tbsp.

mint leaves

coarsely chopped, divided
Instructions
Place scallops on a paper towel-lined plate and pat very dry with additional paper towels. Season both sides with 1/4 tsp. salt and 1/4 tsp. pepper total.

Bring 1 cup water to a boil, covered, in a small pot. Add peas and 1/2 tsp. salt; cook until peas are bright green and tender, about 2 minutes for fresh and 4 minutes for frozen. Drain peas through a strainer set over a bowl; reserve cooking liquid.

Meanwhile, add bacon to a large skillet and heat over medium-high. Cook bacon, stirring occasionally, until fat starts to render, about 3 minutes. Add shallot and cook, stirring, until softened and lightly browned and bacon is crisp, about 3 minutes more. Using a slotted spoon, transfer bacon and shallot to a small bowl, reserving fat in skillet. Add 1/2 cup cooked peas to bacon mixture.

Purée lemon juice, 1/8 tsp. salt, 1/8 tsp. pepper, the remaining 1 1/2 cups peas, and 1/2 cup reserved pea cooking liquid in a blender. Add oil and pureé until smooth. Add 2 Tbsp. mint leaves and pureé until just combined but pieces of mint are still visible. Divide pea purée among 4 plates.

Heat skillet with reserved fat over high until just barely smoking. Working in batches and adding more oil if necessary, sear scallops until a golden brown crust has formed and scallop releases from skillet, about 3 minutes per side. Top pea purée with scallops and bacon-pea mixture, then sprinkle with remaining 1 Tbsp. mint.