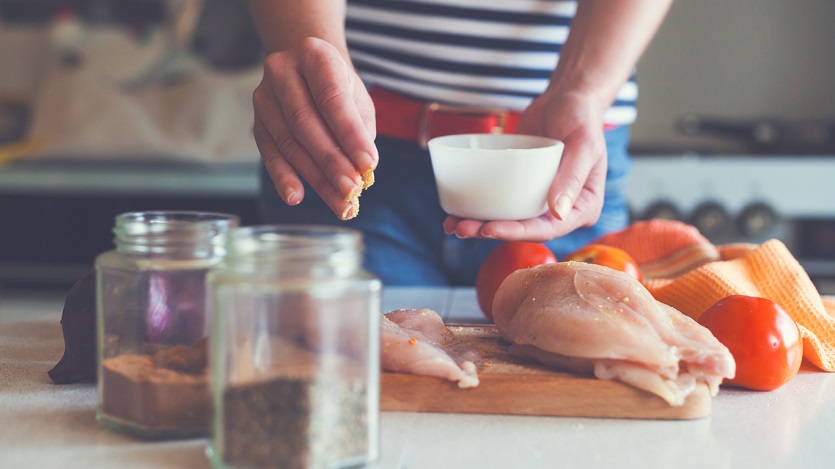 Q: Where are we going to eat breakfast?
A: Home.
Q: Where are we going for lunch?
A: Home.
Q: And where should we dine for dinner?
A: Home.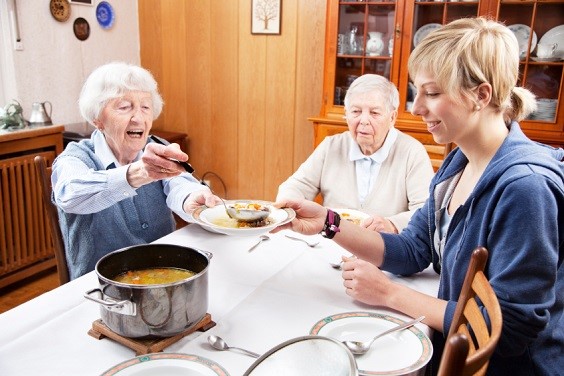 In these uncertain times, home cooked meals can bring comfort as well as a sense of order and pleasure. Even before the Covid-19 crisis, family meals have been shown to be a valuable provider to better family functioning. Studies have shown that "frequent family meals support both emotional and physical well-being – defined as family connectedness, communication, expressiveness, and problem-solving" and "improve a family's ability to address issues, support one another, and explore new possibilities."1
There are challenges, however, as we take on every meal, every day during this time, and avoid food fatigue – both in the cooking and the eating.
How to make our homemade dishes taste consistently great?
How do we do this with just the staples we have available on hand?
And it's a lot of cooking. How do I simplify it?
Flavor is a key component to enjoying our food.
With eating three meals a day – all at home – there is a real need for tastiness, variety and innovation. On the plus side, many people have more time to try out new foods and recipes, which offers an opportunity to experiment with flavors.
We are already familiar with the balance of sweet, sour, bitter and salty flavors to help produce delicious-tasting food. The addition of the 5th flavor of umami, deepens the flavor experience. Umami had been described as imparting a "savory" flavor. The basis of the umami flavor is the presence of the amino acid glutamate, in food. Using glutamate-rich ingredients such as concentrated tomato sauces, aged cheeses, and mushrooms deepens and intensifies flavors. There is no guarantee, however, that these foods can be consistently found on grocery store shelves now. Experiment with enhancing flavor by using the purest form of glutamate – MSG – to provide the umami boost. Shelf-stable, it can be found under brand names such as Ajinomoto®, and Ac'cent®.
For novices who are not experienced with using MSG, questions about how to use MSG arise: How much to use? And when should I add it to the recipe?
Remember that only a small amount of MSG is needed to produce the umami flavor. Too much and you will lose the umami sensation and the recipe will not taste as good. There is no hard and fast rule as to the perfect measure. An important point is to start with small amounts and continually taste, adjusting the seasoning as you would with any new recipe. You'll find the "just right" amount depending on your unique and personal preference.
You can start by substituting 1/3 of the salt in your recipe with MSG. For example, if your recipe calls for 1 teaspoon of salt, use 1/3 teaspoon of MSG, and 2/3 teaspoon of salt. Add these to your dish at the time your recipe calls for seasoning with salt. And from my dietitian/nutritionist perspective, this also offers a health benefit as you reduce the sodium content from the added salt, by one-third.
You can also try this blend for ease of adding MSG. Food writer Daniel Holzman, writing in Taste, an online magazine, suggests mixing roughly one tablespoon of MSG for every 2/3 cup of salt. Place in a salt shaker. Use this seasoning as you regularly would use salt throughout your cooking process.An advantage to this mix is that it can also be placed on the table for an added light sprinkle on your food.2
Food availability – we have a new version of hunting and gathering.
Our cavemen ancestors tracked wild animals, caught fish, and harvested wild fruits, berries, nuts, and vegetables to support their diet. These days we stalk and stock non-perishable foods, often from unfamiliar brands and purchased in larger packages because they are available.
Availability is a key factor currently driving food selection.3 Which inevitably leads to the question: What do I do with this stockpile of shelf-stable stuff in my cabinets? A search on the internet for "shelf-stable recipes" fortunately turns up an abundance of sites to help you make something delicious with what you already have on hand. A favorite site I recommend is from the Academy of Nutrition and Dietetics. A search of their recipes results in many dishes that use rice, beans, tuna, pasta, peanut butter and frozen and canned vegetables as ingredients.4
You don't have to follow any recipe exactly if you do not have the specific ingredients available. Allow for substitutions: Thick cream, sour cream, yogurt can be interchangeable. Different parts: thighs, breast or legs cuts can work well in chicken dishes. No buttermilk? Sub 1 tablespoon vinegar mixed with 1 cup of regular milk. And for recipes with lists of seasonings, experiment with what you have on hand. Herbs such as basil, marjoram, and thyme will add different dimensions to a recipe. Combinations of paprika, chili powder, hot sauces and hot pepper can bring smokiness or heat to a dish.
An online search can lead you to ideas for swaps for ingredients as diverse as beans to lemons to onions. You can find basic ingredient substitutions from University of Colorado Extension Service, and from University of Nebraska.5,6
Simplify your cooking by looking for one pot meal recipes to cook a few times a week.
One-pot cooking maximizes flavor while minimizing clean-up, and can provide balanced nutrition by combining protein, grains and vegetables in one dish. Below is a recipe for a one-pot red beans and rice with andouille sausage.7
And you will note that the recipes from the Academy of Nutrition and Dietetics all have one direction in common, and that should be followed with any recipe we cook: Before you begin: Wash your hands!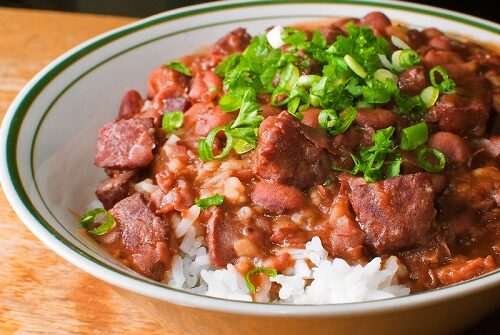 Easy One-Pot Andouille Sausage Red Beans and Rice
This is an easy, one-pot version of the famous New Orleans dish thanks to the andouille sausage.
Servings
4
(2 cup serving size)
Ingredients
½

pound

andouille sausage

1

large onion

chopped

3

cloves

garlic

chopped

2

celery stalks

chopped

1

14½-oz.

can diced tomatoes with liquid

1

15-oz.

can kidney beans

drained and rinsed

½

tsp.

salt

¼ to 1

tsp.

black pepper

2

tsp.

ground thyme

2

tsp.

dried sweet basil

1 to 2

tsp.

cayenne

1

Tbsp.

paprika

2 to 5

drops

hot pepper sauce

1

bay leaf

1

cup

uncooked brown rice

1

green bell pepper

chopped

optional: several strips of cooked bacon, chopped
Instructions
Before you begin: Wash your hands.

Brown the sausage (and the bacon, if adding some bacon) with the onion, garlic and celery for about 4 to 6 minutes. Add the tomatoes, kidney beans, 2 cups water, salt, pepper, thyme, basil, cayenne, paprika, hot sauce, bay leaf, and rice. Bring to a boil.

Add the rice, decrease heat, cover and simmer 45 minutes. Remove from heat.

Add the green pepper, stir well, cover and let stand 10 minutes. Stir before serving.
Recipe Notes
Nutrition Information
Serving size: 2 Cups
Serves 4
Calories: 515; Total Fat 20g; Saturated Fat: .426g; Cholesterol: 0mg; Sodium: 720mg; Total Carbohydrate: 65g; Dietary Fiber: 13g; Protein: 21g.
Red beans and rice photo courtesy of Flickr user Matthew Mendoza
References:
Red beans and rice photo courtesy of Flickr user Matthew Mendoza

One pot chili photo courtesy of Flickr user Jo