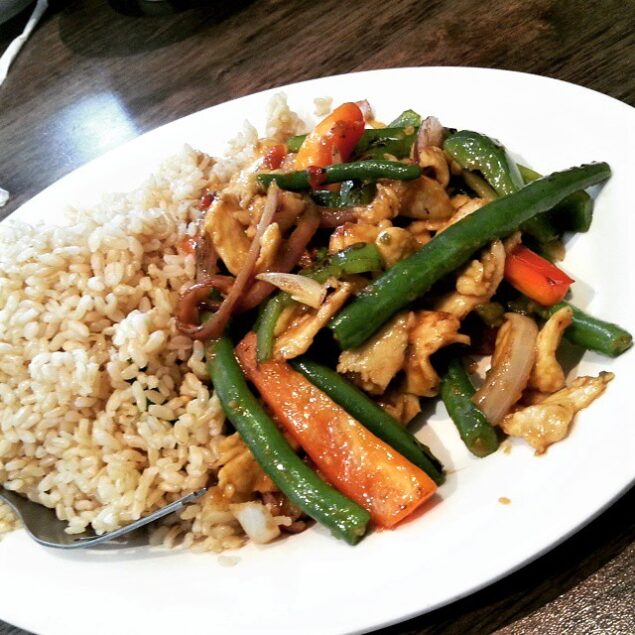 More and more chefs and culinary professionals are recognizing and praising the benefits of umami in Thai foods.
Think about the perfect balance of "Som Tam" salad – the crunchiness of green papaya, the sourness from the lime juice, the spiciness from the crushed chilies, and the saltiness from the fermented fish sauce. (Read more about Som Tam (often spelled Som Tum) in Chef Chris Koetke's blog, and download his recipe here.)
In Thai food, this is known as glom glorm taste, a phrase describing the perfect balance in a dish – when flavors go together well. If you're a fan of Thai cuisine, you know the combination of intense heat and savory-sweetness that Thai food has become synonymous with as its popularity has grown around the globe.
Umami seasoning, also known as MSG (the purest form of umami), has simplified and "revolutionized" the preparation of Thai dishes by helping cooks of every level achieve glom glorm in their Thai dishes.
Even though MSG has been used as a valued food ingredient for many decades, it has more recently transformed day-to-day food for the average Thai cook. For those who crave that umami taste (savory, pleasant), umami seasoning or MSG has helped make traditional Thai cooking easier to achieve, both at home and in restaurants.
There's no question that due to busy lifestyles people have less time to cook. With less preparation and cooking time, using MSG as a flavor enhancer makes food taste better – while shortening the time to prepare a home-cooked meal. It dissolves easily and does not overpower other flavors, which is all part of the glom glorm.
Want to try a few easy but amazing Thai recipes to prove the point? Your wish is our command!: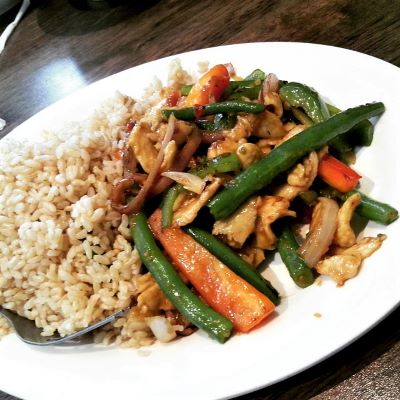 Thai Basil Chicken (Pad Krapow Gai)
Garlic, basil and chili pepper are a heavenly combo!
Ingredients
3

Tbsp.

vegetable oil

1

tsp.

Sriracha sauce

1

tsp.

crushed red pepper

1

medium onion

chopped

4

cloves

garlic

sliced, about 3 tablespoons

1

pound

skinless boneless chicken breasts

cut into bite-size pieces

2

tsp.

brown sugar

1

Tbsp.

fish sauce

or more adjust to taste

1/2

tsp.

MSG (umami seasoning)

1

Tbsp.

soy sauce

3/4

cup

fresh basil leaves

about 10 or more leaves
Instructions
If you are serving with rice start cooking the rice before you start making the chicken.

Heat oil in a wok or saucepan swirl to coat pan and then add onions, garlic, sriracha sauce and pepper flakes sauté until fragrant. About 2 to 3 minutes. Be careful not to let it burn.

Add chicken, cook until chicken is longer pink and it is slightly brown. You may add a little water , if desired to prevent burns.

Then add soy sauce, sugar, MSG, and fish sauce - continue cooking until the sauce thickens and the chicken is fully cooked.

Finally stir in the basil leaves. Turn off the heat once the leaves are wilted.

Transfer to a serving plate and serve with rice.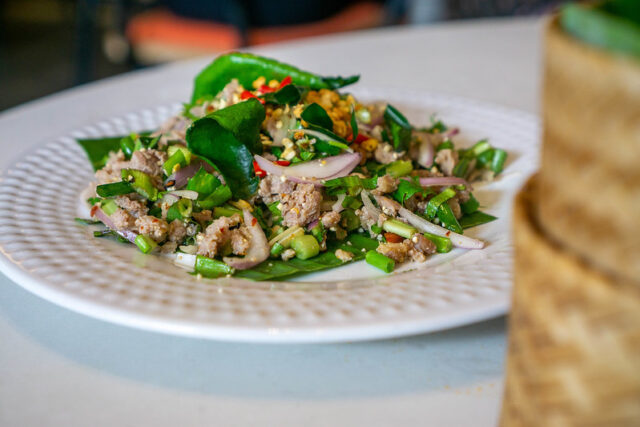 Thai Basil Beef (Pad Gra Prow)
Stir-fried beef with Thai basil and umami.
Ingredients
2

Tbsp.

oil

12

ounces

350g beef

5

cloves

garlic

1/2

red capsicum

4

pieces

red chili

1

onion

1

tsp.

soy sauce

1

tsp.

dark soy sauce

1

tsp.

oyster sauce

2

tsp.

MSG (umami seasoning)

1

Tbsp.

fish sauce

1/2

tsp.

sugar

7

ounces

Thai basil leaf

2

tsp.

corn starch

Cilantro for garnish
Instructions
Thinly slice beef and add oil and corn starch.

Fry the beef until slightly brown and set aside.

Stir-fry garlic, red chili & red capsicum for about 20 seconds. And add onion and beef from 2.

Add soy sauce, dark soy sauce, oyster sauce, fish sauce, sugar and MSG.

Add Thai basil leaf and stir fry for another minute.

Garnish with cilantro and serve!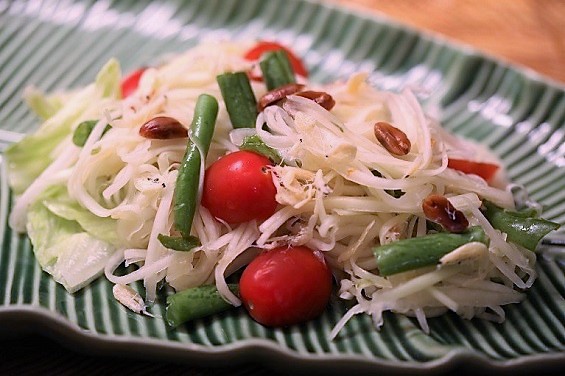 Som Tum (Green Papaya Salad)
Print this out and impress everyone with your worldly cooking skills. Som Tum done right!
Ingredients
10

oz.

green papaya

5

cloves

garlic

chopped

4-6

bird's eye chilies

4

cherry tomatoes

halved

3

oz.

long beans

cut into 1 inch pieces

2 - 4

Tbsp.

roasted peanuts

2

Tbsp.

dried shrimp

optional

2

Tbsp.

fish sauce

2

Tbsp.

palm sugar

grated if purchased as a whole piece (can substitute sugar)

3

Tbsp.

lime juice

To garnish: 1 cup shredded red cabbage, fresh bean sprouts, and ½ cup long beans, cut into 1-inch pieces
Instructions
Peel papaya. Cut flesh into a fine julienne. Discard seeds. Reserve.

With a mortar and pestle, pound chilies and garlic together to form a chunky paste.

Add peanuts, dried shrimp, tomatoes, and beans. Mix to incorporate.

Add fish sauce, palm sugar, and lime juice.

Add shredded papaya, fold it in.

Put on a serving platter and garnish with red cabbage, fresh bean sprouts and long beans.
Recipe Notes
Recipe courtesy of Chef Chris Koetke

Note: For vegetarian som tum, omit the dried shrimp and substitute soy sauce for fish sauce.