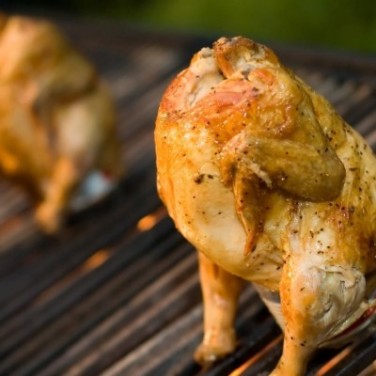 When you think about summertime and cooking on an outdoor grill, specific foods always come to mind.
I will always remember the delicious dinner entrees my mother prepared on a clunky-but-reliable charcoal grill – burgers and chicken, and on special occasions, ribs or steak. (Dad was not good at anything related to cooking!) Gas grills weren't readily available then, so we always had to fire up the briquettes well in advance of meal time and if we didn't, we would be eating at midnight!
Not only did the meats she cooked on the grill taste much better compared to when they were prepared indoors (in a fry pan or oven), the smell that emanated from that grill was indescribably appetizing… and still is!
What we didn't know back then was that grilling brings out the savory umami taste of meat. This is primarily due to the Maillard reaction that occurs during the "browning of various meats like steak, when seared and grilled." I like that term 'savory' – it says so much! According to the Glossary of Cooking and Barbecue Lingo, "Savory is a taste and aroma sensation that is deep and rich with herbal or umami characteristics."
But enough about the word 'savory' – I'm getting hungry just thinking about it! Here are three recipes you can try, all of which are not only grilled, they have the enhanced umami taste provided by the use of umami seasoning – monosodium glutamate (MSG). The addition of MSG in these recipes complements all of the amino acids that are found in meat, one of which is glutamic acid.
So fire up that grill and enjoy!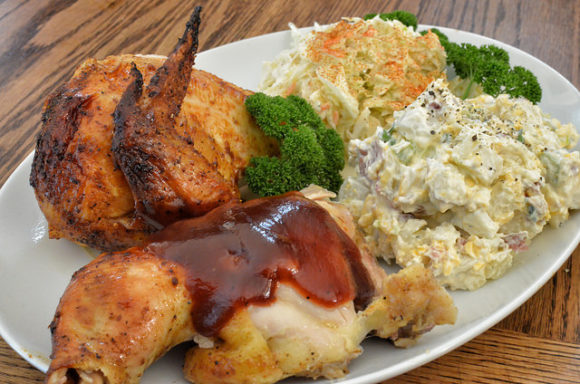 Beer Can Roasted Chicken
Tasty and very tender chicken, thanks to slow roasting with the use of beer, and seasoned with Ac'cent®, chili powder, mustard and paprika.
Ingredients
1/3

cup 

brown sugar

2

tsp. 

chili powder

1

tsp. 

onion powder

2

tsp. 

paprika

1

tsp. 

dry mustard

1

tsp. 

Ac'cent® Flavor Enhancer

MSG

1/4

tsp. 

ground black pepper

1/2

can beer

room temperature

1 3-4

lb. 

whole chicken
Instructions
Preheat grill to medium-high heat.

Mix sugar, chili powder, onion powder, paprika, mustard, Accent, and ground pepper in a small bowl.

Place half-full can of beer in center of plate.

Rinse chicken under cold running water. Discard giblets and neck; drain and pat dry.

Place chicken over beer can with legs at bottom; keep upright.

Rub 1 teaspoon of seasoning mix into the top cavity of chicken. Rub remaining seasoning over surface of chicken.

Place chicken on grill standing up on the beer can over indirect flames with the lid closed. Cook until no longer pink at the bone and juices run clear, about 1 hour and 15 minutes or until an instant-read thermometer reads 165 degrees.

Remove chicken and discard beer can with tongs. Cover chicken with aluminum foil and set aside for 10 minutes before slicing.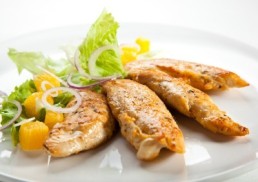 Zesty Orange Grilled Chicken
Though somewhat unconventional, this recipe is a winner! The combination of ingredients and the chicken cooked on the grill results in a unique, delicious dish.
Ingredients
1

tsp. 

dry mustard

1/2

tsp. 

ginger

4 

boneless skinless chicken breast halves

1/4

tsp. 

hot pepper sauce

1/2

tsp. 

Ac'cent® Flavor Enhancer*

MSG

1/2

cup 

sweet orange marmalade
Instructions
In a small bowl, combine all ingredients except chicken and blend well.

Preheat grill and oil grill rack.

Brush chicken with orange mixture; place on grill over medium heat (or on charcoal grill 4-6 inches from medium coals.)

Cook 15 to 20 minutes or until chicken is fork-tender and juices run clear, turning occasionally and brushing frequently with orange mixture.

Serve immediately, garnished with sliced scallions, orange wedges and avocado slices if desired.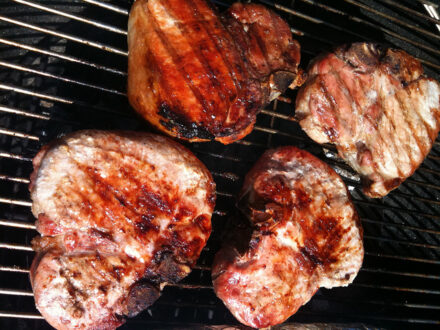 Smoky Grilled Pork Chops
Make ordinary pork chops extraordinary with this tantalizing spice rub.
Ingredients
1

Tbsp.

onion powder

1

Tbsp.

garlic powder

1

Tbsp.

MSG

popular brand names for MSG are Ac'cent® and Ajinomoto®

1

Tbsp.

paprika

1

tsp.

black pepper

2

tsp.

Worcestershire sauce

1

tsp.

liquid smoke

4

boneless pork chops
Instructions
Combine all ingredients, except pork chops, in a small bowl.

Once combined, apply rub on each side of pork chops. Cook on pre-heated grill until cooked through.
Recipe Notes
Because the types of grills vary, please refer to the guidelines recommended by your grill manufacturer.
Recipe courtesy of Sixsistersstuff.com
Photo credit: Flickr user, 305 Seahill
Find more delicious, savory recipes in the MSGdish Savory Cuisine Corner.