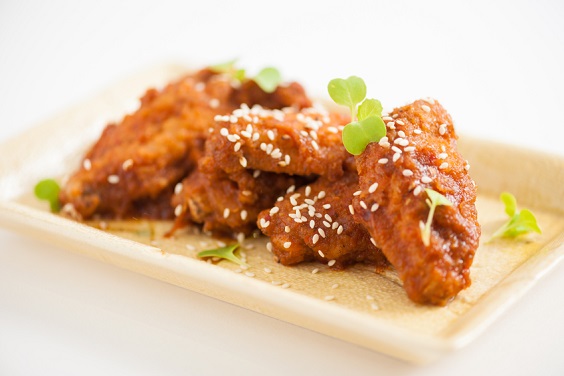 We hope our readers don't mind another blog about chicken! Chicken has become the most consumed meat in the U.S., so the odds are that many of you enjoy it quite often. It's a versatile and affordable source of protein and can be prepared in a multitude of ways; from fried, baked and grilled to use in salads, stews, soups and casseroles.
It's not just about the much-touted boneless, skinless white meat chicken breasts or kid-favorite chicken legs. Chicken wings are "in" so I feel it's my duty to share some recipes with you.
Here are three distinctive savory chicken recipes (including wings!) that are full of savory goodness.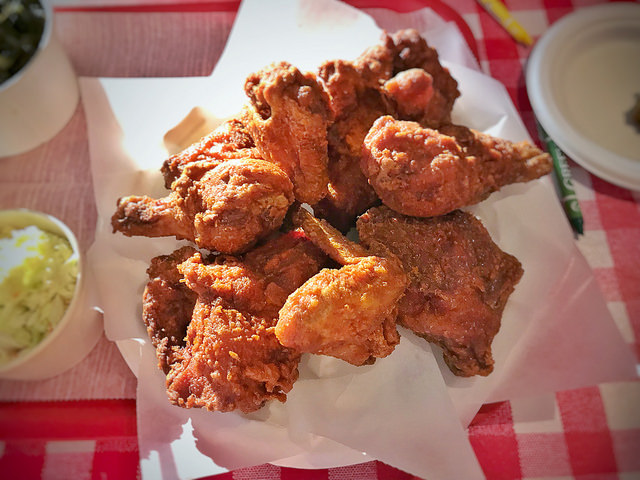 Vinegar Fried Chicken
Ingredients
3

lbs.

chicken pieces

1

medium onion

sliced thinly

8-10

fresh garlic cloves

finely minced

1

Tbsp.

salt

1

tsp.

ground black pepper

1

tbsp.

granulated sugar

1

tsp.

monosodium glutamate

MSG

1

cup

white or apple cider vinegar
Flour dredging mix:
2

cups

flour

2

tsp.

salt

2

tsp.

onion powder

1

tsp.

garlic powder

1 1/2

tsp.

ground black pepper

1

tsp.

MSG
Instructions
For the chicken "marinade," combine the onion, garlic, salt, pepper, sugar, and MSG into a medium mixing bowl. Add the vinegar and stir well, making sure sugar completely dissolves.

Place the chicken pieces into a large zip-lock type baggie or a non-metallic bowl. Pour the vinegar mixture over the chicken. Allow chicken to marinate for at least 6 hours, but preferably overnight, in the refrigerator. If using a baggie, turn it once or twice to assure the marinade permeates the meat evenly.

When ready to fry the chicken, combine the flour dredging ingredients in a bowl or zip-lock type baggie; combine well.

Drain the chicken into a colander, discarding the liquid and most of the garlic and onion pieces.

In a deep/heavy frypan (or deep fryer), heat the oil to 325 degrees F.

Place chicken pieces into the flour mixture and toss to coat well. Slowly place the coated chicken into the hot oil and fry for 15 – 20 minutes, depending on the size and thickness of the chicken pieces.

Turn the chicken once or twice for even browning; drain on paper towel before serving.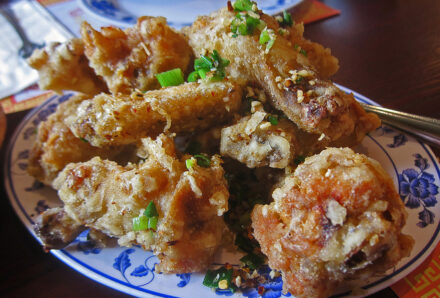 Salt and Pepper Wings
Ingredients
1

cup

flour

2

Tbsp.

cornstarch

1

cup

water

22

chicken wings/drumettes

Vegetable oil

1

head garlic

minced

2

Tbsp.

olive oil

1

bunch scallions

chopped

2

Tbsp.

crushed red pepper flakes

White and black pepper

MSG

Salt
Instructions
Pour enough vegetable oil into a deep frypan or wok so that it is about 2 inches deep. Heat on medium-high until oil reaches 350 degrees F.

Whisk flour, cornstarch, and water in a medium-sized bowl until no lumps remain. Pat chicken wings dry with paper towel. Coat chicken with the liquid mixture and then place into hot oil.

Fry chicken pieces, about 6-8 at a time, for 8 minutes. Chicken will be a light golden color. Drain excess oil on paper towels; set chicken aside.

Working in small batches, fry chicken a second time for 8 minutes (Note: Chicken does not get coated again in the liquid mixture). Chicken should now be golden and crunchy. Set finished chicken aside to drain again on paper towels.

In a wok or large frypan, heat olive oil; add garlic and heat until garlic aroma is evident; add chili flakes and scallions; cook for a few additional minutes.

Turn off heat and place finished fried chicken piece into pan with garlic mixture; toss chicken until coated. Sprinkle with white pepper, black pepper, MSG and salt to taste.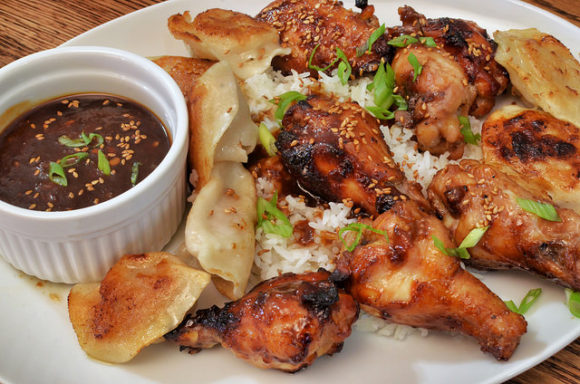 Spicy Ginger Chicken Wings
Ingredients
3

pounds

chicken wings/drumettes

2

eggs

1

cup

flour

1

cup

vegetable oil
Sauce:
1/2

cup

apple cider vinegar

3

tbsp.

soy sauce

3

tbsp.

water

1

cup

brown sugar

1

tsp.

MSG

1/2

tsp.

salt

3

serrano chili peppers

minced (optional)

2

tbsp.

grated fresh ginger

2

tbsp.

sesame seeds

toasted
Instructions
Preheat oven to 350 degrees F.

Blot chicken wings dry with a paper towel.

Beat the eggs in a bowl; place the flour in a separate bowl. Dip chicken wings into the egg, then into the flour to lightly coat, shaking off the excess.

Heat vegetable oil in a large frypan over medium-high heat.

Pan-fry the chicken wings until well browned on all sides, about 10 minutes.

To make the sauce, gently boil the vinegar, soy sauce, water, brown sugar, MSG, salt, serrano chili peppers and ginger in a saucepan over medium heat until thickened (about 5 to 7 minutes).

Toss the browned chicken wings in the sauce to coat, and then transfer wings to large baking dish with a slotted spoon. Reserve remaining sauce.

Bake the chicken until it is no longer pink in the center, about 30 minutes. Rotate the chicken and baste with the reserved sauce after 15 minutes.

Sprinkle sesame seeds on the chicken wings before serving.
Enjoy! And for a couple more delicious chicken recipes, check out these from previous MSGdish.com blogs: