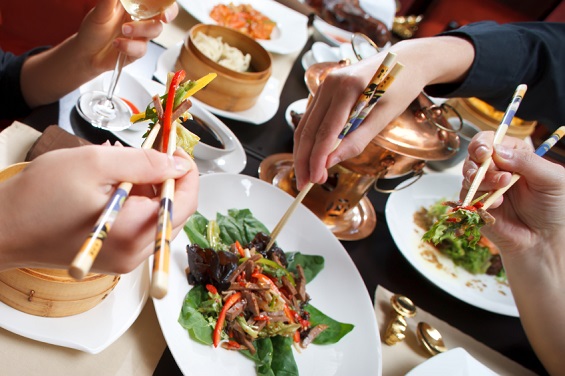 My grandfather came to the United States by himself when he was only 14 years old. As part of the influx Chinese from poverty ridden and war-torn southern China called "Toishun," he knew this new country as "Gum Shan" or "Gold Mountain," and hoped for a place of opportunity to build a better life for the family he left in China, and to one day return home to his village, successful and respected. Family stories abound of him working in the American West and helping build the western leg of the Transcontinental Railroad. Indeed he did finally return to his village, and then sent his 14-year-old son, my dad, to the U. S. to build his own life. The following decades saw dad work as a domestic, a laundryman, visit his home to an arranged marriage, serve as a G.I. in the U. S. Army during World War II, and eventually bring my mom to this country.
With access to more food variety and quality, mom was able to prepare better meals for her family but it was still a struggle to afford food. And set in a strange new land and new culture, she sought to replicate traditional Chinese tastes, textures and flavors in the food we had. My mom always enhanced "flavor essence" or umami, as she produced Zong Zi, a bamboo leaf-wrapped rice tamale, or steamed eggs or perfect, tiny dumplings. Jars of thick brown sauces with, to my young eyes, mysterious and exotic labels, were used to increase rich, savory tastes and depth of flavor in the dishes she prepared. And just as salt, pepper, and ketchup are typically found in Western kitchens, a shaker jar of MSG crystals (monosodium glutamate) along with bottles of soy and oyster sauces were standard condiments in her kitchen.
The Essence of Umami Taste
The flavor we call umami is highly sought and valued in Asian cooking. The sauces, many based on soybeans rich in glutamate, deliver the umami flavor. Fermentation processes used to create the sauces break down the proteins in soybeans, releasing free glutamate acids and generating the flavor-elevating effect. And the use of MSG crystals heightens the umami flavor of the dishes.
Using my mom's mouthwatering Beef, Tomato and Green Pepper recipe, let's see how the interplay of umami components in the ingredient list produces a dish that packs more taste than the sum of its individual parts.
Soy sauce is made from soybeans, wheat, yeast, salt, and water. The briny solution is placed in tanks where it is fermented and aged for 6 to 24 months after which the liquid is drained off. Soy sauce is a quintessential ingredient that provides both color and umami flavor to Asian cuisine.
Fermented salted black beans are tiny soybeans that have been dried and fermented with salt. They amplify the umami flavor of the dish. They are extremely salty, so rinse before using.
Oyster sauce ingredients include oyster extract, sugar, seasonings, and cornstarch. Anything alive in the ocean contains flavor enhancing glutamate, and this sauce is a staple in Chinese family-style cooking.
Beef is high in umami due to its natural sources of umami. Glutamate and specific ribonucleotides all interact to impart rich, meaty and savory flavors.
Onions and celery, and notably tomatoes, are all natural sources of glutamate.
The interrelationship of umami flavor and MSG is abundant in Chinese cuisine, and I write about both as a registered dietitian consultant to Ajinomoto — the makers of MSG, as the sister of a Chinese restaurant owner, and as an experienced cook of Chinese food. By the way, mom turns 99 this year, is still sharp and lives on her own near Chinatown.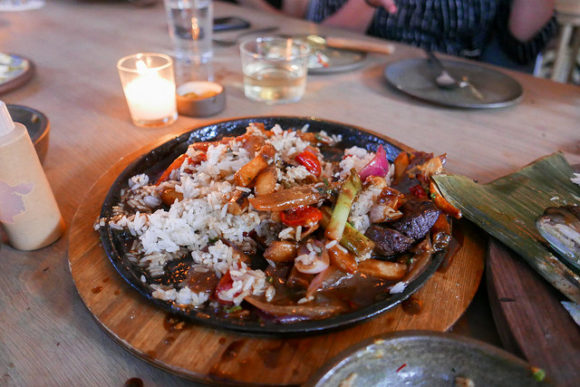 Beef, Tomato and Green Pepper Stir-Fry
Ingredients
1

lb.

round steak

1 ½" by 3/4″ strips

1

Tbsp.

sherry or rice wine

1

Tbsp.

oyster sauce

1/2

tsp.

sugar

1

Tbsp.

plus 1 tsp. soy sauce

divided

2

Tbsp.

vegetable oil

divided

1

clove

garlic

crushed

2

tsp.

salted black beans

rinsed and slightly crushed

1

onion cut into 8-10 wedges

1

green pepper

cut into ½ " strips

2

stalks celery

sliced on diagonal

2

tsp.

cornstarch mixed with 3 Tbsp. water

2

ripe tomatoes cut into 8 wedges each

1/2

tsp.

MSG
Instructions
Marinate meat with sherry, oyster sauce, sugar and 1 Tbsp. soy sauce, 10-20 minutes.

Heat 1 tablespoon oil over medium-high heat in wok or heavy skillet. Add garlic, cook briefly until lightly browned. Discard. Add onion and salted black beans, stir-fry one minute over medium-high heat. Add green pepper and celery. Stir-fry 2 minutes until crisp-tender. Set aside.

In same wok, swirl in 1 Tbsp. oil over high heat. Divide marinated meat in four batches. Cook each batch approx. 2 minutes, setting aside on platter. Centers may still be pink.

Add vegetables to wok over high heat. Add all meat to wok, toss to combine. Add cornstarch mixture, toss to coat meat and vegetables. Cook until mixture thickens and vegetables look glossy, about one minute. Add tomatoes, 1 tsp. soy sauce, and MSG, toss quickly, about one minute. Serve with rice.