The Secret to Savory Recipes: Umami
World-class chefs and home cooks alike use umami-rich ingredients, often including MSG (aka "umami seasoning") in their cooking. If you're looking to delight your friends and family with the many benefits of umami, try some of the delicious savory recipes below.
Also consider using MSG in your favorite dishes — because seasoning foods with MSG makes them taste better! And for the sodium-conscious, you'll be surprised to know that MSG can lower the amount of sodium in a food (by up to 40%!) without making the food taste bland.
Learn more about The Umami Connection. And if you're using MSG in a recipe here are 8 Tips for Using MSG in Cooking.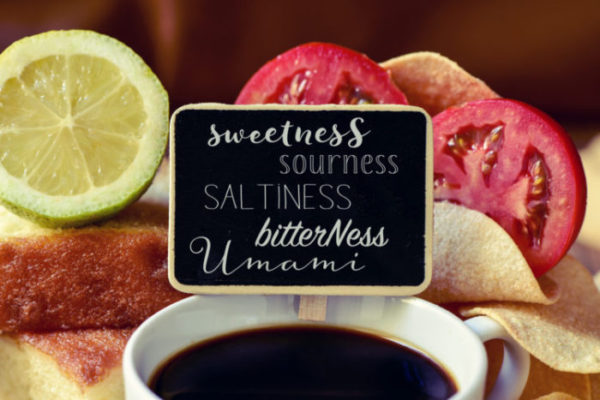 Recipes with Umami Ingredients
Here are a few savory food recipes to try that are naturally delicious and satisfying, thanks to umami rich ingredients:
Savory Entrées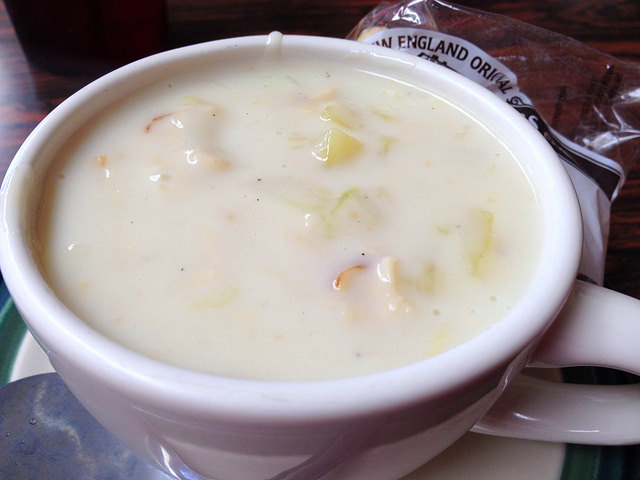 Spenger's Clam Chowder
The closing of Spenger's Fish Grotto Restaurant in Berkeley California after 128 years unleashed a wave of culinary nostalgia, especially for the legendary restaurant's clam chowder.
Ingredients
4

pounds

clams in shells

scrubbed and drained

4

strips

bacon

cut in 1-inch pieces

1

large yellow onion

finely diced

1/4

tsp.

thyme

1/4

tsp.

MSG

1

Tbsp.

chopped parsley

2

large boiling potatoes

cut in 1/2-inch cubes

salt and pepper

to taste

3

Tbsp.

butter

4

Tbsp,

flour

1

cup

half-and-half
Instructions
In a large pot, place clams and enough boiling water just to cover. Cook, covered, until clams open. Remove clams; reserve liquid. Remove meat from shells and finely chop.

In a saute pan, gently saute bacon. Add onion; cook 5 minutes more.

Add bacon and onion to the clam stock; bring to a boil. Add thyme, MSG, parsley, diced potatoes and chopped clams. Season with salt and pepper. Let simmer.

In a small pot, melt butter. Blend in flour and stir into simmering stock. When stock coats a spoon and potatoes are fork-tender, stir in half-and-half and warm through. Do not let the mixture boil. Serve in deep soup bowls, with lots of sourdough bread.
Recipe Notes
Note: For Manhattan style chowder, add 4 peeled, chopped tomatoes, 1/4 stalk chopped celery and 1 chopped green pepper at the same time you add the onions. Omit the half-and-half.
Photo credit: Flickr user, Mark H. Anbinder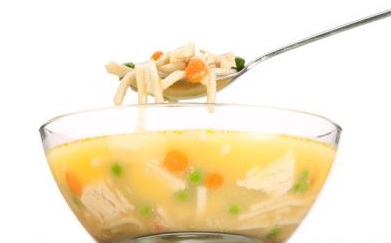 Chicken Noodle Soup
Of course, we couldn't leave this recipe for "Jewish penicillin" off our good-for-you soups list!
Ingredients
2

lbs.

boneless skinless chicken breasts

2

quarts

water

1

16 oz. bags

mixed peas and carrots

2

cups

celery

cut into 1/2 inch slices

2

large baking potatoes

skinned and cut into squares

1

cup

onion

chopped

salt

to taste

1

Tbsp.

monosodium glutamate

MSG

1

tsp.

sugar

1

Tbsp.

cornstarch

1/4

tsp.

pepper

2

Tbsp.

garlic powder

2 1/2

Tbsp.

onion powder

2

cups

thin egg noodles

cooked
Instructions
Bring chicken, onion, and celery to a boil in a 4-quart Dutch oven.

Add salt, pepper, onion and garlic powder.

Cover and simmer until chicken is done.

Skim fat if necessary.

Remove chicken from broth; cool slightly and cut into 1-inch pieces.

Set aside.

Add peas and carrot mix, potatoes and cornstarch.

Cook until potatoes are fork tender, about 10 minutes.

Add chicken and noodles to broth; sprinkle with MSG and sugar; cook about 5 minutes.
Recipe Notes
Recipe courtesy of Food.com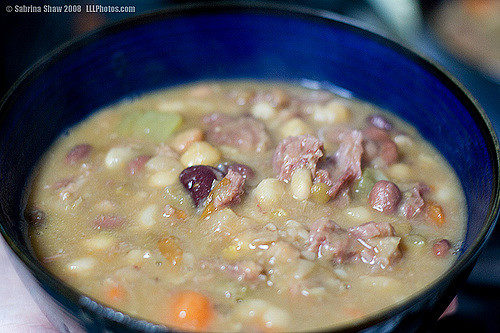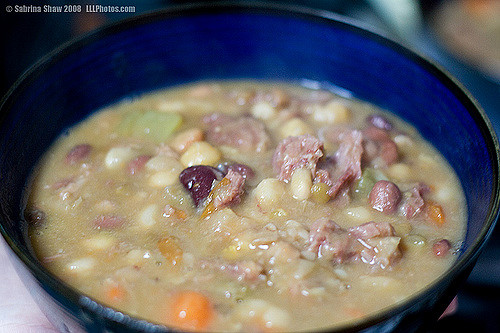 Crock Pot Ham and Bean Soup
Ahhh, the classic ham and white bean soup – so hearty, comforting, and super easy in a slow-cooker! The crockpot does all the work for you.
Servings
6
1-cup servings
Ingredients
1

cup

dry white beans

4

cups

water

2

bay leaves

1 1/4

cups

onion

chopped

1 1/2

cups

carrot slices

1/2

cup

celery slices

1 1/4

lbs.

lean ham steak

diced

1/2

teaspoon

salt

1 1/2

teaspoon

MSG (umami seasoning)

Ac'cent® and Ajinomoto® are popular brands.
Instructions
Combine the first 4 ingredients in a crock-pot and cook on HIGH for 3 hours.

Add carrot and celery slices to the pot and continue to cook on HIGH another 2 hours.

Add diced ham, salt and MSG; cook another 2 hours. Serve hot.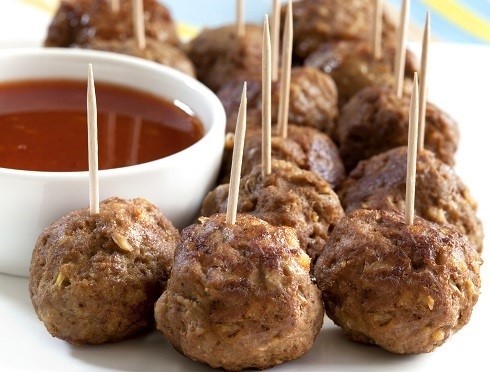 Sweet and Sour Meatballs
Ingredients
1 1/2

lb.

lean ground beef

1

egg

1/2

cup

milk

1/2

cup

seasoned dry bread crumb

1

tsp.

seasoning salt

1/2

tsp.

fresh ground black pepper

3

Tbsp.

minced dehydrated onion or 1 medium onion

finely chopped

1/2

tsp.

MSG

1

tsp.

Worcestershire sauce

1

10 oz. jars grape jelly

1

12 oz. jars chili sauce

1

tsp.

soy sauce

1/2

tsp.

ground ginger

Salt & freshly ground black pepper

optional
Instructions
Combine first 9 ingredients thoroughly. Form into 3/4" meatballs by using a melon-baller to scoop the meatballs; roll balls between the palms of your hands to shape them; set meatballs on a cookie sheet as you go, and chill to set them. NOTE: do not precook the meatballs.

Combine jelly, chili sauce, soy sauce and ginger in a large deep skillet or serving pan over low heat. Stir until smooth and heat to boiling, stirring frequently.

Add meatballs; bring back to a boil; reduce heat, cover, and cook over moderately low heat for at least 30-40 minutes, turning gently once.

If desired, blot the surface of the sauce with paper towels to remove any grease. (Note: There should be little or no grease if you use lean ground beef.) If desired, adjust sauce seasoning with salt and pepper to taste.

Serve hot in a chafing dish or keep warm in a small crockpot.
Recipe Notes
Recipe courtesy of Food.com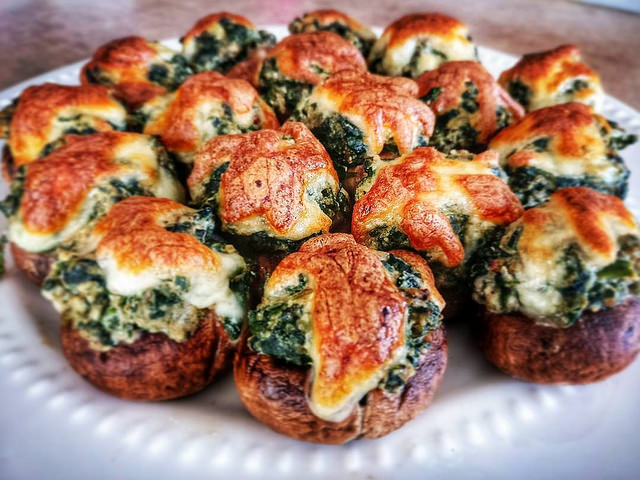 Spinach Cheese Stuffed Mushrooms
Ingredients
48

fresh whole baby portabella or white mushrooms

1 ½ to 2 inches in diameter

1

package 8 oz. cream cheese

softened

1

box 9 oz. frozen chopped spinach

thawed, squeezed to drain

1

cup

freshly grated Parmesan cheese

½

tsp.

salt

¼

tsp.

freshly ground black pepper

1/8

tsp.

ground red pepper

cayenne

¼

tsp.

MSG

½

cup

panko crispy bread crumbs

2

Tbsp.

butter or margarine

melted
Instructions
Preheat oven to 350°F. Remove stems from mushroom caps; reserve caps. Discard stems.

In large bowl, mix cream cheese, spinach, 1/2 cup of the Parmesan cheese, the salt, both peppers and MSG until well blended.

In small bowl, mix remaining 1/2 cup Parmesan cheese, the bread crumbs and butter.

Spoon filling into mushroom caps, mounding slightly. Place mushrooms in ungreased 17x12-inch half-sheet pan. Sprinkle bread crumb mixture over filled mushroom caps, pressing lightly.

Bake 20 to 22 minutes or until thoroughly heated.
Recipe Notes
Mushrooms, filling and topping can be prepared the day before, packaged separately and refrigerated. On the day of the party fill mushrooms, refrigerate, and then bake just before the party.
Parmesan Cheese: Levels of glutamate (1200mg/100g)
Mushrooms: Levels of glutamate (180 mg/100g)
Recipe courtesy of BettyCrocker.com 
Photo credit: Flickr user, Team WayLay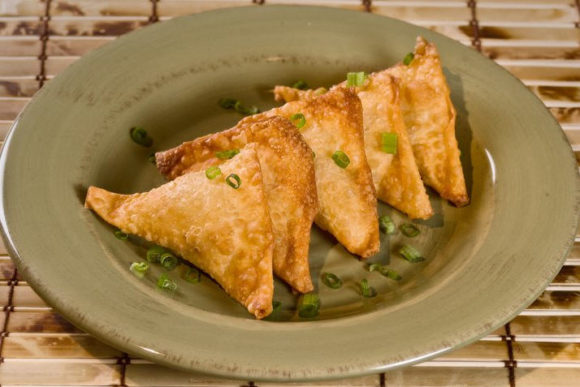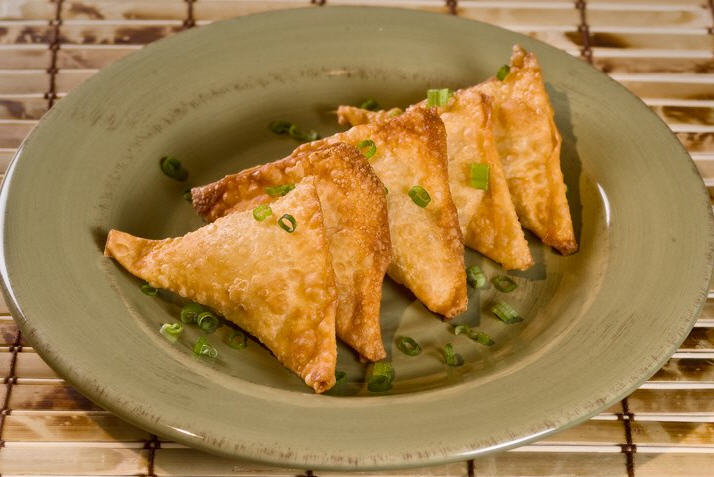 Crab Rangoon
Ingredients
1 to 1 ½

cups

shredded crab or imitation crab meat

packed

1

pkg

won ton wrappers

50 – 60 wontons

16

oz

softened cream cheese

¼

cup

sour cream

3

green onions

white and very pale green parts only, sliced thin. Use the green parts to garnish

1

clove

garlic

minced fine

1

tsp

ginger

minced fine

2

tsp

soy sauce

2

tsp

sugar

½

tsp

MSG

monosodium glutamate

Bowl of cool water

Peanut oil for frying
Instructions
Filling
In a large mixing bowl, mix together the cream cheese, sour cream, soy sauce, ginger, garlic, sugar and MSG until smooth and well-combined.

Thoroughly fold in the crab meat and green onions to the cheese mix.
Form the crab rangoon
Place the small bowl of cool water on your work surface.

Place a wonton wrapper on your work surface. Place 1 to 2 teaspoons of the cheese and crab mix in the center of the wonton wrapper (the proper amount depends on the size you bought).

Take your finger and dip it in to the water. Run your finger on the outside edge of the wonton square. Then gently fold it over to form a triangle shape. Seal the edges firmly so they don't open during frying. You will find that as you seal one edge, the other may raise a bit, that's okay.

Place each finished crab rangoon on a large sheet of wax or parchment paper. Cover with a kitchen towel to keep moist while you make the others.
Frying crab rangoon
Place a pan suitable for deep frying over medium-high heat. Immediately pour the peanut oil to a depth of about 2". Heat to 350°F.

Cook the crab rangoon in the hot oil (turning once) in small batches. They cook quickly. When finished frying, remove them with a spider or slotted spoon and drain on a rack or paper towels.
Recipe Notes
Cook them just a shade or two lighter than "golden brown." They seem to darken more a few moments after you remove them from the oil. You'll know if you fry them too long because the cheese and crab mixture will start to seep out from the seams.
Recipe courtesy of Chop Onions, Boil Water Blog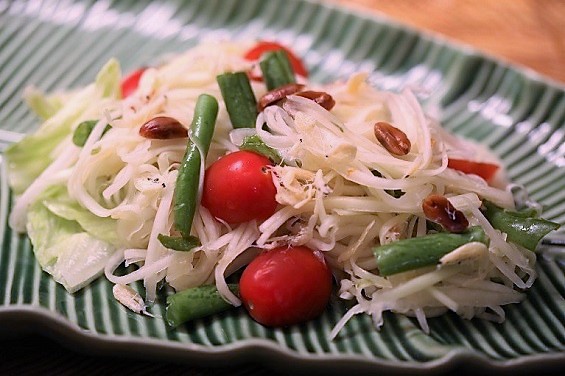 Som Tum (Green Papaya Salad)
Print this out and impress everyone with your worldly cooking skills. Som Tum done right!
Ingredients
10

oz.

green papaya

5

cloves

garlic

chopped

4-6

bird's eye chilies

4

cherry tomatoes

halved

3

oz.

long beans

cut into 1 inch pieces

2 - 4

Tbsp.

roasted peanuts

2

Tbsp.

dried shrimp

optional

2

Tbsp.

fish sauce

2

Tbsp.

palm sugar

grated if purchased as a whole piece (can substitute sugar)

3

Tbsp.

lime juice

To garnish: 1 cup shredded red cabbage, fresh bean sprouts, and ½ cup long beans, cut into 1-inch pieces
Instructions
Peel papaya. Cut flesh into a fine julienne. Discard seeds. Reserve.

With a mortar and pestle, pound chilies and garlic together to form a chunky paste.

Add peanuts, dried shrimp, tomatoes, and beans. Mix to incorporate.

Add fish sauce, palm sugar, and lime juice.

Add shredded papaya, fold it in.

Put on a serving platter and garnish with red cabbage, fresh bean sprouts and long beans.
Recipe Notes
Recipe courtesy of Chef Chris Koetke

Note: For vegetarian som tum, omit the dried shrimp and substitute soy sauce for fish sauce.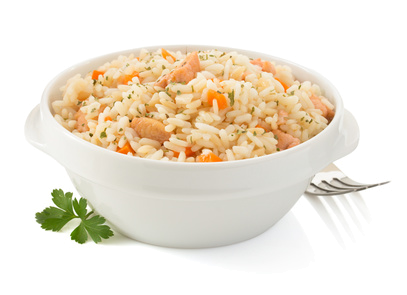 Curry Rice Salad with Shrimp
This salad featuring shrimp is perfect for summer as a side dish or an entree!
Ingredients
Salad
1

10 ounce package

frozen peas

do not cook

1 1/2

cups

cooked rice

1

8 ounce can

shrimp

1 1/2

cups

celery

chopped

1/4

cup

green onion

chopped
Dressing
1/2

cup

salad oil

1

tablespoon

soya sauce

1

teaspoon

salt

3

tablespoons

cider vinegar

1/2

teaspoon

curry powder

1/2

teaspoon

MSG

1/2

teaspoon

white sugar
Instructions
Mix salad ingredients together.

Shake all dressing ingredients together and combine with salad mixture.
Recipe Notes
Courtesy of Food.com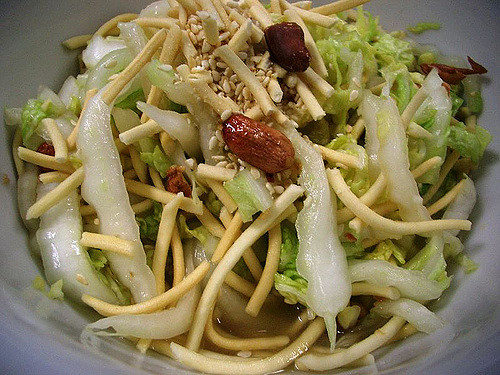 Chicken Sesame Salad
A refreshing light pasta salad with a delicious Asian flair.
Ingredients
5

chicken breasts

8

scallions

finely chopped

4

oz.

slivered almonds

1

pkg. Chinese noodles

1

large head of iceberg lettuce

4

stalks celery

finely chopped

1

pkg. sesame seeds

lightly toasted
Dressing:
½

cup

vegetable oil

1

tsp.

seasoned salt

6

Tbsp.

white vinegar

1

tsp.

pepper

1

tsp.

Accent® Flavor Enhancer

8

tsp.

sugar
Instructions
Boil the chicken breasts until cooked through.

Cool and shred (do not chop).

Combine with all the other ingredients and toss.