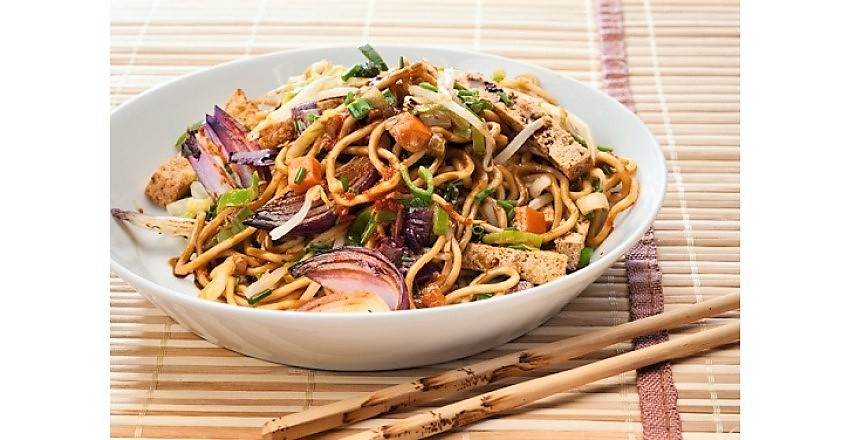 Do you find yourself craving foods that have a savory umami flavor? – such as pasta dishes with aged cheese and spicy tomato sauce, pizza with mushrooms and flavorful meats, and nearly anything that falls into the category of Asian cuisine).
Our family often has those cravings, too. In fact, in my experience as a lover of umami, I'm amazed every time I complete an online recipe search for "cooking with umami." Page after page of umami-rich recipes pop-up, with each recipe sounding more appetizing than the last.
Asian-inspired recipes are among my favorite finds and are always on my must-prepare list. In the past I've blogged about my personal affection for these foods ("Asian Food is Calling My Name. How About You?"). In that blog, I recalled that I had yet "to meet a person who doesn't like, or even love, Asian cuisine. Of all kinds. Whether it's Chinese, Japanese, Korean or Vietnamese dishes (among others), foods from these regions of the world are packed with flavor that is strikingly different from any other."
One of the reasons why Asian food is oh-so-delectable and oh-so-delicious is attributable to the umami that is imparted by a variety of foods and ingredients that range from commodities rich in glutamate (fish, meat, mushrooms, cheese and tomatoes) to soy, miso and "umami seasoning" (aka "MSG"). Read more about foods with umami taste and how MSG can occur naturally.
Even professional chefs are tuned into umami. At MSGdish we've highlighted what chefs around the world are saying about umami, and lately they can't seem to get enough of it, according to SmartBlog, a food and beverage blog.
But enough about the generalities of cooking with umami. It's time to "cut to the chase." Here are a few of my favorite Asian-inspired recipes: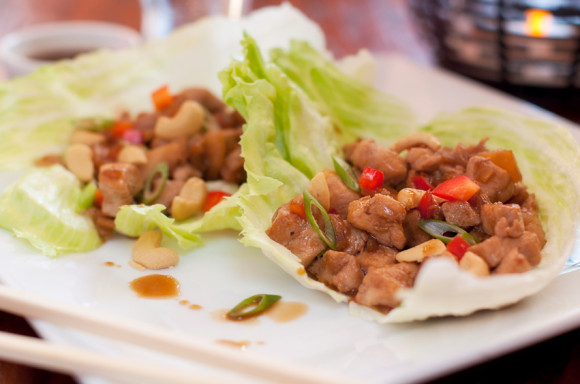 Chicken and Cashew Lettuce Wraps
Different versions of this lettuce-enveloped, flavorful chicken dish have become popular in many restaurants. Lettuce wraps with chicken and cashews can be served as an appetizer or an entrée – it's up to you!
Ingredients
8-10

ounces

uncooked chicken breast

minced

1

cup

coriander

chopped finely

1

egg white

4

tablespoons

water

½

tablespoon

cornstarch

¼

teaspoon

salt

¼

teaspoon

meat tenderizer

½

teaspoon

umami seasoning *

MSG

1

tablespoon

cooking oil

2

tablespoons

cooking oil

1

tablespoon

rice wine

1

tablespoon

light soy sauce

½

teaspoon

pepper

¼

cup

chopped cashews

oven toasted

6

big lettuce leaves

for wrapping
Instructions
Mix minced chicken with egg white, water, cornstarch, salt, tenderizer, umami seasoning, and 1 tbsp. oil. Set aside.

Heat 2 tbsp. oil in a fry pan.

Place the meat, coriander, wine, soy sauce and pepper into the pan.

Stir-fry until the meat is cooked.

Remove from heat and place on a plate.

Divide the meat mixture into 6 portions.

Place each portion on a lettuce leaf.

Sprinkle cashew nuts evenly over the meat. (Optional: sprinkle diced red or green pepper as well.)

Wrap meat with lettuce and serve.

* Note: Popular brands for umami seasoning that you can most likely find in your local grocery store in the spices/seasonings section: Ac'cent, Ajinomoto or Vedan brand.
Recipe Notes
Recipe courtesy of Food.com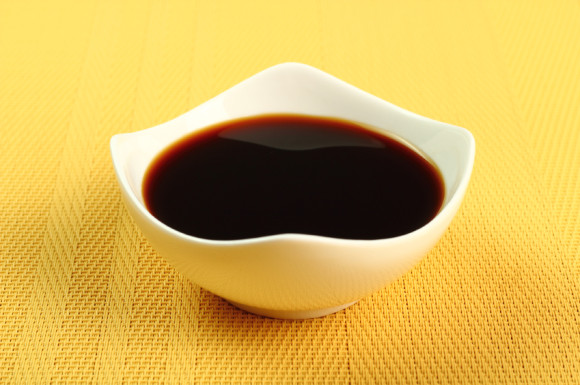 Honey Teriyaki Chicken
A combination of chicken and potato characterizes this delicious dish thanks to the umami synergistic effect.
Ingredients
1

chicken thigh

about 300g

1

potato

Salt and pepper

to taste

Olive oil
Sauce:
½ 

tablespoon

honey

1 ½ 

tablespoons

ketchup

1

tablespoon

Worcestershire sauce

1

tablespoon

Japanese Sake

½ 

tablespoon

soy sauce
Instructions
Prepare sauce and set aside.

Cut chicken thigh into small cubes and sprinkle them with salt and pepper. Peel potatoes and cut them into small cubes.

Heat olive oil in a frying pan and place potatoes and chicken in pan with skin side down. Cook them, pressing on the chicken from time to time.

When the skin turns golden brown, turn chicken and potatoes over and brown the other side.

Turn them over again and cover. Let it cook for about five minutes and then remove contents from the pan.

Wipe the remaining oil in the pan. Pour the sauce into the pan and add the chicken and potatoes until they are evenly coated.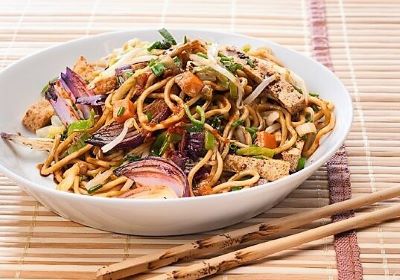 Teriyaki-Style Noodles with Tofu
This rich, Japanese-style broth, flavored with vibrant fresh herbs, ginger, and garlic, peps up firm tofu and long strands of earthy buckwheat noodles.
Ingredients
5

ounces

soba

Japanese buckwheat noodles

2

cups

mixed vegetables

asparagus tips, broccoli, carrots, cauliflower, or green beans

⅓ 

cup

reduced-sodium soy sauce

1 ¼ 

cups

vegetable broth

4

Tbsp.

rice wine or dry sherry

sake or mirin

10

ounces

firm light tofu

diced

2

spring onions

chopped

1

fresh red chili

seeded and chopped

1

tablespoon

fresh mint

chopped

1

tablespoon

fresh cilantro

chopped

1

large garlic clove

crushed

½ 

teaspoon

grated fresh ginger
Instructions
Bring a large saucepan of water to a boil and cook the soba noodles according to package instructions, or until al dente, about 6 minutes.

Meanwhile, cut all of the mixed vegetables into bite-sized pieces. Add to the simmering pasta for the final 3-4 minutes of cooking.

Drain the pasta and vegetables in a large colander. Place all remaining ingredients in the empty saucepan and return it to the heat. Heat until simmering, then reduce to low. Return the pasta and vegetables to the pan, and cook very briefly until they are reheated.

Serve in deep soup bowls, with a spoon to drink the broth and a fork or chopsticks for picking up the solid ingredients.
Recipe Variation: Replace the tofu with 8 ounces peeled, cooked shrimp or diced, cooked chicken or turkey (without the skin).
Recipe Notes
Recipe courtesy of Reader's Digest
More Delicious Savory Foods & Umami Recipes:

Sorry, but there are no results for your search term. Please modify your search term or broaden your search.