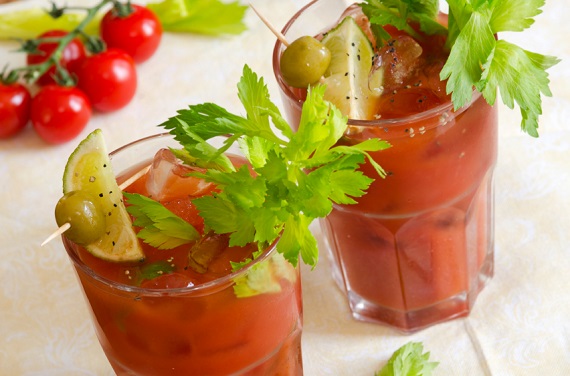 Move over Mimosa, the Bloody Mary is considered America's most popular alcoholic drink for brunch. Score this as another victory for Umami! (read on…)
First, a little history about this famous drink… No one knows for sure, but one belief is that the Bloody Mary is named after Mary Tudor, the Queen of England who executed so many Protestants she became known by her adversaries as "Bloody Mary." And it first became popular in the 1930's when the drink was advertised by Lea & Perrins simply as "Tomato Juice Cocktail" (the recipe called for Lea & Perrins Worcestershire Sauce of course).
Have you ever wondered why people drink Bloody Marys in the morning? Well, the Bloody Mary is often credited (by those who imbibed too heavily the night before) with helping a hangover to a certain degree. In fact, the drink's "restorative" properties are the main reason National Bloody Mary Day is January 1st, the day after New Year's Eve.
Originally a blend of primarily tomato juice and vodka, the Bloody Mary is endlessly reinvented. Tomato juice, of course, provides the savory, sweet and slightly tart base upon which the rest of the drink is built. But the add-ons are what make this drink so good. The "Bloody" today is made with ingredients as diverse as basil, clam juice, horseradish (for a sinus-clearing burn), anchovies, hot sauce, celery salt, and roasted garlic.
A Toast to the Bloody Mary for Better Health!
The tomato juice in the Bloody Mary contains less sugar than the Mimosa's orange juice, and 25 fewer calories than the Mimosa's 150 (for a 4 oz. drink). Tomatoes contain the electrolytes sodium and potassium, the antioxidant vitamin C, and a lot of vitamins, such as lycopene and vitamin B6. Vitamin B6 in particular is one of the few remedies to have been shown to reduce the effects of hangovers. Tomatoes are also a rich source of glutamate (an amino acid), providing the desired umami taste. Maybe the drink should be called the Umami Cocktail?
Keep in mind that the vodka portion of a Bloody Mary has no "restorative" qualities, so opting for a Virgin Mary can be just as effective in helping to relieve a hangover.
For some interesting reading about the science behind the best beverage to drink when you're flying (you guessed it, a Bloody Mary or tomato juice), check out this story from CNN.
Here's a great Bloody Mary Mix recipe featured on the "homecooking" section of About.com. This recipe apparently was created by a bartender who is renowned for his Bloody Marys. The author on About.com says, "I think the beef bouillon gives it an added dimension in flavor. It's still the best I've ever had, and it is also a great addition to soups and even as a non-alcoholic refreshing drink – better than V-8 or that Mr. and Mrs. commercial product. This recipe makes a gallon. Once you taste it, you'll probably enjoy it even without any alcohol."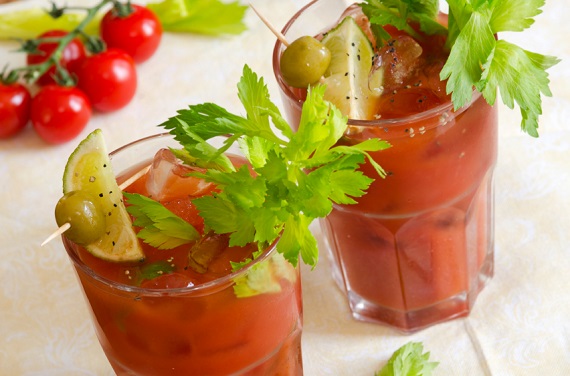 Bloody Mary Mix Recipe
Yield: 1 gallon
Ingredients
2

46 oz. cans

tomato juice

1

10 oz. can

beef bouillon

1

teaspoon

coarsely-ground fresh black pepper

1

teaspoon

celery salt

1

teaspoon

MSG *

4

oz.

lemon juice

1

5 oz. bottle

Lea & Perrins Worcestershire sauce

Tabasco sauce to taste

for heat
Instructions
Combine tomato juice, beef bouillon, pepper, celery salt, MSG, lemon juice, Worcestershire sauce, and Tabasco sauce. Mix thoroughly. Refrigerate.
Recipe Notes
When serving, you can pour the drink over ice but that's not necessary since the drink mix has already been chilled (you may want to chill the vodka ahead of time as well). For a garnish, use a celery stick, green olive, and/or lemon or lime slice. If adding vodka to the drink consider 1 shot (1½ ounces) in a 4 ounce drink.
*MSG is usually sold as Ac'cent® flavor enhancer or Ajinomoto® umami seasoning.
More Delicious Savory Foods & Umami Recipes:
Sorry, but there are no results for your search term. Please modify your search term or broaden your search.