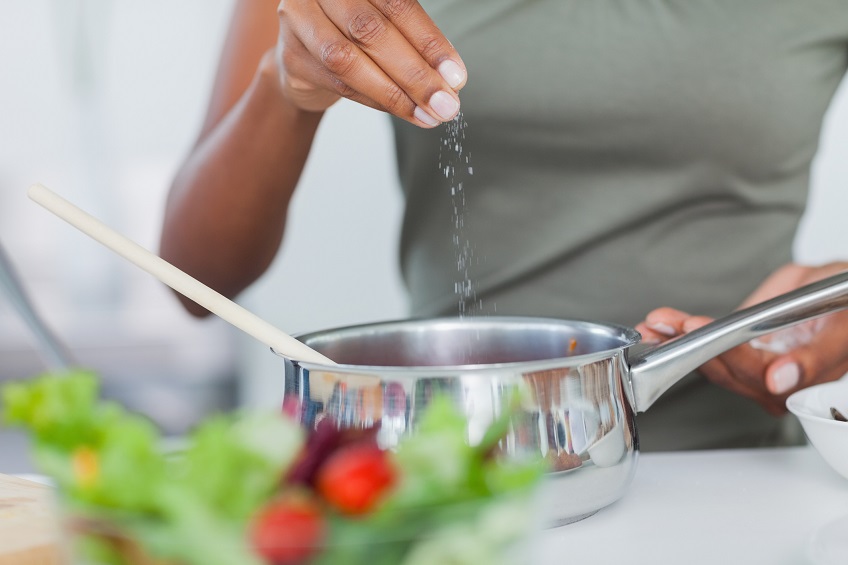 When I talk to groups of enthusiast cooks and professional chefs alike, there is often a certain level of confusion around salt and MSG.
Both are free-flowing white crystals. When present at sufficient levels, both salt and MSG make food taste better. But that is where the similarities end. Salt makes food taste salty and stimulates the salt taste receptors. MSG is the purest form of umami and thus it contributes umami by exciting the umami taste receptors.
For many people, the confusion between the two is amplified by the fact that most people grew up trained to recognize a salty taste yet never learned how to perceive the taste of umami. As such, umami has often been overshadowed by salt. Despite this, the human palate positively perceives umami and umami plays a critical role in well-rounded and delicious food.  
While different substances, salt and MSG can work together to heighten taste and reduce overall sodium intake. This is great news as Americans are generally advised to reduce the amount of sodium in their diets. One time-honored strategy to do this is to increase other taste and textural sensations so as to mask the lack of salt. Practically, this looked like increasing pungent ingredients (ginger, chilies, wasabi, horseradish, black pepper, etc.), acidic ingredients (vinegar, citrus, etc.), and textural components (crunch, chewy, various particulate sizes, etc.). While this strategy has some merit and can contribute to overall flavor and textural complexity, employing umami is a powerful and under-utilized sodium reduction strategy. Combining salt and MSG increases umami, decreases sodium, and makes food taste even better.
A Perfect Pairing: Lower Sodium Cooking and Umami Seasoning (MSG)
In my home, I have a mixture of 2/3 salt and 1/3 MSG sitting on my counter that I use to season food in place of pure salt. The result is 25% less sodium. This works because MSG has less sodium by weight than salt. It makes food taste delicious because it stimulates both the salt and umami receptors on the palate making the flavor experience more complete. Thus, there still is a salty impression along with the inherently satisfying and long-lasting savory taste — which is umami's calling card. It's yummy.
When I talk to people about this 2/3 to 1/3 mix, I get asked why not just replace all of the salt with MSG or make a mixture with a higher percentage of MSG. To replace all the salt with MSG certainly boosts umami but leaves the salt taste receptors unsatisfied. Similarly, making a mixture of a large percentage of MSG and a very low level of salt results in unsatisfying, unbalanced food. If you are looking to drop the sodium in your diet even more than 25%, try a 50/50 mixture. It does have very nice results and reduces sodium by 40% compared to straight salt.
So, mix up one of the 2/3 to 1/3 or 50/50 ratios in your home. Use it where you would add salt to your savory recipes. Sprinkle it on your eggs, meat, fish or vegetables. Dissolve it into soups, sauces, gravies, stews, or any liquid preparation. And then, enjoy increased taste and lower sodium. It's the perfect win-win.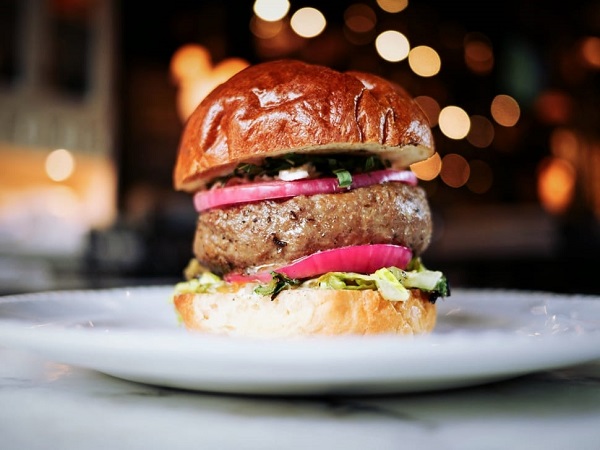 Mediterranean Hamburgers
This recipe is a good demonstration of how a combination of salt and MSG increases umami, decreases sodium, and makes food taste even better. 
Ingredients
1

lb.

ground beef

85% lean

2

tsp.

dried oregano leaf

1

clove

garlic

finely minced

1 ½

tsp.

ground fennel seed

it may be necessary to grind your own fennel seeds in a coffee or spice grinder

2

tsp.

onion powder

¼

tsp.

red pepper flakes

¾

tsp.

salt/MSG mixture

½

tsp.

ground black pepper

½

cup

spicy pesto

pesto mixed with hot sauce to taste

radicchio leaves

arugula leaves

tomato slices

red onion

thinly sliced

fresh basil leaves

warmed focaccia bread (or fresh buns)

split
Instructions
In a bowl, mix beef, oregano, garlic, fennel seed, onion powder, red pepper flakes, salt/MSG mixture, and black pepper until the mixture becomes elastic. Form 4 burgers.

Cook burgers on the grill or in a sauté pan until completely cooked through. They should not be red or pink in the middle when done.

Serve on focaccia that has been coated with spicy pesto. Serve with radicchio, arugula, tomatoes, red onion, and basil leaves so that your guests can personalize their burgers.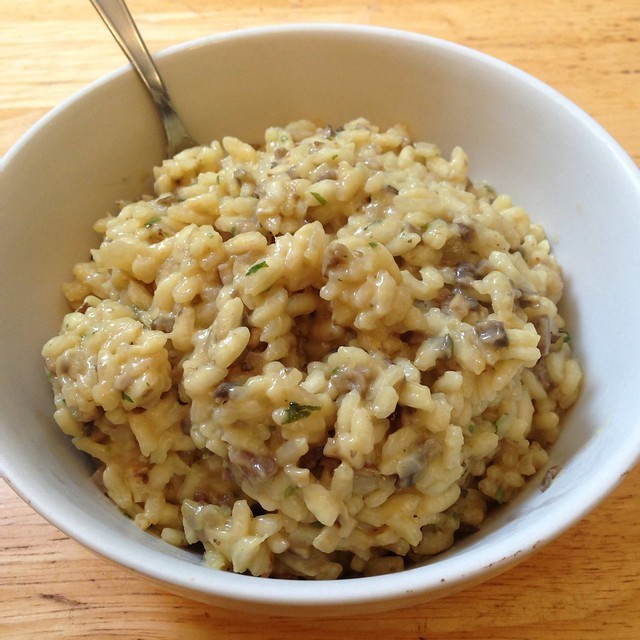 Mushroom Risotto
Delicious way to illustrate that employing umami is a powerful way to decrease sodium while boosting taste!
Ingredients
1 ½

pounds

assorted mushrooms

diced (having a mix of different types of mushrooms improves the flavor of the risotto)

4

Tbsp.

butter

1

medium onion

finely chopped

1

clove

garlic

minced

2

cups

arborio rice

1

bay leaf

¼

cup

Madeira wine or dry Marsala

5

cups

low-sodium chicken broth

hot

1 ½

tsp.

salt/MSG mixture

½

tsp.

white pepper

½

cup

parmesan cheese

freshly grated

½

cup

heavy cream

whipped to soft peak
Instructions
In a hot sauté pan, sauté the mushrooms in 2 tablespoons butter until they are cooked through. Remove from the pan. Reserve.

In a large saucepan, sauté the onions over moderate heat in remaining butter until transparent. Add garlic and cook 1 more minute. Add the mushrooms, bay leaf, and rice and continue to cook over moderate heat for another 2 minutes, stirring constantly.

Add the Madeira or Marsala wine and 1 cup of stock. Season the rice with salt/MSG mixture and pepper. Cook over moderate to low heat, stirring periodically with a wooden spoon until the broth is absorbed.

Continue to add the broth in 1 cup increments, adding more when the previous cup of broth is almost completely absorbed by the rice. Stir frequently, but gently as not to break the grains of rice.

When the rice is al dente, remove from heat and stir in the cheese. If the risotto is too stiff, add more liquid.

Fold in the cream, taste for seasoning and serve.
Recipe Notes
Photo credit: Flickr user, Joy
Read more about MSG as part of a lower sodium diet.