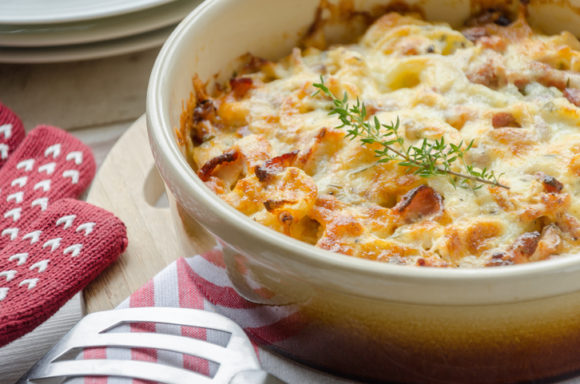 Whether you love them or hate them, casseroles have been a staple at family meals for a very long time. According to Wikipedia, casseroles originally were characterized as being a combination of meat or fish, "various chopped vegetables, a starchy binder such as flour, rice, potato or pasta, and often a crunchy or cheesy topping. Casseroles are usually cooked slowly in the oven, often uncovered. They may be served as a main course or a side dish, and may be served in the container in which they were cooked."
If I had to make an educated culinary guess, I would say the most popular casserole recipes include ingredients that provide umami flavor (e.g., meats, cheeses, tomatoes, mushrooms, seasonings). The Taylors are mostly fans of savory casseroles, a few of which are prepared only for special occasions. I cannot recall a Christmas dinner when we did not have my grandmother's cabbage casserole — I can smell it baking right now. Never fans of sweet potato casseroles, we preferred this cabbage dish made with lots of butter and cheese. Comfort food at its simplest.
There probably are as many 'favorite' casserole recipes as there are stars in the sky. Some are quick and easy (e.g., the ubiquitous green bean casserole) while others are a bit more complex; a few are definitely on the sweet side (e.g., those darned sweet potatoes with a gooey marshmallow topping) but many more offer up a blend of savory flavors. Being that I prefer savory, here are a few out-of-the ordinary casserole recipes. Do these whet your appetite?
Hot Overnight Chicken Casserole
Spicy Cajun Cabbage Casserole
Caramelized Vegetable Casserole
Swiss Chicken Casserole
Spaghetti Squash and Roasted Mushroom Casserole
Beefy Chili Biscuit Casserole
Whether eaten piping hot out of the oven or as left-overs, these casseroles might just become your family's favorite winter casserole. We hope you enjoy.