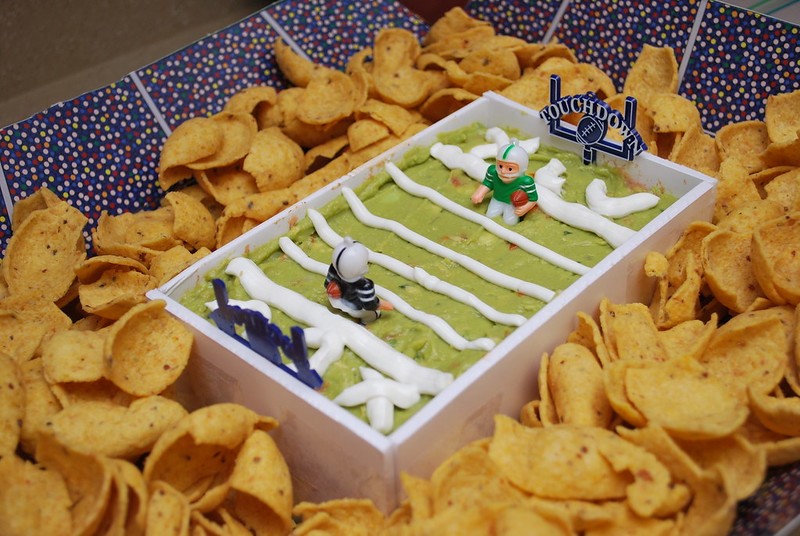 99 million people around the world tuned into the National Football League's Super Bowl® last year. That's a whole lot of people, many of whom will again be ready this year for another match-up. But do people really watch the game or are some only tuned in to watch the commercials? 
And beyond that, how many people meet up with friends and family just to enjoy the delicious game-day food that has become a tradition on the second Sunday in February?
Whatever your primary reason is to get together, savory snacks, appetizers and downright fantastic foods of all kinds will be one of the day's centerpieces. Taking a look back at what Today.com posted as its top picks for the ultimate game-day food, many of these foods are certainly the usual suspects.
Cocktail meatballs, chili, nachos, ribs and a variety of dips are among the 50 foods on their list. Not surprisingly, trendy chicken lettuce wraps were included, and while not a food per se, Bloody Mary cocktails were singled out as a must-have. Of course, chicken wings are also on the list since they are considered to be extremely popular at any football game party. 
In keeping with the Today.com list, here are some recipes for "winning" party foods, all of which are loaded with scrumptious umami flavor. Depending on which team you're rooting for, you might want to go for the foods that have some red in them (if you're a Chiefs fan), or some green (for those Eagles fans).
Chapel Tavern Bloody Mary
Sriracha BBQ Party Pretzels
Chicken and Cashew Lettuce Wraps
Creole Meatballs
Homemade Sure-Fire Chili
Salt and Pepper Wings
Let's begin with a unique Bloody Mary that uses vodka infused with fresh horseradish and umami seasoning (aka MSG).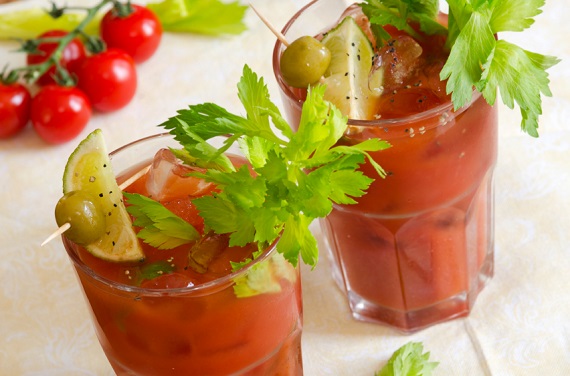 Chapel Tavern Bloody Mary
Thanks to the Chapel Tavern and 40 Mile Saloon in Reno, Nevada for this superb savory, umami-bomb cocktail.
Ingredients
For the Horseradish/MSG Vodka
1

liter

vodka

½

cup

fresh horseradish

peeled and minced

1

Tbsp.

black peppercorns

4

tsp.

MSG*

*Popular brands of MSG include Ajinomoto® and Ac'cent®.
For the Drink
2

oz.

Horseradish/MSG Vodka (ingredients above)

3

dashes

Original Tabasco®

3

dashes

Lea & Perrin's® Worcestershire Sauce

2

dashes

red wine vinegar

1

wedge

lemon

3

shakes

celery salt

4-5

oz.

grinds of fresh black pepper

1

oz.

green olive brine

3

oz.

stout beer

e.g., Guinness®

tomato juice

enough to fill glass
Instructions
For the Horseradish/MSG Vodka
Add vodka to a food safe, lidded container, add horseradish and black peppercorns. Leave to sit in a cool, dark place overnight. Strain through cheesecloth back into the bottle.

Fill the kitchen sink with hot tap water and place horseradish-infused vodka with the cap on into the hot water. Let sit 15 to 20 minutes. Remove cap and add MSG. Shake to combine.
For the Drink
Fill a glass with ice; add the vodka, Tabasco, Worcestershire sauce and red wine vinegar. Squeeze one wedge of lemon and add spent lemon wedge. Add the celery salt, black pepper, olive brine, and beer.

Top with good quality tomato juice and stir to combine. Garnish as seen fit with seasonality in mind; the Chapel Tavern uses El Pato brand hot peppers, green olives, celery, pickled green tomatoes, Italian parsley, cherry tomatoes, and more depending on season and whim.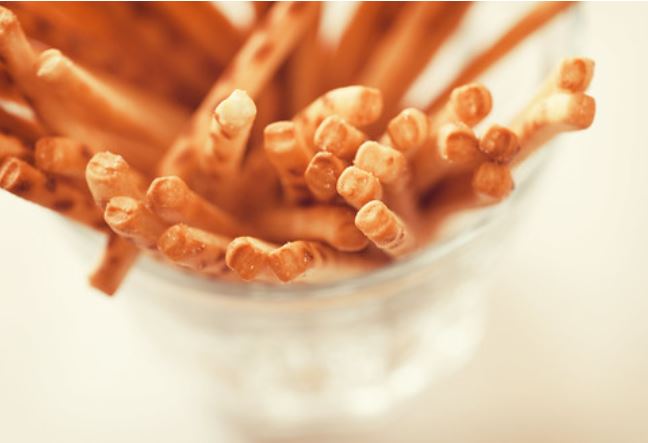 Sriracha BBQ Party Pretzels
Pretzels and chips are a mainstay for any party, no matter what any list says! This pretzel recipe is extra zippy, zesty and umami-licious.

Ingredients
16

oz.

pretzel sticks

¾

cup

sunflower oil

2

Tbsp.

Sriracha and Roasted Garlic BBQ Sauce

e.g., from Trader Joe's®

1

Tbsp.

MSG*

(umami seasoning)

½

tsp.

onion powder

1

tsp.

garlic powder

*Popular brands of MSG include Ajinomoto® and Ac'cent®.
Instructions
Preheat oven to 250° F. Whisk together oil, sauce, MSG, onion powder and garlic powder.

In a large bowl pour mixture over pretzels and mix well until evenly coated.

Spread pretzels out among two jelly roll pans and bake for 90 minutes. Stirring every 30 minutes.

Allow to cool and store in an air-tight container. Gallon sized bags work well for this.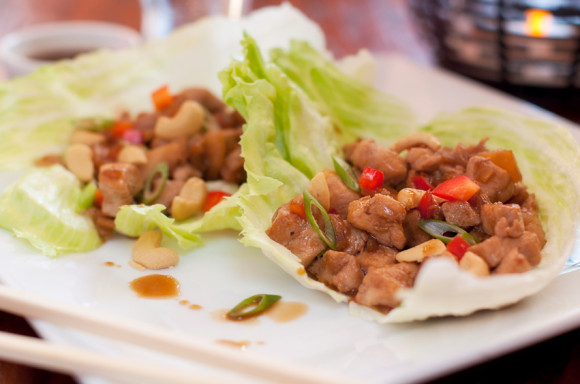 Chicken and Cashew Lettuce Wraps
Different versions of this lettuce-enveloped, flavorful chicken dish have become popular in many restaurants. Lettuce wraps with chicken and cashews can be served as an appetizer or an entrée – it's up to you!
Ingredients
8-10

ounces

uncooked chicken breast

minced

1

cup

coriander

chopped finely

1

egg white

4

tablespoons

water

½

tablespoon

cornstarch

¼

teaspoon

salt

¼

teaspoon

meat tenderizer

½

teaspoon

umami seasoning *

MSG

1

tablespoon

cooking oil

2

tablespoons

cooking oil

1

tablespoon

rice wine

1

tablespoon

light soy sauce

½

teaspoon

pepper

¼

cup

chopped cashews

oven toasted

6

big lettuce leaves

for wrapping
Instructions
Mix minced chicken with egg white, water, cornstarch, salt, tenderizer, umami seasoning, and 1 tbsp. oil. Set aside.

Heat 2 tbsp. oil in a fry pan.

Place the meat, coriander, wine, soy sauce and pepper into the pan.

Stir-fry until the meat is cooked.

Remove from heat and place on a plate.

Divide the meat mixture into 6 portions.

Place each portion on a lettuce leaf.

Sprinkle cashew nuts evenly over the meat. (Optional: sprinkle diced red or green pepper as well.)

Wrap meat with lettuce and serve.

* Note: Popular brands for umami seasoning that you can most likely find in your local grocery store in the spices/seasonings section: Ac'cent, Ajinomoto or Vedan brand.
Recipe Notes
Recipe courtesy of Food.com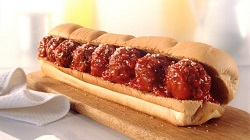 Creole Meatballs
Score big with these scrumptious meatballs on game day. Your family and friends will be asking for an instant replay! These delicious creole meatballs are perfect for an appetizer, or you can serve them as an entrée with a rice side dish or as main component of a hearty sandwich, using crusty rolls. Either way, touchdown!
Ingredients
2

lbs

lean ground beef

1/4

cup

chopped onion

2

eggs

slightly beaten

1

cup

tomato juice

1

cup

dry bread crumbs

1

tablespoon

chili powder

1

tablespoon

salt

1/2

teaspoon

thyme

1/3

teaspoon

cayenne pepper

1/2

teaspoon

MSG

(umami seasoning)

flour

for rolling

1/3

cup

cooking oil

1

cup

onion

sliced

3/4

cup

green pepper

chopped

1/2

cup

chopped celery

3

cups

sliced mushrooms

5

cups

canned tomatoes

1

bay leaf

crushed

1

teaspoon

salt

1/3

teaspoon

cayenne pepper

1/4

cup

wine

sweet
Instructions
Mix first 10 ingredients together and form into 1 inch meatballs.

Roll in flour and set aside.

Using a large skillet, sauté onions, green pepper, celery and mushrooms in oil; transfer vegetables to large saucepan when nicely sautéed.

Brown meatballs in same skillet; add to saucepan with the sautéed vegetables. Add the remaining 5 ingredients to make the sauce.

Cover and simmer 30 minutes. Serve hot as desired.

Note: If desired, thicken sauce using 1-2 tablespoons of flour mixed with 1/4 cup water.
Recipe Notes
Recipe adapted from Food.com.
Photo credit: By Michael Stern - 10000000041678_000334, CC BY-SA 2.0, https://commons.wikimedia.org/w/index.php?curid=45791026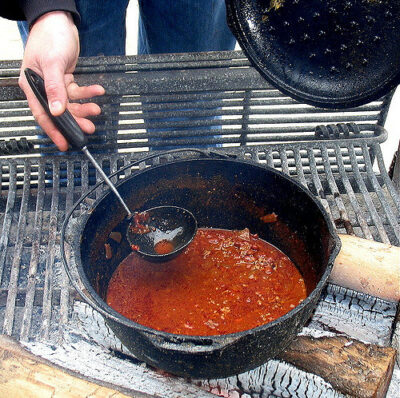 Homemade Sure-Fire Chili
A sure-fire hit at your holiday party! Have your punch cup ready, this will need some serious beverage follow-up!
Ingredients
1

lb.

ground beef

3/4

cup

chopped onion

1

garlic clove

minced

2

Tbsp.

chili powder seasoning

1

Tbsp.

flour

1/2

tsp.

salt or to taste

1/2

tsp.

ground cumin

1/2

tsp.

sugar

1

tsp.

seasoned salt

1/2

tsp.

MSG

3

drops

Worcestershire sauce

1 8 oz.

can

tomato sauce

1

cup

water

1/4

cup

bell pepper

optional
Instructions
Brown together the ground beef, onion, garlic, and bell pepper. Drain excess fat.

Stir in remaining ingredients. Mix well.


Cover and simmer 30 minutes.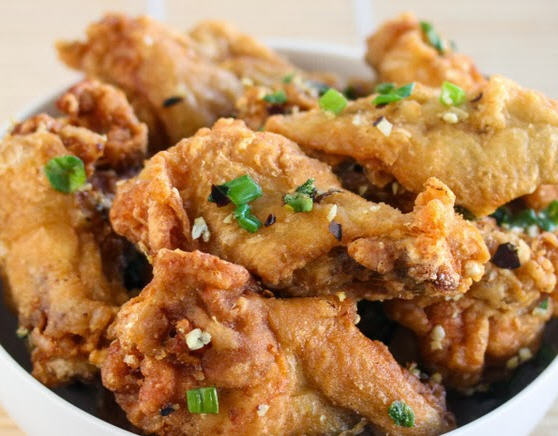 Salt and Pepper Chicken Wings
This distinctive savory chicken recipe is full of savory goodness. And who doesn't like red pepper flakes?!
Ingredients
22

chicken drummettes

1/3

cup

flour

2

tbsp

cornstarch

1 1/3

cup

water

vegetable oil for frying
Seasoning
1

head of garlic

minced

2

tbsp

olive oil

1

bunch of green scallions

finely chopped

1-2

tsp

red chili flakes

White pepper to taste

Black pepper to taste

Salt to taste

MSG

monosodium glutamate, such as Ac'cent® to taste
Instructions
Pour enough vegetable oil into a pot so that it is about 2 inches deep. Heat on medium-high until oil reaches 350F.

To make the slurry, whisk the flour, cornstarch, and water in a medium-sized bowl until no lumps remain. Pat chicken wings dry with paper towel. Coat chicken in slurry and then place into hot oil.

The chicken will be fried twice. Work in small batches, about 6-8 pieces at a time. Fry for 8 minutes. Chicken will be a light golden color. Drain excess oil on paper towels. Set chicken aside to wait for second fry. Continue until all your wings have been fried once for 8 minutes.

Again working in small batches, fry all of the chicken a second time for 8 minutes each (chicken does not get coated again in the slurry!). Chicken should now be golden and crunchy. Set finished chicken on a cooking rack.

In a wok, add olive oil and bring to medium heat. Once oil is hot, add in garlic. Cook and stir until aroma of garlic comes out and garlic is lightly browned (about 1 minute). Lower heat and add in chili flakes and scallions and cook about 1 minute on low heat. Turn off heat and place finished chicken into wok and toss chicken in the garlic mixture. Sprinkle white pepper, black pepper, salt and MSG to your taste evenly over chicken.

Place the chicken back on a cooling rack until it's time to serve your guests!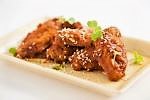 More super game-day food recipes, from Lifehacker: Invite MSG to Your Super Bowl Party