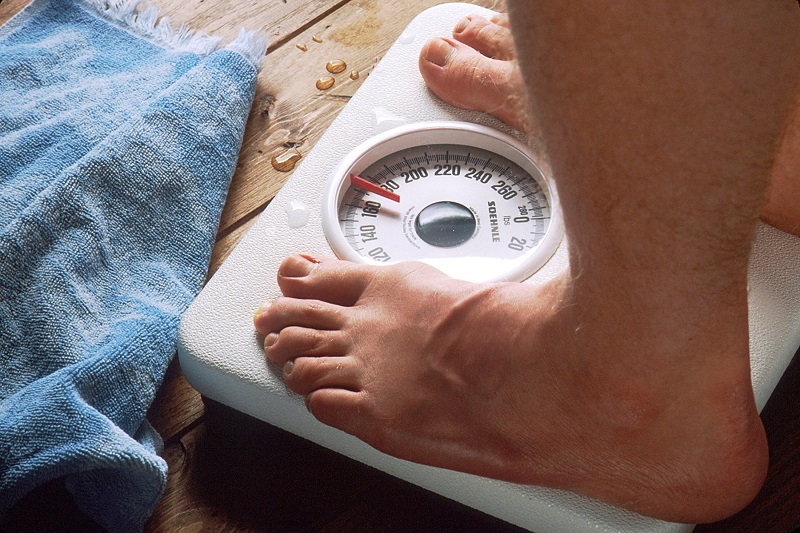 Most of us have heard of the "Freshman 15″ many first-year college students dread as they begin the next part of their education. Now with the coronavirus pandemic, the "COVID-19 Weight Gain" (or "Quarantine 15") is a new concern facing those trying to stay healthy and avoid any weight gain.
As the world attempts to curtail the COVID-19 pandemic, most of us are feeling increasingly stressed. And when a stressful situation of this magnitude arises, people often experience considerable changes to their eating behaviors. Generally described as emotional or stress eating, we often start to eat in a conscious or unconscious effort to suppress or soothe negative emotions.
More workplaces have required their employees to work remotely. Children are home from school. Having easy access to the refrigerator and pantry could prompt some of us to eat more than we would without a quarantine. Working from home and less time in other places has its perks – but for some, weight gain isn't one of them.
How to Reduce the Likelihood of COVID-19 Weight Gain
Here are some suggestions on ways to not pack on extra pounds while safer-at-home in the upcoming weeks:
Stick to a schedule. Eat the way you would if you were in your workplace.


Make your "home office" and "home school" a no eating zone. If possible, separate where you eat from where you work and study.


Plan your snacks. Ahead of time (the night before or first thing in the morning) select them and put in containers for that day. Don't eat from the cookie jar or chip bag.


Write it down. Keep a food diary so you can keep track of what you're eating during the day. Discover problematic times and/or emotions that trigger eating.


Figure out what you're feeling. Your food diary can help here. Are you really hungry – or stressed, tired, or bored? You may be eating to fill the void. If you're tired, take a nap. If you're stressed, take a break. If you're bored, take a fitness break.


Get cookin'. Do your best to create balanced meals with what's available. Aim for a generous portion of fruits/veggies (fresh, dried, frozen or canned- all OK), some protein, healthy fats, and quality carbs (starchy veggies like potatoes, sweet potatoes and butternut squash or whole grains). Search the web for healthy recipes.


Eat more umami-rich foods to help control how much you eat.

– Think about foods that are rich in the umami taste – cheeses, tomatoes, walnuts, shellfish, green tea, mushrooms, and peas, for example. Promising new research shows that umami-rich foods can help control appetite. And MSG, which is the purest taste of umami, can play a role. Specifically, Chinese take-out orders with MSG could help regulate how much you eat at that meal. For those of you who order wonton soup – a chicken soup that usually contains MSG – you might be interested in the results of this study

(1)

. Subjects consumed chicken broth with or without MSG to see if this flavoring ingredient might alter their appetite. Subjects exhibited more control over their food intake and ate less saturated fat after ingesting the broth with the MSG than after consuming the non-MSG soup. The authors suggest that the glutamine (an amino acid that functions as a neurotransmitter in the brain) in monosodium glutamate may be responsible in part for the eating behavior seen in the study. And that could also translate to other Chinese entrees.

– Another paper reported on subjects consuming beef broth containing different amounts of MSG, and their food intake was measured about thirty minutes later.

(2)

After consuming the soup, subjects reported feeling full and not interested in eating.
Umami Delivers Great Taste without Caloric Cost
So, does MSG change your food intake? Maybe it can help. What is not in dispute is that the glutamate in MSG is the source of a taste called "umami". Because umami was originally a Japanese term, it was thought to be a taste associated only with Asian foods, and not one detected by American taste buds. However, it has been now established as a fifth basic taste along with sweet, sour, bitter, and salty.
Umami and MSG could also induce us to eat foods that are healthy, but are avoided because their taste is dull. An article by Yamaguchi and Ninomiya points out that Western foods traditionally rely on high-fat components to deliver taste and carry the taste of other ingredients.(3) But, they point out, much pleasure in the taste of foods is also found in foods delivering that fifth taste – umami – and without the caloric cost.
Regardless of whether MSG makes us eat more or less, what it can do through the fifth taste sense, umami, is to bring more nutritional sense to our diet. Something many of us can use during this stressful time.
References:
"Umami and Food Palatability," Yamaguchi S and Ninomiya K The Journal of Nutrition 2000; 130: 9212-9265s

Below are a few delicious recipes to try. And be sure to use the MSGdish "search" feature if looking for a desired recipe.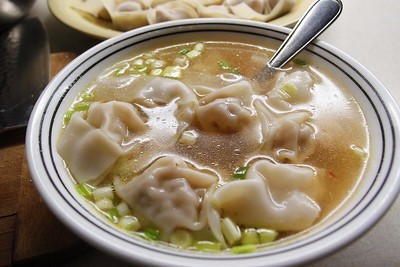 Wonton Soup
A simple, light Chinese dumpling classic!
Total Time
1
hour
30
minutes
Ingredients
1

14 ounce package

wonton wrappers

1

package

chicken backs

5 piece

1/4

pound

ground pork

1

small onion

2

cloves

garlic

1/2

teaspoon

black pepper

2

tablespoons

garlic salt

1

tablespoon

MSG

(umami seasoning)

2

tablespoons

oil

1

egg white

for sealing the wonton wrappers
Instructions
Heat oil; cook garlic until light brown. Add onion and ground pork; cook for 15 minutes and set aside.

Spread the wonton wrapper and put 1/4 teaspoon cooked pork in the middle and fold in half and seal it with egg white. Repeat until you use the wrapper.

Boil the chicken in 4 quarts water for 1 hour.

Remove the bones and drop the wonton into the broth.

Add garlic salt, pepper and monosodium glutamate. Add more salt to taste. Cook wontons for 30 minutes.
Recipe Notes
Courtesy of Food.com
photo credit: Flickr user Madchuckles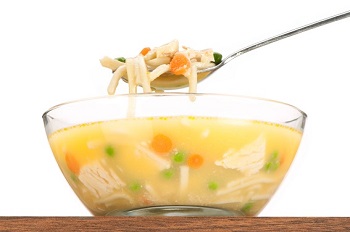 Crockpot Chicken Noodle Soup
Ingredients
2

lbs

chicken pieces

skin removed

2

quarts

water

1

tablespoon

salt

1

teaspoon

MSG

(umami seasoning)

1/4

teaspoon

pepper

1

leek or medium onion

chopped

1

carrot

chopped

2

stalks

celery

chopped

1/4

cup

fresh parsley

chopped

1/2

teaspoon

marjoram or basil

1

bay leaf

6

ounces

dry noodles
Instructions
Place all ingredients except noodles in the crockpot.

Cover and cook on low for 5 to 6 hours.

Remove chicken and bay leaf from pot; remove meat from bones, dice, and return to broth; add the noodles. Throw away the bay leaf.

Cook another hour or until noodles are done (about 1/2 hour on high).
Recipe Notes
Source: Food.com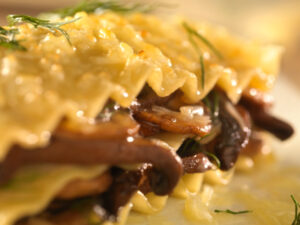 Mushroom Lasagna
If you love mushrooms, you will enjoy this recipe!
Ingredients
1

cup

boiling water

1

oz.

dried porcini mushrooms

1

Tbsp.

butter

2

Tbsp.

olive oil

divided

1 1/4

cups

chopped shallots

about 4

1

8-oz. package presliced cremini mushrooms

1

4-oz. package presliced exotic mushroom blend

1

tsp.

salt

divided

1/2

tsp.

freshly ground black pepper

divided

1 1/2

Tbsp.

chopped fresh thyme

6

garlic cloves

minced and divided

1/2

cup

white wine

1/3

cup

1/3-less-fat cream cheese

2

Tbsp.

chopped fresh chives

divided

3

cups

2% reduced-fat milk

divided

1.1

oz.

all-purpose flour

about 1/4 cup

cooking spray

9

no-boil lasagna noodles

1/2

cup

grated Parmigiano-Reggiano cheese
Instructions
Preheat oven to 350° F.

Combine 1 cup boiling water and porcini. Cover and let stand 30 minutes; strain mixture through a cheesecloth-lined sieve over a bowl, reserving liquid and mushrooms.

Melt butter in a large skillet over medium-high heat. Add 1 Tbsp. oil to pan; swirl to coat. Add shallots to pan; sauté 3 minutes. Add cremini and exotic mushrooms, 1/2 tsp. salt, and 1/4 tsp. pepper; sauté 6 minutes or until mushrooms are browned. Add thyme and 3 garlic cloves; sauté 1 minute. Stir in wine; bring to a boil. Cook 1 minute or until liquid almost evaporates, scraping pan to loosen browned bits. Remove from heat; stir in cream cheese and 1 Tbsp. chives. Add reserved porcini mushrooms.

Heat a saucepan over medium-high heat. Add remaining 1 Tbsp. oil to pan; swirl to coat. Add remaining 3 garlic cloves to pan; sauté 30 seconds. Add the reserved porcini liquid, 2 3/4 cups milk, remaining 1/2 tsp. salt, and remaining 1/4 tsp. pepper; bring to a boil. Combine remaining 1/4 cup milk and flour in a small bowl; stir with a whisk. Add flour mixture to milk mixture, and simmer 2 minutes or until slightly thick, stirring constantly with a whisk.

Spoon 1/2 cup sauce into an 11 x 7-inch glass or ceramic baking dish coated with cooking spray, and top with 3 noodles. Spread half of mushroom mixture over noodles. Repeat layers, ending with remaining sauce. Sprinkle cheese over top. Bake at 350°F for 45 minutes or until golden. Top with remaining 1 Tbsp. chopped chives.
Recipe Notes
Recipe courtesy of Myrecipes.com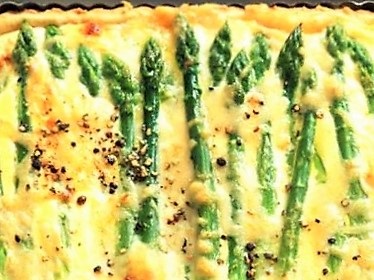 Ricotta and Asparagus Quiche
For brunch lovers!: An easy and scrumptious vegetarian quiche recipe, with asparagus and ricotta cheese.
Ingredients
For the Crust (Pastry)
1 1/3

cups

flour

all-purpose

11

Tbsp.

butter

softened (about 2/3 cup)

1

egg

1

egg yolk

1

Tbsp.

olive oil

salt

to taste

1/2

cup

water
For the Custard (Filling)
1

lb.

green asparagus

1 3/4

cup

ricotta

(14 oz.)

3

eggs

salt

to taste

1/2

cup

Parmesan

grated

pepper (freshly ground)

to taste

nutmeg

to taste

fat

as needed to grease the dish
Instructions
Combine the flour, butter, egg and egg yolk, 1/2 cup water, oil and a little salt and work to a smooth dough.

Form into a ball, wrap in foil or plastic wrap and chill for about 30 minutes.

Wash the asparagus, peel the lower third and cut off the ends.

Either leave whole or cut into pieces.

Cook the asparagus in boiling salted, water for about 5 minutes, then drain, refresh in cold water and drain thoroughly.

For the filling, mix together the ricotta, eggs and grated Parmesan cheese and season with salt, pepper and nutmeg.

Roll out the pastry to fit the dish.

Grease the dish and line with the pastry.

Arrange the asparagus attractively in the lined dish, then spread the ricotta mixture (filling) on top.

Bake in the oven for 15 minutes, let cool then serve.
For more delicious umami recipes, visit the MSGdish Savory Cuisine Corner Savory Recipes page.