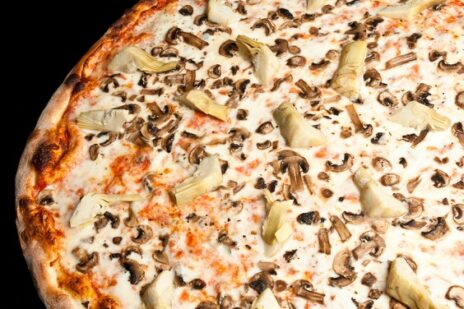 It's no secret that I love pizza. Seriously. Love it. It's often my Friday night go-to dinner because it's quick, easy, and a way to use up all of the leftover vegetables from earlier in the week.
But, occasionally, I'll make pizza during the week as a destination dish rather than an end of the week afterthought. It recently dawned on me that many of the ingredients commonly used in pizza are naturally high in glutamate, the amino acid responsible for umami flavor, so I set out to capitalize on that and create the ultimate umami bomb pizza. Here's what I created.
I started with fresh pizza dough. I love using a ball of fresh pizza dough that I can get in the deli section of my grocery. Next, I added pizza sauce. You can make a fresh one out of tomatoes, onion, herbs and spices, but I just use a jarred sauce. The tomatoes in the sauce are the first food to contribute an umami flavor to this dish, and the sauce as a whole will add some sweetness to round out the flavors in the pizza.
Next, I layered my umami-bomb pizza with prosciutto, mushrooms and artichokes. I picked prosciutto because the curing process it's been through increases the umami flavor. Prosciutto is also quite salty, so it doesn't take much to deliver a lot of flavor. Mushrooms also add to the umami flavor in this pizza, and the artichokes bring some bitterness to complement the umami.
I topped the pizza with the traditional mozzarella cheese, and baked it. Before serving, I brushed the exposed crust with melted butter and sprinkled some parmesan cheese on top of the buttered crust. This added more umami taste to the dish and made the crust a delicious treat of its own.
Interesting news following the publication of this blog: MSG Maker Challenges Misinformation with Satirical Campaign to "Cancel" Pizza.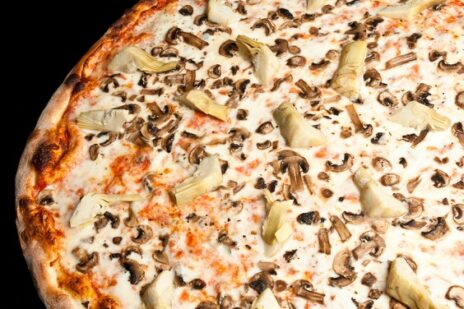 Umami Pizza
Ingredients
1

lb

. pizza dough

1

jar pizza sauce

8 oz.

2

oz

. prosciutto

sliced thinly

4 -5

mushrooms

sliced

1

bag frozen artichoke hearts

9 oz., thawed, drained and roughly chopped

8

oz

. mozzarella cheese

shredded

1

tbsp

. butter

optional, melted

1

tbsp

. parmesan cheese

optional, grated
Instructions
Pre-heat the oven to 425°F. Grease a cookie sheet with non-stick cooking spray.

Roll or stretch the dough to a circular shape.

Top dough with an even layer of pizza sauce spread to within 1 inch of the edge of the dough.

Layer prosciutto, mushrooms and artichoke hearts on top of the sauce. Top with mozzarella cheese.

Bake for about 18-22 minutes until the crust is browned and cheese is golden.

While pizza is still warm, brush crust with melted butter and top with parmesan cheese.
More Delicious Savory Foods & Umami Recipes:

Sorry, but there are no results for your search term. Please modify your search term or broaden your search.