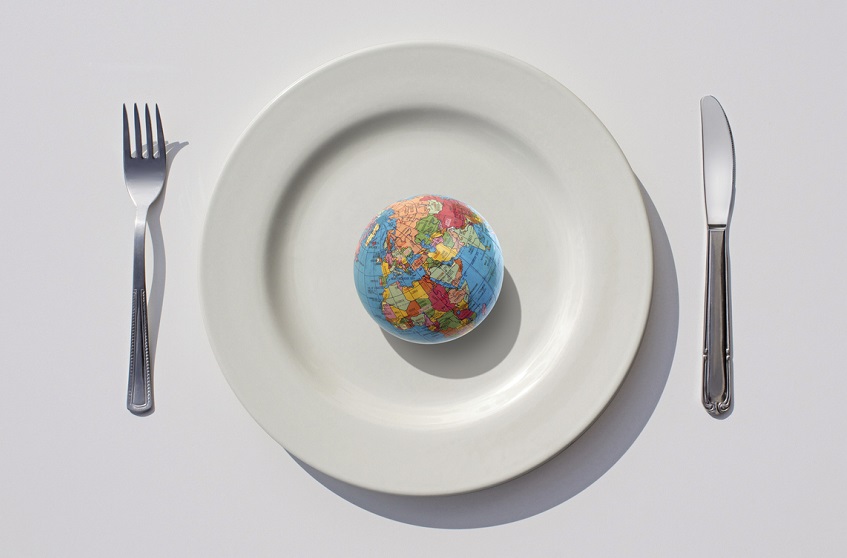 Umami. It's the savory flavor that's savored around the world, from Asia to Europe to the United States. And for a long time!: foods that are ripe with umami goodness have been used for ages in the cuisines of many countries.
According to the Umami Information Center, "There are a great variety of traditional seasonings and foods in the world. Most of them are fermented, dried, or salted for the purpose of long preservation. In this process, glutamate and other umami substances increase and add richness to the dish."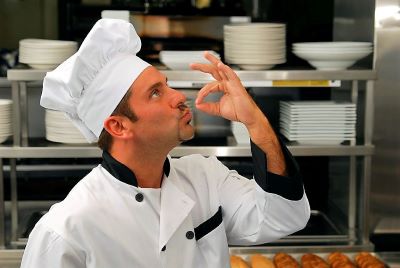 Chefs around the world are showcasing umami's benefits. In Thailand, the popular umami-rich ingredient is fish sauce. In Japan, it's miso and soy sauce. In Italy, it's Parmesan and anchovies. In Spain, it's cured meats. In Australia, it's vegemite. In Korea, it's kimchi. In the U.S., umami is well-recognized in tomatoes, cheese, and mushrooms (to mention just a few foods).
Worldwide Love of Umami
To illustrate how widespread the love of umami is, this graphic shows where and how umami-rich foods are used worldwide:
For the purpose of this blog, let's take a look at two among the many regions where umami is an important culinary consideration. 
Great Britain: We've previously highlighted two restaurants in London – Umami and The Hawksmoor – the latter of which serves a Longhorn beef burger specially constructed, not just with the umami taste in mind – but around it. But as its executive chef Richard Turner points out: "We build our entire menu on it."
Another article from a London newspaper has commented, "A gourmet paradox, umami is both ubiquitous and elusive, present but often unrecognised. It is that extra mouthful-ness that makes us go "mmmmm" – to taste umami is to savour the savoury long after the morsel itself has disappeared." 
Italy: In The Italian Dish blog, the blogger writes: "It's something every Italian nonna knows about when it comes to adding flavor to dishes. And if you don't know what umami is, you will. It's one of the hottest subjects in the cooking world right now." The blogger offers another secret about umami: "It's why Italian cooks often add an anchovy in the beginning when cooking a sauce. Even if you don't like the taste of anchovies, you will never know it is there. It completely dissolves but it adds a depth of flavor you would not have otherwise."
A Roundup of Umami Recipes from Around the World
Discover the wonder of umami by cooking up a few of these delicious umami recipes, bringing the world of umami into your kitchen!: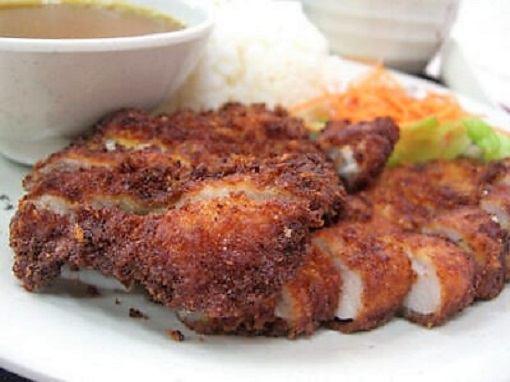 Chicken Katsu
Ingredients
6-8

pieces

boneless skinless chicken thighs

1

cup

flour

1 1/2

cup

panko bread crumbs

Garlic salt to taste

Black pepper to taste

1

tsp.

MSG

2

large eggs

Vegetable oil for frying
Dipping Sauce:
3

Tbsp.

ketchup

1

Tbsp.

mayonnaise

1 - 2

Tbsp.

Worcestershire sauce

1

tsp.

soy sauce

1 - 3

tsp.

hot pepper sauce

to taste
Instructions
In a medium bowl, mix flour, garlic salt, pepper and MSG. Set aside.

In a separate bowl, beat eggs well; set aside.

Spread panko crumbs on large plate or flat dish; set aside.

To prepare the chicken, first dredge the thighs in flour mixture to evenly coat. After coated, dip each thigh in the egg wash, then coat with panko bread crumbs, making sure all of the chicken is covered with crumbs.

Heat 1/2 inch oil in a large fry pan on medium heat. Carefully place coated chicken in heated oil, turn when panko turns a golden brown (about 5-7 minutes per side). Note: Chicken should be cooked to an internal temperature of 165°F.

After chicken is cooked, drain on paper towels and season with salt (if desired) before serving.

For dipping sauce, mix together the ketchup, mayonnaise, soy sauce, Worcestershire sauce and hot pepper sauce.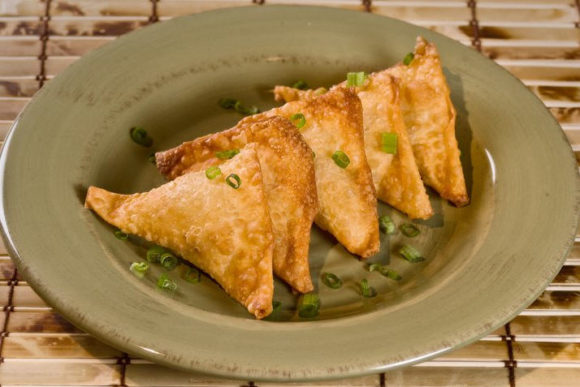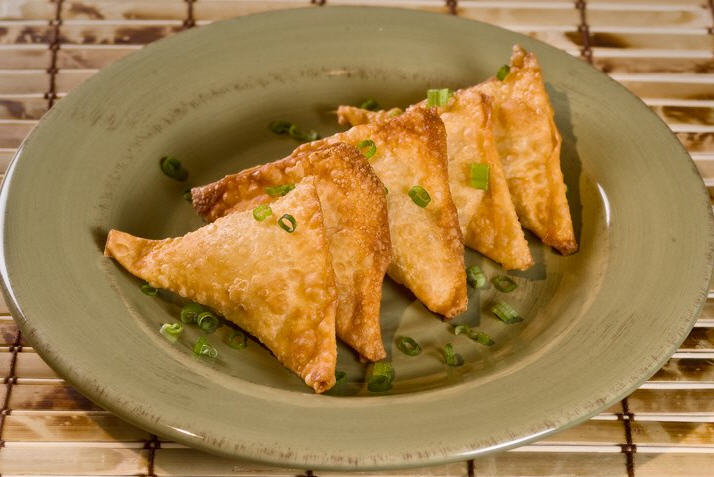 Crab Rangoon
Ingredients
1 to 1 ½

cups

shredded crab or imitation crab meat

packed

1

pkg

won ton wrappers

50 – 60 wontons

16

oz

softened cream cheese

¼

cup

sour cream

3

green onions

white and very pale green parts only, sliced thin. Use the green parts to garnish

1

clove

garlic

minced fine

1

tsp

ginger

minced fine

2

tsp

soy sauce

2

tsp

sugar

½

tsp

MSG

monosodium glutamate

Bowl of cool water

Peanut oil for frying
Instructions
Filling
In a large mixing bowl, mix together the cream cheese, sour cream, soy sauce, ginger, garlic, sugar and MSG until smooth and well-combined.

Thoroughly fold in the crab meat and green onions to the cheese mix.
Form the crab rangoon
Place the small bowl of cool water on your work surface.

Place a wonton wrapper on your work surface. Place 1 to 2 teaspoons of the cheese and crab mix in the center of the wonton wrapper (the proper amount depends on the size you bought).

Take your finger and dip it in to the water. Run your finger on the outside edge of the wonton square. Then gently fold it over to form a triangle shape. Seal the edges firmly so they don't open during frying. You will find that as you seal one edge, the other may raise a bit, that's okay.

Place each finished crab rangoon on a large sheet of wax or parchment paper. Cover with a kitchen towel to keep moist while you make the others.
Frying crab rangoon
Place a pan suitable for deep frying over medium-high heat. Immediately pour the peanut oil to a depth of about 2". Heat to 350°F.

Cook the crab rangoon in the hot oil (turning once) in small batches. They cook quickly. When finished frying, remove them with a spider or slotted spoon and drain on a rack or paper towels.
Recipe Notes
Cook them just a shade or two lighter than "golden brown." They seem to darken more a few moments after you remove them from the oil. You'll know if you fry them too long because the cheese and crab mixture will start to seep out from the seams.
Recipe courtesy of Chop Onions, Boil Water Blog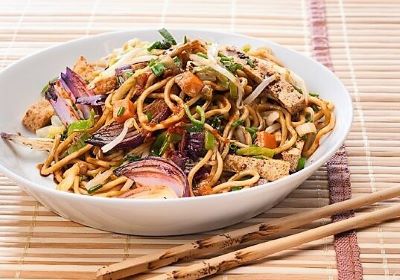 Teriyaki-Style Noodles with Tofu
This rich, Japanese-style broth, flavored with vibrant fresh herbs, ginger, and garlic, peps up firm tofu and long strands of earthy buckwheat noodles.
Ingredients
5

ounces

soba

Japanese buckwheat noodles

2

cups

mixed vegetables

asparagus tips, broccoli, carrots, cauliflower, or green beans

⅓ 

cup

reduced-sodium soy sauce

1 ¼ 

cups

vegetable broth

4

Tbsp.

rice wine or dry sherry

sake or mirin

10

ounces

firm light tofu

diced

2

spring onions

chopped

1

fresh red chili

seeded and chopped

1

tablespoon

fresh mint

chopped

1

tablespoon

fresh cilantro

chopped

1

large garlic clove

crushed

½ 

teaspoon

grated fresh ginger
Instructions
Bring a large saucepan of water to a boil and cook the soba noodles according to package instructions, or until al dente, about 6 minutes.

Meanwhile, cut all of the mixed vegetables into bite-sized pieces. Add to the simmering pasta for the final 3-4 minutes of cooking.

Drain the pasta and vegetables in a large colander. Place all remaining ingredients in the empty saucepan and return it to the heat. Heat until simmering, then reduce to low. Return the pasta and vegetables to the pan, and cook very briefly until they are reheated.

Serve in deep soup bowls, with a spoon to drink the broth and a fork or chopsticks for picking up the solid ingredients.
Recipe Variation: Replace the tofu with 8 ounces peeled, cooked shrimp or diced, cooked chicken or turkey (without the skin).
Recipe Notes
Recipe courtesy of Reader's Digest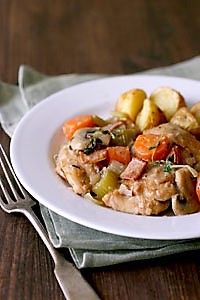 Coq au Vin Noveau
Thanks to the Umami Information Center for sharing this delicious recipe and photo.
Ingredients
2

Tbsp.

extra virgin olive oil

4

oz.

lean smoked ham

diced medium

8

skinless chicken thighs

Salt and freshly ground black pepper

3

Tbsp.

all-purpose

plain flour

1

medium onion

diced

4

cloves

garlic

minced

1/4

cup

minced shallots

1

cup

cremini or button mushroom slices

1/4-inch thick (1/3 to 1/2 lb.)

1

cup

fruity white wine such as sauvignon blanc

1

14-oz. can low-fat chicken broth

2

medium carrots

peeled and sliced 1/2-inch thick

2

stalks celery

sliced 1/2-inch thick

2

sprigs fresh thyme

or 1/2 tsp. dried
Instructions
Choose a heavy Dutch oven or skillet with a tight-fitting cover, large enough to fit the chicken in no more than two layers plus the vegetables. In this pan, heat 1 tablespoon of the oil, add the ham and saute until browned all over. Remove and reserve the ham, leaving as much of the oil in the pan as you can.

Liberally season the pieces of chicken with salt and pepper and dredge them in the flour. Add the remaining oil to the pan. When the oil is hot, sear the pieces of chicken thoroughly on all sides until well browned. Take care not to scorch the flour coating, but do let it get brown. Do this in batches. Reserve the chicken with the ham.

Return pan to the burner and set to medium. Add the onion, garlic, shallots, and mushrooms, and saute for 3 minutes, stirring constantly, until tender and fragrant. Add the wine, chicken broth, carrots, celery, and thyme, and let the pan come to a boil. Add the reserved chicken and ham. Cover the pot and bring to a simmer. Cook for 45 to 50 minutes, until the chicken is very tender and the sauce has thickened from the flour. Taste and correct seasoning with salt and pepper.

Arrange chicken pieces and vegetables on a warmed platter, and cover with the sauce. Serve with rice, noodles or roasted potatoes.
Recipe Notes
Recipe courtesy of Umamiinfo.com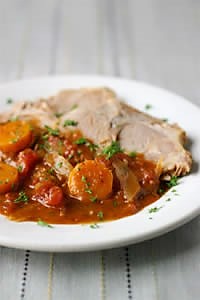 Provencal Style Pork Stew in Tomato Sauce
Very popular in French home cooking. This combination of thyme and garlic is enough to whet anyone's appetite! The secret to this recipe is to grill both sides of the pork before stewing, which traps the umami in the meat.
Ingredients
3/4

lb.

shoulder of roast pork

12-14 oz.

1

15-16 oz. can tomatoes

2

onions

½

carrot

2

cloves

of garlic

½

cup

white wine

Some salt and pepper to season

Some parsley

chopped

2

Tbsp.

olive oil
Seasoning for Pork:
Some salt and pepper

¼

tsp.

dried thyme
Seasoning for Sauce:
Some salt and pepper

¼

tsp.

dried thyme

1

bay leaf
Instructions
Rub the salt, pepper and dried thyme into the pork.

Slice the tomatoes into large chunks keeping the juice for later use. Cut the onions in half and slice. Slice the carrots and finely chop the garlic.

Heat 1 tbsp of olive oil in a pot and, turning frequently, fry both sides of the pork until golden brown.

Add the remaining olive oil to the pork, then add the garlic, onions and carrots respectively. Fry quickly before adding the wine, tomatoes with juice and all seasonings for the sauce. Cover with a lid and then stew for 1 hour on low heat. Should the stew be too thin, remove the lid and boil for a while until the excess has evaporated.

Add salt and pepper to taste and some lemon juice if desired.

Slice the pork into strips that are ½ to 1 inch wide and, together with the sauce, place on a dish and garnish with parsley.
Recipe Notes
Try this dish together with buttered rice by mixing 1 Tbsp. of butter and a pinch of salt and pepper with the equivalent of 3 bowls of hot rice.
Recipe courtesy of Umamiinfo.com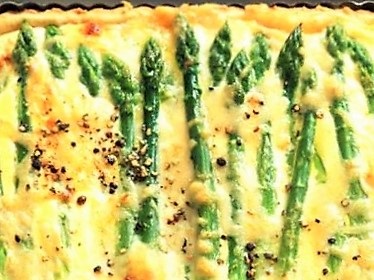 Ricotta and Asparagus Quiche
For brunch lovers!: An easy and scrumptious vegetarian quiche recipe, with asparagus and ricotta cheese.
Ingredients
For the Crust (Pastry)
1 1/3

cups

flour

all-purpose

11

Tbsp.

butter

softened (about 2/3 cup)

1

egg

1

egg yolk

1

Tbsp.

olive oil

salt

to taste

1/2

cup

water
For the Custard (Filling)
1

lb.

green asparagus

1 3/4

cup

ricotta

(14 oz.)

3

eggs

salt

to taste

1/2

cup

Parmesan

grated

pepper (freshly ground)

to taste

nutmeg

to taste

fat

as needed to grease the dish
Instructions
Combine the flour, butter, egg and egg yolk, 1/2 cup water, oil and a little salt and work to a smooth dough.

Form into a ball, wrap in foil or plastic wrap and chill for about 30 minutes.

Wash the asparagus, peel the lower third and cut off the ends.

Either leave whole or cut into pieces.

Cook the asparagus in boiling salted, water for about 5 minutes, then drain, refresh in cold water and drain thoroughly.

For the filling, mix together the ricotta, eggs and grated Parmesan cheese and season with salt, pepper and nutmeg.

Roll out the pastry to fit the dish.

Grease the dish and line with the pastry.

Arrange the asparagus attractively in the lined dish, then spread the ricotta mixture (filling) on top.

Bake in the oven for 15 minutes, let cool then serve.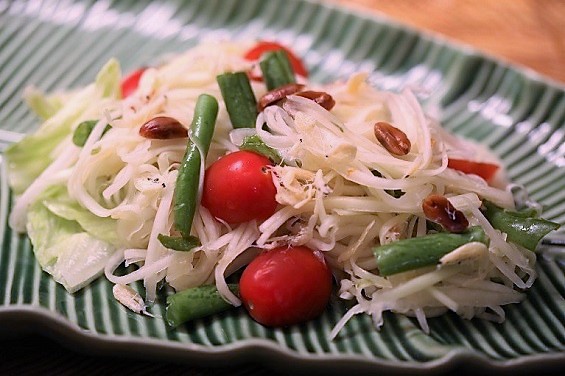 Som Tum (Green Papaya Salad)
Print this out and impress everyone with your worldly cooking skills. Som Tum done right!
Ingredients
10

oz.

green papaya

5

cloves

garlic

chopped

4-6

bird's eye chilies

4

cherry tomatoes

halved

3

oz.

long beans

cut into 1 inch pieces

2 - 4

Tbsp.

roasted peanuts

2

Tbsp.

dried shrimp

optional

2

Tbsp.

fish sauce

2

Tbsp.

palm sugar

grated if purchased as a whole piece (can substitute sugar)

3

Tbsp.

lime juice

To garnish: 1 cup shredded red cabbage, fresh bean sprouts, and ½ cup long beans, cut into 1-inch pieces
Instructions
Peel papaya. Cut flesh into a fine julienne. Discard seeds. Reserve.

With a mortar and pestle, pound chilies and garlic together to form a chunky paste.

Add peanuts, dried shrimp, tomatoes, and beans. Mix to incorporate.

Add fish sauce, palm sugar, and lime juice.

Add shredded papaya, fold it in.

Put on a serving platter and garnish with red cabbage, fresh bean sprouts and long beans.
Recipe Notes
Recipe courtesy of Chef Chris Koetke

Note: For vegetarian som tum, omit the dried shrimp and substitute soy sauce for fish sauce.
And here's a few umami recipe favorites from Bon Appétit: