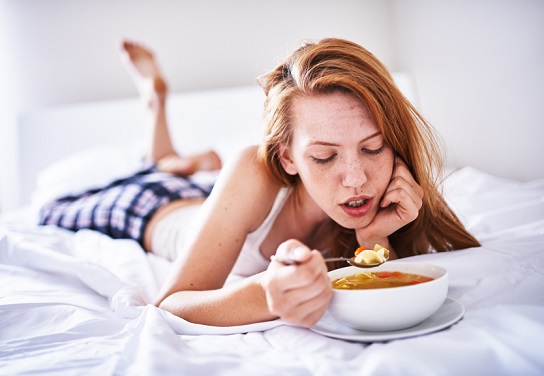 Winter time is usually associated with winter illnesses like colds and flu. We may load up on vitamins or certain dietary supplements which claim to protect us from winter sicknesses, but most of us end up with at least a cold during the winter months.
And even though advances in medical science come and nutritional fads go, we keep on eating soup to get better when we're sick. It's been this way for centuries… but why?
According to BBC news magazine, "As far back as the 12th Century, physicians were recommending chicken soup – known as 'Jewish penicillin' – to combat a cold. Modern science has since found their instincts were largely right and it can be soothing and anti-inflammatory for those with colds."
"It was still the same in 16th Century, when common wisdom was to give nourishing, restorative, light and easily digested food to the sick. Soups, broths and bread-based gruels were recommended," notes BBC.
Why is Soup So Good – and Good for You – When You're Sick?

It's clear that soup is so good for you because of the nutritional benefits. Research has shown that the protein in chicken and antioxidants in vegetables can help the body make virus-killing antibodies. Also, a healthy soup provides an easy way to digest the nutrients we need, especially when we're sick. Soup is the perfect "comfort food" not just because it's so easily digested but also, according to some food scientists, soup's close appearance to baby food is a big (subconscious) reason we eat it when ill.
So let's get right to it… We've posted some delicious soup recipes below for you to try – not just to feel better when you're sick but to feel good when you're not!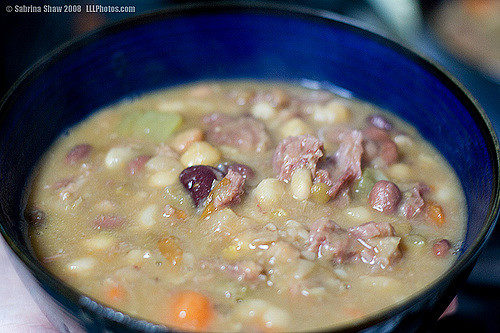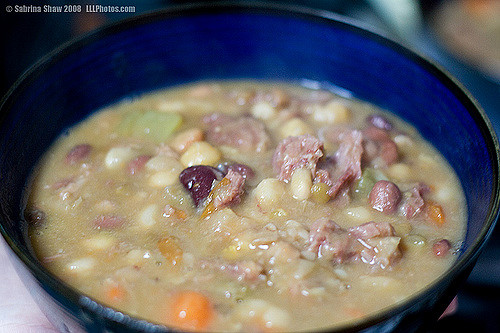 Crock Pot Ham and Bean Soup
Ahhh, the classic ham and white bean soup – so hearty, comforting, and super easy in a slow-cooker! The crockpot does all the work for you.
Servings
6
1-cup servings
Ingredients
1

cup

dry white beans

4

cups

water

2

bay leaves

1 1/4

cups

onion

chopped

1 1/2

cups

carrot slices

1/2

cup

celery slices

1 1/4

lbs.

lean ham steak

diced

1/2

teaspoon

salt

1 1/2

teaspoon

MSG (umami seasoning)

Ac'cent® and Ajinomoto® are popular brands.
Instructions
Combine the first 4 ingredients in a crock-pot and cook on HIGH for 3 hours.

Add carrot and celery slices to the pot and continue to cook on HIGH another 2 hours.

Add diced ham, salt and MSG; cook another 2 hours. Serve hot.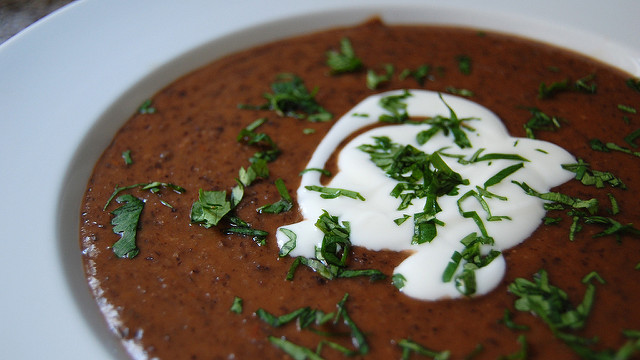 Black Bean Soup
This soup recipe was modified from The American Diabetes Association and The American Dietetic Association Family Cookbook Volume II. It is lower in sodium than that version yet has all the flavors you expect from a hearty soup such as this.
Servings
8
1-cup servings
Ingredients
1

lb.

dried black beans

2

quarts

water

1 3/4

tsp.

salt

2

Tbsp.

olive oil

2

cups

chopped onions

1

cup

chopped green pepper

optional

2

tsp.

minced garlic

1

tsp.

ground cumin

1

tsp.

oregano

1/4

tsp.

dry mustard

1

Tbsp.

lemon juice

3/4

tsp.

MSG

1

dollop

sour cream

optional; 1 dollop per bowl
Instructions
Presoak beans in water overnight or use quick-cook method on package.

After soaking beans, add salt and bring to a boil; cover and simmer on low heat for 2 hours.

Heat oil, add onions, and sauté about 5 minutes. Add green pepper and sauté until onions are tender.

Stir in remaining ingredients. Add about 3/4 cup hot bean liquid, cover and simmer 10 minutes.

Add onion mixture to beans and continue to cook 1 hour, stirring occasionally.

Serve with rice, if desired.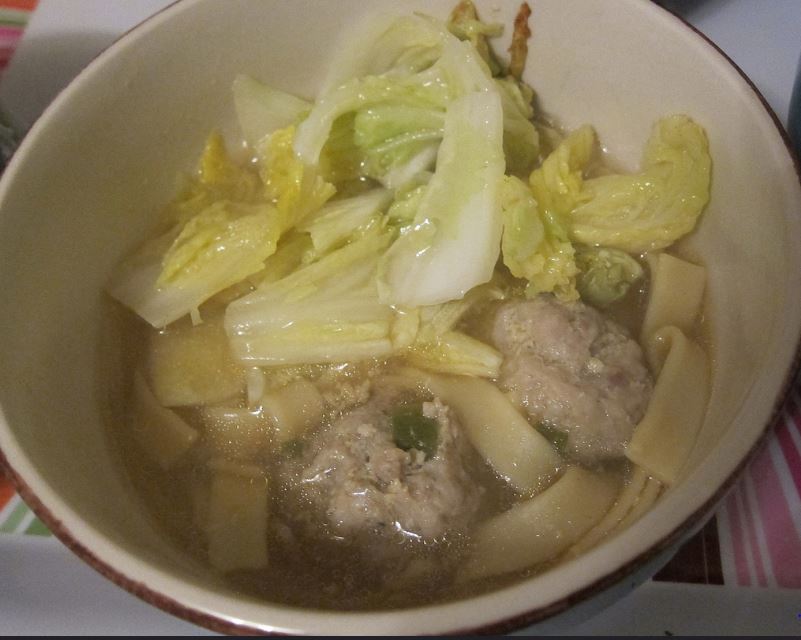 Chinese Lion's Head Soup
This is a family version of lion's head soup and it definitely fits the "comfort food" category, especially when enjoyed on a cold winter evening!
Ingredients
1

lb.

ground pork

1

egg

1

Tbsp.

cornstarch

2

tsp.

sesame oil

1

Tbsp.

fresh ginger root

minced

1/4

tsp.

monosodium glutamate

MSG

1

tsp.

salt

2

green onions

chopped and divided

1

Tbsp.

vegetable oil

1

head

Napa cabbage

cored and cut into chunks

2

cups

low-sodium chicken broth

2

cups

water

or as needed

1

Tbsp.

soy sauce

2

tsp.

sesame oil
Instructions
Mix the ground pork, egg, cornstarch, 2 teaspoons of sesame oil, ginger, MSG, salt, and half of the chopped green onions together in a bowl. Use your hands to mix until the ingredients are evenly distributed. Set aside.

Heat the vegetable oil in a wok or large skillet over high heat. When the oil is hot, fry the Napa cabbage, stirring constantly, until cabbage begins to wilt, 2 to 3 minutes. Pour in the chicken broth, water, and soy sauce. Bring to a boil, then lower the heat to medium.

Use a spoon to form the meat mixture into 1 inch balls. Drop them into the boiling soup. When the last ball has been added, cover with a lid and simmer for 10 minutes. Taste, and adjust salt before serving. Garnish with remaining green onions and a drizzle of sesame oil.

Optional: This dish is best served with white sticky rice.
Recipe Notes
Recipe courtesy of AllRecipes.com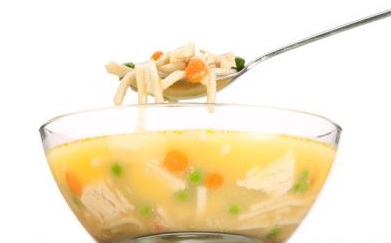 Chicken Noodle Soup
Of course, we couldn't leave this recipe for "Jewish penicillin" off our good-for-you soups list!
Ingredients
2

lbs.

boneless skinless chicken breasts

2

quarts

water

1

16 oz. bags

mixed peas and carrots

2

cups

celery

cut into 1/2 inch slices

2

large baking potatoes

skinned and cut into squares

1

cup

onion

chopped

salt

to taste

1

Tbsp.

monosodium glutamate

MSG

1

tsp.

sugar

1

Tbsp.

cornstarch

1/4

tsp.

pepper

2

Tbsp.

garlic powder

2 1/2

Tbsp.

onion powder

2

cups

thin egg noodles

cooked
Instructions
Bring chicken, onion, and celery to a boil in a 4-quart Dutch oven.

Add salt, pepper, onion and garlic powder.

Cover and simmer until chicken is done.

Skim fat if necessary.

Remove chicken from broth; cool slightly and cut into 1-inch pieces.

Set aside.

Add peas and carrot mix, potatoes and cornstarch.

Cook until potatoes are fork tender, about 10 minutes.

Add chicken and noodles to broth; sprinkle with MSG and sugar; cook about 5 minutes.
Recipe Notes
Recipe courtesy of Food.com
 For some excellent tips about how to add more of that umami taste we all crave, in soups specifically, read "Soup-er Ways to Love Umami Even More" by MSGdish blogger and registered dietitian Althea Zanecosky.
More Savory Soup Recipes: