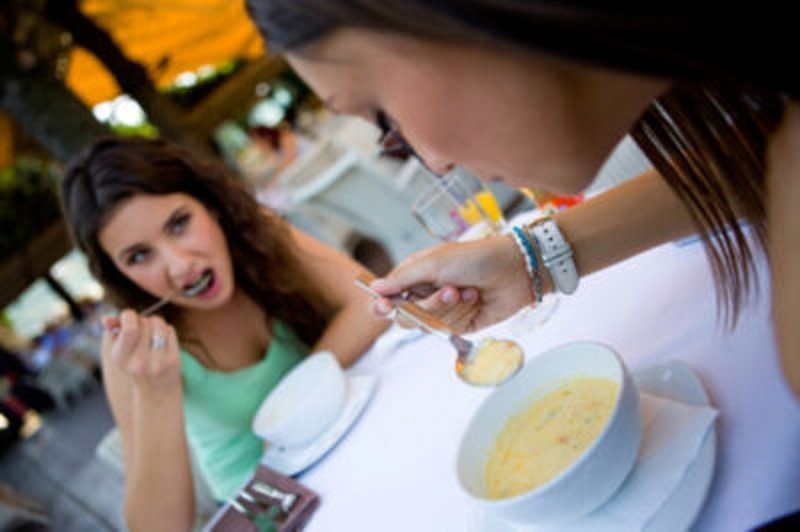 Does umami, which means "delicious" in Japanese, affect appetite? Can the umami flavor provide or heighten satiety? First, a few definitions per Merriam-Webster:
Umami |noun |uma·mi | \ ü-ˈmä-mē
Meaning: 1. a taste sensation that is meaty or savory and is produced by several amino acids and nucleotides (such as glutamate and aspartate)
Appetite |noun |ap·pe·tite | \ ˈa-pə-ˌtīt
Meaning: 1. the feeling that you want to eat food
Satiety |noun |sa·ti·ety | \ sə-ˈtī-ə-tē
Meaning: 1: the quality or state of being fed or gratified to or beyond capacity
It is well-recognized that as the fifth sense of taste, umami amplifies the flavor of savory foods, increasing the enjoyment and pleasure in eating. It also enhances appetite — the feeling of wanting to eat food as explained in the definition above. Interestingly enough, research has shown that the umami flavor can also heighten satiety — the satisfaction of being full.
Research from the University of Sussex, and published in the American Journal of Nutrition undertook to evaluate the impact of umami on flavor and appetite, and the subsequent experience on satiety. The study used two common food additives, monosodium glutamate MSG and iosine monophosphate (IMP), to boost the umami flavor in test soups.1
Umami Appetite Effect: Increase in Satiety
Twenty-six volunteers were divided into two groups. One group consumed low-calorie carrot soup both with and without the addition of an MSG-IMP combination. The other group consumed a high-calorie, high-carbohydrate, high-protein carrot soup both with and without the addition of an MSG-IMP combination. Participants were asked to rate how filling, pleasant, salty, savory, strong, and sweet the sample soups were, as well as rating appetite by how full, hungry, and thirsty they felt after soup consumption. Forty-five minutes after soup intake, participants were provided a test meal of pasta and sauce, and told to "Please eat as much pasta as you like until you feel comfortably full." They were tracked on how much they ate, as well as questioned about their appetite and how full they felt.
It should be no surprise that the umami–enriched soups were deemed more palatable and flavorful. This increased appetite in the short‐term but also very quickly increased satiety. The participants who ate the umami taste-enhanced soups consumed less of their subsequent meal which consequently reduced overall calorie consumption, regardless of the amount of calories in the soup. Significantly, they still said they felt satisfied.
Umami, the flavor that gives food its "deliciousness" has a promising role in regulating appetite and, indeed, providing feelings of satiety.
1. Masic, U and Yeomans, M. Umami flavor enhances appetite but also increases satiety. AJCN. 2014. 100 (2): 532–538. https://academic.oup.com/ajcn/article/100/2/532/4576469.
Additional reading:
# # #
Want proof of how yummy and satisfying umami-rich soup can be? Here is my adaptation of the French vegetable soup Soupe au Pistou, adapted from the Time-Life Book Foods of the World: The Cooking of Provincial France.
Not having fresh basil on hand I was skipping the Pistou part of it. Despite the flavorful ingredients, the soup did not have the depth of savoriness I wanted. The umami taste-boost can be added in several ways, for instance using a chicken-based stock, or sprinkling Parmesan cheese on top or choosing to make the Pistou. I chose to add a teaspoon of MSG, and voila, deliciousness!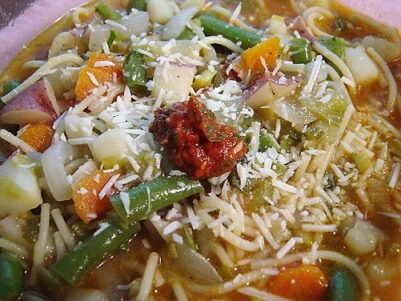 Soupe au Pistou
Provencal Vegetable Soup with Garlic-Basil Paste
Ingredients
4

tablespoons

olive oil

1

cup

diced onions

3

quarts

water

1

15 oz. can

stewed tomatoes

1½

cups

carrots

diced

1½

cups

potatoes

diced

½

cup

chopped celery

1

15 oz. can

Great Northern beans

or cannellini, drained

1½

cups

green beans

sliced

1½

cups

zucchini

diced, unpeeled

½

cup

spaghetti

broken in pieces

salt and pepper

to taste

1

teaspoon

MSG (umami seasoning)
Pistou
5

garlic cloves

½

cup

fresh basil

chopped

2

tablespoons

tomato paste

6

tablespoons

olive oil

½

cup

Parmesan cheese

freshly grated
Instructions
Heat oil in a 6-qt. saucepan over medium-high heat.

Add onions, reduce heat to medium; cook until limp and golden.

Add tomatoes and heat 3-4 minutes.

Add water and tomatoes, and bring to a boil.

Add carrots, potatoes, celery, and pepper. Reduce heat and simmer 15 minutes.

Stir in white beans, green beans, zucchini, and spaghetti. Simmer another 15 minutes until vegetables are tender and spaghetti al dente, about 8 minutes.

Season with salt and pepper and MSG.

Ladle soup into bowls; serve with pistou dolloped on top.
For the Pistou:
Process garlic, basil, oil, salt, garlic, tomato paste, and Parmesan, in a food processor until finely ground.

Season with salt and pepper.