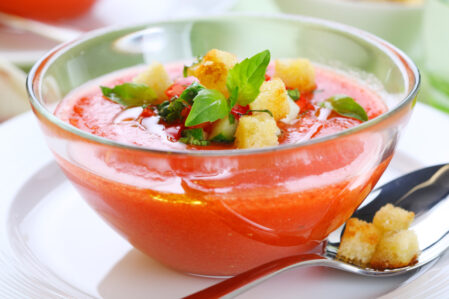 Gazpacho is a traditional zingy tomato soup from Spain that showcases the refreshing tastes of its fresh ingredients.
This delicious cold soup is a perfect light appetizer to accompany summer cuisine.  Serve chilled, and don't forget extra French baguettes for dipping!  Also, use croutons, sour cream, or finely chopped cucumber as an optional garnish (or all of them!).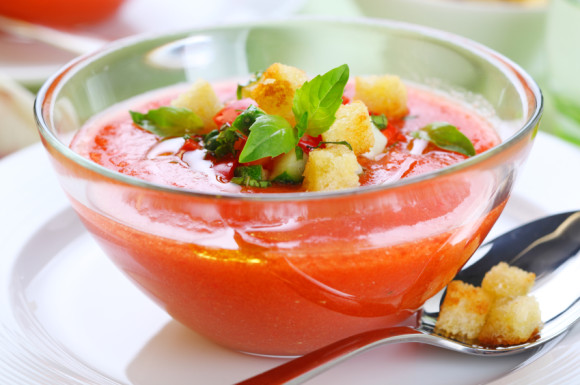 Perfect Gazpacho
Cold tomato soup never had it so good!
Ingredients
1 1/2

pounds

vine-ripened tomatoes

peeled, seeded and chopped

tomato juice

1

cup

cucumber

peeled, seeded and chopped

1/2

cup

red bell pepper

chopped

1/2

cup

red onion

chopped

1

small jalapeno

seeded and minced

1

medium garlic clove

minced

1/4

cup

extra-virgin olive oil

1

lime

juiced

2

teaspoons

balsamic vinegar

2

teaspoons

Worcestershire sauce

1/2

teaspoon

ground cumin

1

teaspoon

kosher salt

1/4

teaspoon

black pepper

freshly ground

2

tablespoons

basil leaves

fresh, shredded
Instructions
Fill a 6-quart pot halfway full of water, set over high heat and bring to a boil.

Make an X with a paring knife on the bottom of the tomatoes. Drop the tomatoes into the boiling water for 15 seconds, remove and transfer to an ice bath and allow to cool until able to handle, approximately 1 minute. Remove and pat dry. Peel, core and seed the tomatoes. When seeding the tomatoes, place the seeds and pulp into a fine mesh strainer set over a bowl in order to catch the juice. Press as much of the juice through as possible and then add enough bottled tomato juice to bring the total to 1 cup.

Place the tomatoes and juice into a large mixing bowl. Add the cucumber, bell pepper, red onion, jalapeno, garlic clove, olive oil, lime juice, balsamic vinegar, Worcestershire, cumin, salt and pepper and stir to combine. Transfer 1 1/2 cups of the mixture to a blender and puree for 15 to 20 seconds on high speed. Return the pureed mixture to the bowl and stir to combine. Cover and chill for 2 hours and up to overnight. Serve with chiffonade of basil.
Recipe Notes
Optional: Garnish with croutons, fresh bread cubes, or a dollop of sour cream.
Courtesy of the Food Network (Alton Brown)
Tomatoes, High in Umami
Of the many plant foods that provide umami in western tradition, the tomato is foremost. Its attractive, full, rounded savory flavor comes from its high level of naturally occurring glutamate, and this flavor is reinforced by its unique crimson color. The umami theme remains constant, though the way it is expressed varies from culture to culture. Beginning in Asia with fermented soybeans, migrating through England with walnuts and mushrooms and emerging triumphantly with tomatoes in American ketchup, evidence of a deep-rooted worldwide inclination to exploit glutamate-rich foods for savory seasonings and condiments is clear.
Levels of naturally occurring glutamate (mg/100g) in tomatoes: 246