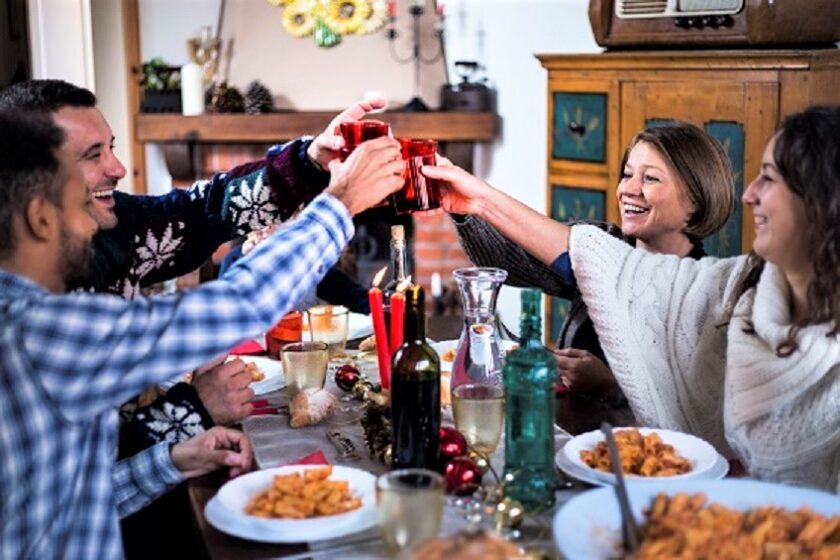 Are you one of those people who have fond memories of certain foods served during the fall holiday season – Thanksgiving through New Year's Day? If so, you're not alone.
In addition to being associated with family events, "feel good" memories about food remain because they were (and still are) so delectable. Your mouth may water just thinking about them! 
"I don't know what it is about food your mother makes for you, especially when it's something that anyone can make — pancakes, meat loaf, tuna salad — but it carries a certain taste of memory." ― Author Mitch Albom
Holiday sweets aside, when it comes to savory holiday foods, there's a strong connection between those foods and umami. Think turkey, ham, gravy, cheesy side sides and so on. One reason these savory foods are so appetizing and satisfying is because of their glutamate content. In addition to the natural sources of glutamate found in food, monosodium glutamate (MSG) is one of the "umami seasonings" that have been used for countless decades to add or enhance a recipe's savory flavor. (*see footnote*)
Here at MSGdish.com, there are several blogs that talk about holiday fare. For now, we'd like to focus on appetizer recipes that are often forgotten as being associated with the upcoming season. Give them a try and enjoy their savory goodness!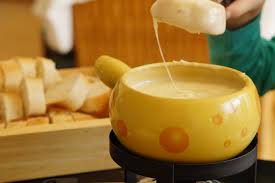 Der Rheinlander Cheese Fondue
What is it that makes this dish so delectable?... the umami or the wine? Tough choice!
Ingredients
5

cups

American cheese

processed swiss

2

cups

water

1

cup

wine

sauterne, chablis

1

Tbsp.

butter

1/4

tsp.

MSG

(umami seasoning)

1

dash

white pepper

1

dash

nutmeg

1/2

loaf

rye bread

1/2

loaf

French bread
Instructions
Grate or chop the cheese.

Bring water, wine, butter and seasoning to a boil. Then add cheese and set into double boiler.

Stir thoroughly with wooden spoon until cheese melts into a smooth heavy sauce.

If fondue seems too thick, add more wine. If too thin, add more cheese.

Dice bread into 2-inch squares and brown lightly in oven.

Keep fondue warm while serving, or a skin will form on the top.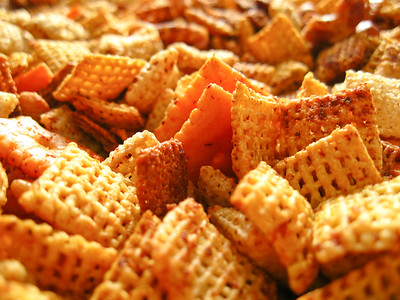 Pam's Party Mix
Everyone loves Chex party mix! This version is sure to please and will satisfy any snack attacks!
Ingredients
1/2

cup

butter

1/2

cup

vegetable oil

2

tsp.

garlic powder

2

tsp.

seasoned salt

3

Tbsp.

Worcestershire sauce

1

tsp.

MSG

(umami seasoning)

2

tsp.

Maggi seasoning

1

tsp.

hot sauce

12

cups

assorted unsweetened cereals and crackers

see list in directions section

3

cups

pretzels

(sticks, bites, twists or other shapes)

3

cups

assorted salted mixed nuts

can include pepitas, sunflower seed nuts, pine nuts etc.

1/2

cup

parmesan cheese

grated
Instructions
Heat oven to 250°F. Adjust rack(s) to middle positions. Measure out cereals, crackers, and pretzels into a very large bowl or roasting pan. Set aside.

Put butter and oil in a large baking pan (or large disposable roster pan) and place in oven to melt butter. Once butter is melted, add all other seasonings and mix together well.

Add cereal mixture and nuts to the pan with melted butter and seasonings. Mix VERY well, lifting and stirring until almost all of the butter is gone from the pan and the cereal mix is very well coated evenly. Taste and adjust seasonings to your taste, adding more garlic, etc. (This mixing takes some time, but the better you mix, the better distributed the flavor.)

Sprinkle half the parmesan over the coated mix, stir well. Add the other half and stir again. Bake at 250° for 2 hours, stirring every 30 minutes. Remove from oven and let cool completely. Store in airtight containers.

Cereal and Cracker List: Chex (corn, wheat, oat, multi grain), Cheerios, Bugles, Cheezits, Goldfish, Ritz Bits, oyster crackers, Mini Triscuits, Vegetable Thins, Stix, mini rice cakes. Just about any small unsweetened cracker or cereal can be used.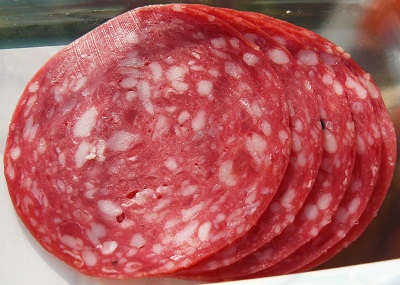 Salami and Cream Cheese Wedges
This unique appetizer is umami-licious and can be prepared in 10 minutes.
Ingredients
1

3 oz.

package cream cheese

softened

2

Tbsp.

milk or cream

1

tsp.

lemon juice

1/2

tsp.

MSG

(umami seasoning)

1/2

tsp.

prepared mustard

1/4

tsp.

salt

1

tsp.

horseradish

2

Tbsp.

finely crushed corn chips

e.g., Fritos

5

slices

salami

approx. 4 inches in diameter
Instructions
Blend cream cheese with milk. Add remaining ingredients except salami.

Spread cream cheese mixture on slices of salami, putting one on top of the other to form a stack, ending with salami.

Chill. When ready to serve, cut into wedges.
In addition to the delightfully tasty appetizer recipes above, here are a few more that you can enjoy: a holiday cheese log, roasted pumpkin seeds, and spicy pretzels. 
Footnote: Check out this MSGdish.com blog to learn more about how glutamate, MSG and umami seasoning are actually the same yummy thing.
Happy Holidays from MSGdish to you and yours!