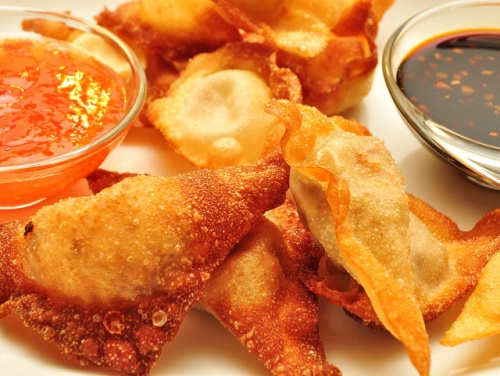 For those of us who are into film, fashion and food, the best part about awards season are the viewing parties. We discuss outfit choices, our favorite categories and nominees, cheer on winners and… eat!
Cinephiles love this time of year; it's awards season! It's the period from December to early March when a majority of the entertainment industry gives recognition to one another and occasionally allows viewers to participate by voting. There's something great about watching my favorite celebrities get dressed up in elaborate outfits, cry and laugh while accepting well-deserved awards and giving incredible speeches.
Fun as they are, awards parties can be a bit tricky. Whether you're hosting or just bringing a dish, you want food that is filling because the red carpets start right around dinner time, but the food also has to be easy to hold in your lap and eat as guests will likely be critiquing Oscar de la Renta and Vera Wang gowns between bites. There's no right way to do this as there's no typical awards party foods like there is tailgating food, but we have a few recipe suggestions for awards show viewing party foods. The next morning, the news outlets may be talking the highlights of the awards, but your guests will still be talking about the tasty, savory party foods!
Menu Suggestions
Drinks: Wine, Champagne, cocktails, sparkling water
Snacks: Vegetables and dip, fruit, Snack Mix
Main course: Wings, sausage bread, crab rangoon (recipes below)
Desserts: mini cupcakes, mini cheesecakes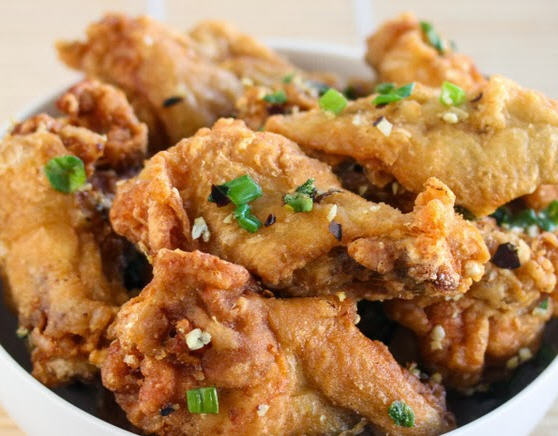 Salt and Pepper Chicken Wings
This distinctive savory chicken recipe is full of savory goodness. And who doesn't like red pepper flakes?!
Ingredients
22

chicken drummettes

1/3

cup

flour

2

tbsp

cornstarch

1 1/3

cup

water

vegetable oil for frying
Seasoning
1

head of garlic

minced

2

tbsp

olive oil

1

bunch of green scallions

finely chopped

1-2

tsp

red chili flakes

White pepper to taste

Black pepper to taste

Salt to taste

MSG

monosodium glutamate, such as Ac'cent® to taste
Instructions
Pour enough vegetable oil into a pot so that it is about 2 inches deep. Heat on medium-high until oil reaches 350F.

To make the slurry, whisk the flour, cornstarch, and water in a medium-sized bowl until no lumps remain. Pat chicken wings dry with paper towel. Coat chicken in slurry and then place into hot oil.

The chicken will be fried twice. Work in small batches, about 6-8 pieces at a time. Fry for 8 minutes. Chicken will be a light golden color. Drain excess oil on paper towels. Set chicken aside to wait for second fry. Continue until all your wings have been fried once for 8 minutes.

Again working in small batches, fry all of the chicken a second time for 8 minutes each (chicken does not get coated again in the slurry!). Chicken should now be golden and crunchy. Set finished chicken on a cooking rack.

In a wok, add olive oil and bring to medium heat. Once oil is hot, add in garlic. Cook and stir until aroma of garlic comes out and garlic is lightly browned (about 1 minute). Lower heat and add in chili flakes and scallions and cook about 1 minute on low heat. Turn off heat and place finished chicken into wok and toss chicken in the garlic mixture. Sprinkle white pepper, black pepper, salt and MSG to your taste evenly over chicken.

Place the chicken back on a cooling rack until it's time to serve your guests!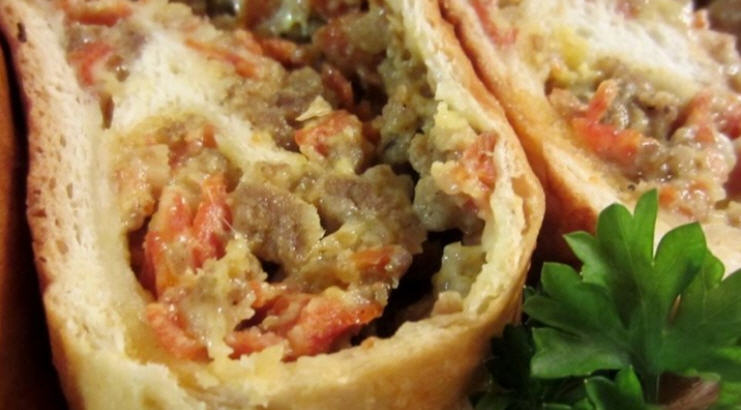 Sausage Bread
Ingredients
16

oz

hot bread roll mix

package

2

lbs

pork sausage

2

8 ounce packages pepperoni, finely chopped

5

tbsp

grated Parmesan cheese

3

cups

shredded mozzarella cheese

2

cups

shredded cheddar cheese

1 ½

tsp

dried parsley

2

tsp

garlic powder

1

tsp

MSG

monosodium glutamate

1

tsp

dried minced onion

½

tsp

dried oregano

2

sets of 2 eggs

beaten

Toothpicks
Instructions
Prepare roll mix according to package directions, letting rise only once, about 1 hour.

Preheat oven to 350 degrees F (175 degrees C). Line a large baking sheet with parchment paper.

In a large skillet brown the pork sausage and pepperoni and drain well.

In a large bowl, combine the cooked sausage mixture, parmesan cheese, mozzarella cheese, cheddar cheese, 2 beaten eggs, parsley flakes, garlic powder, MSG, onion flakes, and oregano. Stir until well combined.

Divide the risen dough in two. On a floured board roll out one half to a rectangle about 1 inch thick. Spread 1/2 of the filling over the rectangle. Starting at the wide end roll two times then fold in the sides. Continue rolling until the end, making sure the seal is on top. Repeat with remaining half.

Place rolls on the prepared baking sheet. Brush generously with beaten eggs. Use toothpicks to help hold the seam shut. Bake at 350 degrees F (175 degrees C) for 1 hour.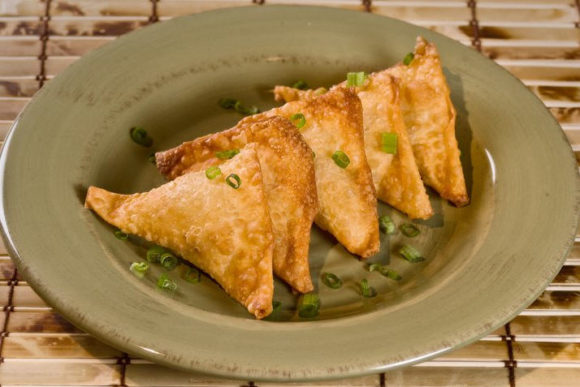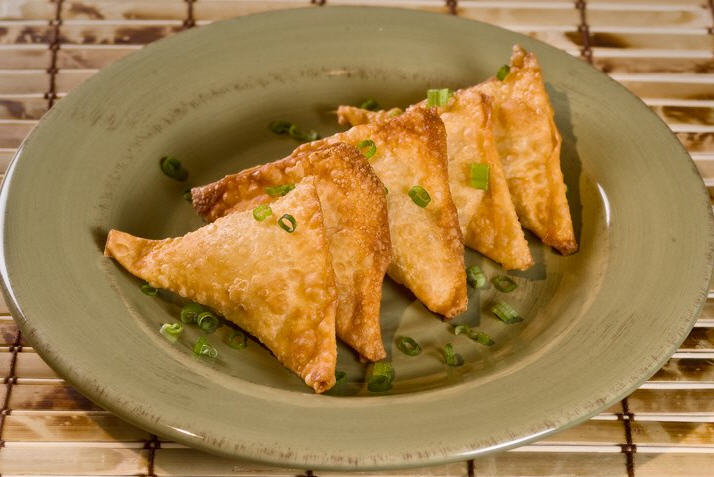 Crab Rangoon
Ingredients
1 to 1 ½

cups

shredded crab or imitation crab meat

packed

1

pkg

won ton wrappers

50 – 60 wontons

16

oz

softened cream cheese

¼

cup

sour cream

3

green onions

white and very pale green parts only, sliced thin. Use the green parts to garnish

1

clove

garlic

minced fine

1

tsp

ginger

minced fine

2

tsp

soy sauce

2

tsp

sugar

½

tsp

MSG

monosodium glutamate

Bowl of cool water

Peanut oil for frying
Instructions
Filling
In a large mixing bowl, mix together the cream cheese, sour cream, soy sauce, ginger, garlic, sugar and MSG until smooth and well-combined.

Thoroughly fold in the crab meat and green onions to the cheese mix.
Form the crab rangoon
Place the small bowl of cool water on your work surface.

Place a wonton wrapper on your work surface. Place 1 to 2 teaspoons of the cheese and crab mix in the center of the wonton wrapper (the proper amount depends on the size you bought).

Take your finger and dip it in to the water. Run your finger on the outside edge of the wonton square. Then gently fold it over to form a triangle shape. Seal the edges firmly so they don't open during frying. You will find that as you seal one edge, the other may raise a bit, that's okay.

Place each finished crab rangoon on a large sheet of wax or parchment paper. Cover with a kitchen towel to keep moist while you make the others.
Frying crab rangoon
Place a pan suitable for deep frying over medium-high heat. Immediately pour the peanut oil to a depth of about 2". Heat to 350°F.

Cook the crab rangoon in the hot oil (turning once) in small batches. They cook quickly. When finished frying, remove them with a spider or slotted spoon and drain on a rack or paper towels.
Recipe Notes
Cook them just a shade or two lighter than "golden brown." They seem to darken more a few moments after you remove them from the oil. You'll know if you fry them too long because the cheese and crab mixture will start to seep out from the seams.
Recipe courtesy of Chop Onions, Boil Water Blog
Header photo courtesy of Flickr user: Jeffreyw