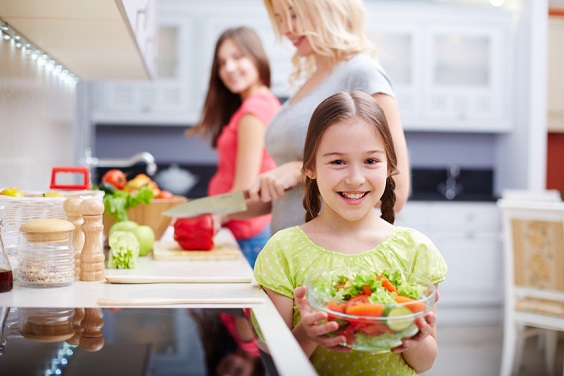 Have you had your salad today? According to health experts, eating salad almost every day may be one of the healthiest habits you can have.
And, of course, eating salads is one of the simplest ways to eat more fruits and vegetables, which contributes to overall health.
Remember when salads were considered simply a side dish? Now there are main dish salads that can serve as an entire meal. And almost every restaurant offers an assortment of salads. These days you can even order salads at most fast food chains. Also, for ultimate convenience, grocery stores offer complete salads in a bag, pre-washed.
Did You Know?…
Here are a dozen fun facts about salads:
A bell pepper is actually a fruit since it develops from a flower and has seeds (cucumbers, tomatoes, and squash can be considered fruits for the same reason).
Avocados have a lot of fat, but it's the good kind of fat that helps lower cholesterol.
One cup of chopped watercress provides 100 percent of your daily vitamin K.
Kale is one of the most nutrient dense foods and is loaded with powerful antioxidants.
Ounce for ounce, kiwis have more vitamin C than oranges (and are also high in potassium).
Two cups of chopped romaine lettuce (as in a Caesar salad) contain 40 percent of your daily needs of folate and 10 percent of your daily fiber needs.
Two cups of spinach contain almost 20 percent of your daily magnesium needs.
Starting your meals with a bowl of salad will help you attain weight loss. No surprise, since salads can be low in calories and are high in fiber. Fiber helps you feel full, making you eat the remaining foods in your meal less and ultimately helping you lose weight.
The Babylonians used oil and vinegar for dressing greens nearly 2,000 years ago.
Ranch is the most popular salad dressing, preferred by 40% of salad consumers.
Lettuce is the second most popular fresh vegetable in the U.S., with potatoes coming in at no. 1. The average American eats roughly 30 pounds of lettuce each year.
May is National Salad Month.
But What about All the Calories?
When it comes to calories, an otherwise healthy salad can quickly move into the unhealthy category if it's loaded with high-fat salad dressing. One tablespoon of vegetable oil has about 120 calories and 14 grams of fat, but it has little saturated fat and no cholesterol. However, as long as you watch the serving size, salad dressings have nutritional benefits. Some dietary fat helps your body properly absorb vitamins A, E and K, so vegetable oil helps you get the most nutrients from your salad.
When you're watching calories, choose a low-fat or fat-free dressing, or use the tried and true "dip and stab" method (with the dressing on the side you simply dip your fork in the dressing before stabbing a bite of salad each time). And go easy on the "extras" – just use a sprinkle of crumbled feta cheese, a tablespoon of raisins or sunflower seeds, a half-cup of croutons.
Now, on to the good stuff!…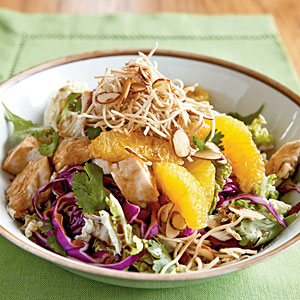 Asian Chicken Salad Recipe
Easy peasy but oh-so-tasty, and perfect for a lighter, savory meal!
Ingredients
2

lean chicken breasts

cooked and chopped

2

ounces

toasted slivered almonds

1

package

shredded cabbage mixture

2

green onions

chopped

1

package

Ramen noodles (uncooked)

chicken flavor

1/4

cup

vinegar

1/2

cup

canola oil

1/4

cup

sugar

1

teaspoon

MSG

Ac'cent® brand was used in this recipe.

1/2

teaspoon

pepper

1

tsp

salt
Instructions
Mix all of the salad ingredients together.

For the dressing, combine the vinegar, oil, sugar, Ac'cent®, pepper and salt in a jar or container with a lid. Shake vigorously until dressing is mixed well. Pour dressing over the salad, toss and serve.

Optional: top salad with mandarin orange slices.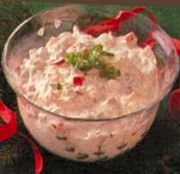 "Skinny" Chicken Salad Recipe
The secret to this lighter version of a traditional recipe is the Greek yogurt instead of mayonnaise. De-light-ful!
Ingredients
1

13 oz.

can of cooked chicken breast

rotisserie chicken works well also, shredded

1

cup

green grapes

halved

½

cup

cashew halves/pieces

½

cup

dried cranberries

½

cup

plain nonfat Greek yogurt

1

teaspoon

 Ac'cent®

flavor enhancer
Instructions
Shred the canned chicken into a large bowl, using a fork.

Add the grapes, cashews, dried cranberries, Greek yogurt and Ac'cent. Mix until combined.

Serve over lettuce or as a lettuce wrap.
Recipe Notes
Recipe courtesy of DessertNowDinnerLater.com
photo credit: http://recipes.wikia.com/wiki/Recipes_Wiki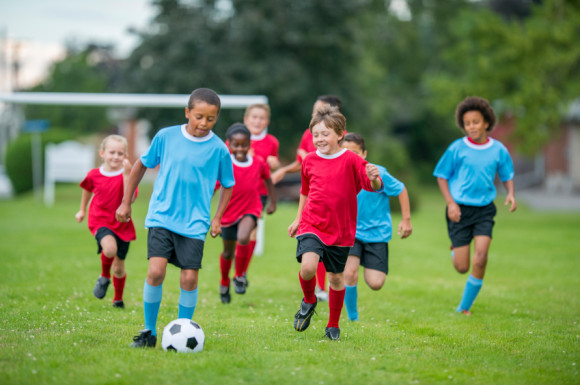 Soccer Salad Recipe
Toasted almonds, sesame seeds, bacon, and chow mein noodles provide delicious "crunch" in this popular Asian-inspired salad.
Ingredients
3

ounces

blanched slivered almonds

1/4

cup

sesame seeds

5

slices

bacon

1/4

cup

white sugar

2

tablespoons

distilled white vinegar

1

teaspoon

MSG

(umami seasoning)

1/2

cup

vegetable oil

1/2

teaspoon

minced garlic

2

heads

leaf lettuce - rinsed

dried and torn into bite-size pieces

1

cup

chow mein noodles
Instructions
Preheat an oven to 325 degrees F.

Spread the almonds and sesame seeds onto an ungreased baking sheet.

Bake in the preheated oven until the almonds are just turning golden brown, about 8 minutes. Set aside to cool completely.

Place the bacon in a large, deep skillet, and cook over medium-high heat, turning occasionally, until evenly browned, about 10 minutes. Drain the bacon slices on a paper towel-lined plate, cool, and crumble.

Make the dressing by shaking the sugar, vinegar, MSG, vegetable oil, and garlic in a glass jar with a sealable lid until mixed. Combine the cooled almonds, sesame seeds, crumbled bacon, lettuce, and chow mein noodles in a bowl. Pour the dressing over top and gently toss until coated.
Recipe Notes
Recipe courtesy of AllRecipes.com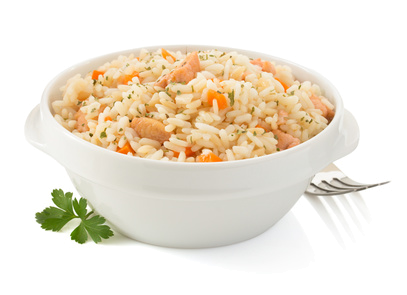 Curry Rice Salad with Shrimp
This salad featuring shrimp is perfect for summer as a side dish or an entree!
Ingredients
Salad
1

10 ounce package

frozen peas

do not cook

1 1/2

cups

cooked rice

1

8 ounce can

shrimp

1 1/2

cups

celery

chopped

1/4

cup

green onion

chopped
Dressing
1/2

cup

salad oil

1

tablespoon

soya sauce

1

teaspoon

salt

3

tablespoons

cider vinegar

1/2

teaspoon

curry powder

1/2

teaspoon

MSG

1/2

teaspoon

white sugar
Instructions
Mix salad ingredients together.

Shake all dressing ingredients together and combine with salad mixture.
Recipe Notes
Courtesy of Food.com 
Hidden Valley (Copycat) Ranch Dressing Recipe
Ranch is the salad dressing that consumers prefer most, but it's also high in calories and fat. This recipe is not on the "lighter" side so here's where you can put the dip and stab method (mentioned earlier) to work!
Yields 1 cup.
Ingredients:
1/2 cup mayonnaise
1/2 cup buttermilk
1/4 teaspoon dried parsley flakes
1/4 teaspoon ground black pepper
1/4 teaspoon MSG
1/4 teaspoon salt
1/8 teaspoon garlic powder
1/8 teaspoon onion powder
pinch dried thyme
Directions:
Combine all the ingredients in a medium bowl and whisk until smooth. Cover and chill for several hours before using.
Recipe courtesy of Yummly.com

For a variation of this Ranch Dressing Recipe, you will definitely want to check this out: "The Best Ranch Dressing" recipe, by Stacey Little of SouthernBite.com. Stacey explains: "This is seriously the best ranch I've had.  So I named it such!"
And here's an interesting tip about seasoning your greens separately, with a few sprinkles of MSG.

Buttermilk Salad Dressing Recipe

Made with fat-free mayonnaise but still creamy and delicious!
Yields 2 cups.
Ingredients:
1 1/2 cups fat-free mayonnaise
1/4 cup buttermilk (more if a thinner dressing is desired)
1/2 teaspoon MSG
1/2 teaspoon salt (or to taste)
cracked pepper (to taste)
1/4 teaspoon onion salt
1/4 teaspoon garlic salt
2 tablespoons fresh parsley
Directions:
Mix everything together and let it stand overnight.
Toss it with mixed greens.
Crumbled blue cheese may be added (or a little cottage cheese, just for texture).
Recipe courtesy of Yummly.com