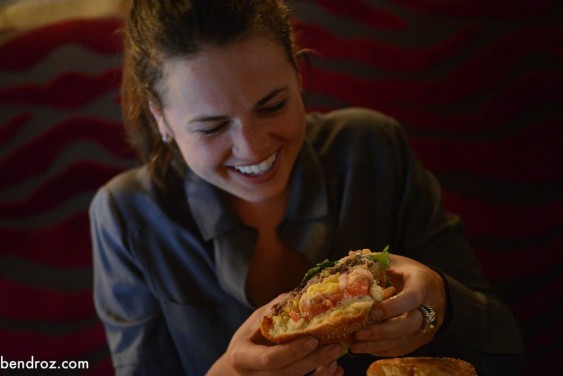 A Q&A about Monosodium Glutamate (MSG)
Recently, there's been a lot of buzz about umami, and more specifically about the science of what we eat. The October issue of Wired magazine is all about food and features "umami-packed recipes" as well as the full scoop on MSG.
And it seems the kitchen table is turning. MSG was once demonized for causing negative side effects, but thanks to science, it's making a comeback, and a pretty strong one at that. In a quest to discover perspective from an MSG fan not yet subjected to my pro-MSG spiel, I invited a friend (photographer and self-proclaimed "foodie on a budget") to sit down over an umami-licious lunch for an open and honest conversation about one of our favorite ingredients.
Let's start with the basics. . . what are your thoughts on MSG?
So, I never used to know what MSG was. I just thought it was bad and I thought it was found in Chinese food. As a kid, I was eating a lot of foods really high in sodium, and my parents said that my eating habits were a problem. And I don't know why I liked foods with sodium so much, but then I found out about MSG by doing a little research.
I learned that MSG is basically a flavor enhancer, and as I researched more, I found out that it really isn't that bad for you it's in a lot of foods we commonly eat. I realized that MSG is not only tasty, but it can actually reduce the amount of sodium in a dish. Now that's good stuff.
You know, that's interesting, because so often people hear the word "MSG" and they run for the hills. Why do you think that is?
What we choose to eat and the ingredients we put in our bodies is a really important thing. Nobody should be oblivious to the fact that there are harmful substances in foods that, over time, can have a negative impact on health. I don't want to demonize a particular food, but I think some of the wisest advice is to eat everything in moderation. And from what I understand, it seems to me that MSG got a bad rap primarily because of some letter to the editor written by a doctor way-back-when who had experienced sensitivities to Chinese food he recently ate. And then Chinese Restaurant Syndrome was born. And then you started seeing "MSG-free" food labels, which reinforces the idea that it's bad for you, even though it's been proven to be safe time and time again.
What compelled you to do your own research?
MSG isn't the only thing that's a victim of misinformation. You know, where we're told one thing and that's not the case at all. Throughout my life I've been looking for these things. I'm on a constant quest for knowledge in that sense. I'm always on the internet finding these things out.
And was it on your quest for information on MSG that you stumbled upon umami? What do you know about the connection between the two?  
Well basically, this is what I know: Umami is one of the five basic tastes. The other four are sweet, salty, bitter and sour. Then there's umami which is savory-ness. And MSG directly activates the taste bud receptors to recognize the savory taste.  I don't know anyone who doesn't like that savory taste. 
Alright, I gotta ask. . . Do you have MSG at home? Or is MSG primarily a welcome surprise when present in a dish?
I actually just ordered some MSG online and I'm excited to try it out. No joke. I can have a critical palate, but my budget doesn't allow me to be a full-on foodie. I cook at home a lot. Chicken bouillon has MSG and I love adding that to rice – or really adding it to anything makes the dish taste better. I used to look aggressively for ramen soup powder but didn't have too much success finding it. That's why I decided to buy MSG. I'm excited to experiment with it when cooking and see how much it enhances the flavor of different foods. I promise to report back!
* For those interested in using MSG in the kitchen, you can also purchase MSG as "Accent" in most grocery stores. 
by Molly Weaver