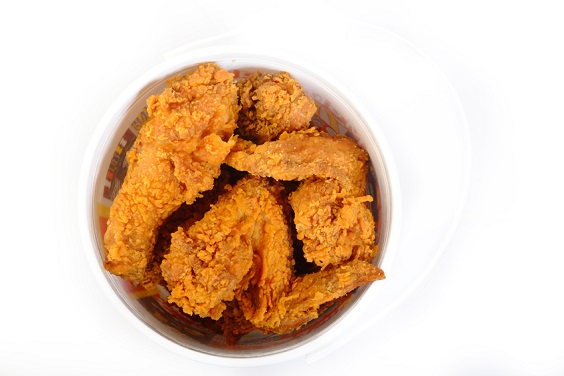 Fans of this "famous" fried chicken, listen up.
A year or so ago, we blogged about preparing your own spice mix so you can make this "famous" chicken at home. And then, just this past summer, we blogged again about a similarly seasoned pork chop recipe – "Kentucky Fried" Pork Chops/ Copycat Seasoning – that also could easily be made yourself.
Well, I guess we were on the right track. Why? None other than the Chicago Tribune recently published an article about making a savory spice mix at home to replicate this famous secret recipe: "KFC recipe challenge: Tribune kitchen puts the 11 herbs and spices to the test."
According to the article's author, "Countless recipes have been tried out in the Tribune test kitchen but never one quite like this. Our mission: find out if 11 ingredients handwritten on a piece of paper could be the secret blend of 11 herbs and spices that go into Kentucky Fried Chicken's Original Recipe – a closely guarded formula that remains one of the world's biggest culinary mysteries."
When taste-testing their results, the testers asked themselves if one recipe really did taste like the colonel's secret blend of herbs and spices. The answer was unclear until it became evident that a sprinkle of monosodium glutamate (MSG) would make a significant difference.
The article noted, "It came very close, yet something was still missing. That's when a reporter grabbed a small container of the MSG flavor-enhancer… and sprinkled it on a piece of the fried chicken. That did the trick. Our chicken was virtually indistinguishable from the batch bought at KFC. (Does KFC add MSG? A KFC spokesperson confirms that it does use it in the Original Recipe chicken.)"
In my opinion, this test kitchen challenge is just another confirmation of what culinary experts have been saying for a long time: a small amount of MSG is all that is needed to make a big difference in the savory flavor of many foods.
Finger lickin' good, indeed!
There's nothing like home-made fried chicken at a fall tailgating party! For more delicious tailgate recipes, read Tailgate Recipes to Delight Your Football Friends and Family!
And be sure to check out other recipes in our Savory Cuisine Corner for more ways to have MSG give a flavor boost to savory foods.