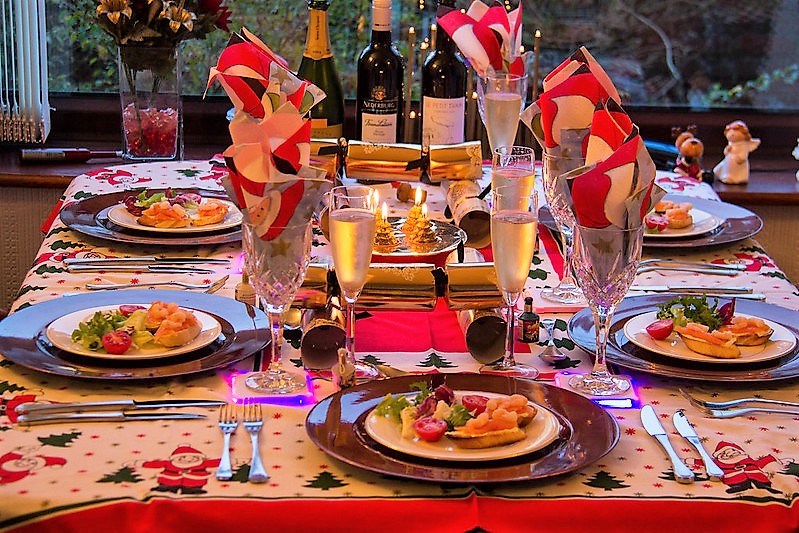 I know what I think when I hear the term savory as it pertains to food. What pops into your mind?
According to traditional online dictionaries, savory is described as:
pleasing to the sense of taste, especially by reason of effective seasoning
having a spicy or salty quality without sweetness
Well, those of us here at MSGdish think it's about time these dictionaries update their databases and include definitions for savory as also being the "fifth taste" or "umami." We talk about it all the time in our blogs, and it's very trendy with chefs and culinary professionals. In fact, Merriam-Webster is very up-to-date in this regard. They include this definition for savory:
being, inducing, or marked by the rich or meaty taste sensation of umami
But I digress. Moving on, I'd like to share with you some savory appetizers and side dishes to try during the holiday season. All of these recipes are rich in umami flavor and will have your family and friends oohing and aahing about how inviting (and savory!) they are.
Click on the recipe name to jump right to it (or scroll down):
 Savory Appetizers
Savory Side Dishes
I hope you enjoy this special time of year with delicious food and good times with family and friends. Savor the holiday season!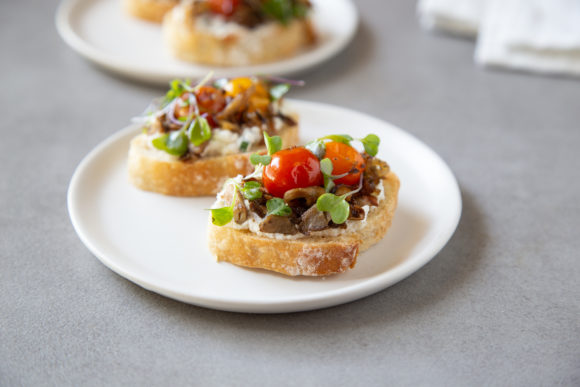 Mushroom Toast with Black Pepper Ricotta and Lemon Dressed Microgreens
The combination of mushrooms, cheese and tomatoes make this unique appetizer quite the umami bomb.
Ingredients
2/3

cup

whole milk ricotta cheese

1

tablespoon

chopped fresh chives

½

teaspoon

fine sea salt

½

teaspoon

ground black pepper

2 ½

tablespoons

extra virgin olive oil

1

small shallot

thinly sliced

4

ounces

oyster mushrooms

finely chopped

1

cup

multi-colored small cherry tomatoes

about 20 tomatoes

¾

cup

microgreens

2

teaspoons

fresh lemon juice

2

teaspoons

peppery finishing olive oil such as Arbequina

10

slices

baguette

lightly toasted
Instructions
Stir together the ricotta, chives, 1/8 teaspoon fine sea salt, and ¼ teaspoon of the black pepper in a medium bowl. Cover and set in the refrigerator until ready to assemble the toasts.

Heat the 2 ½ tablespoons of olive oil in a large skillet over medium heat. Add the shallot and cook for 90 seconds, stirring often. It will brown a bit in the oil as it softens. Add the mushrooms. Cook for 2 more minutes, stirring often, until the mushrooms darken and shrink. Add the tomatoes, continue to cook stirring constantly, for about 3 minutes, until the tomatoes begin to burst and the mushrooms are tender. If you have some larger tomatoes mixed in, pricking them with a fork will help them to burst.

Remove from the heat and stir in ¼ teaspoon salt and the remaining ¼ teaspoon of black pepper.

Transfer the microgreens to a small bowl. Toss with the lemon juice, finishing olive oil, and the remaining 1/8 teaspoon of salt.

Spread the cheese mixture on toast; top with mushrooms, tomatoes and greens before serving.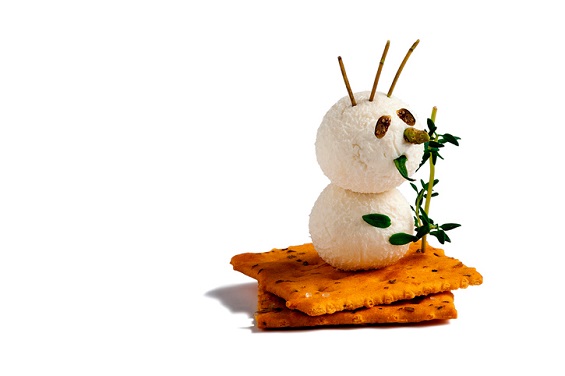 Aunt Sue's Smoky Cream Cheese Ball
Ingredients
8

ounces

cream cheese

6

green onions

1

12 ounce

package dried chipped beef

optional meat: prosciutto

1/2

teaspoon

Worcestershire sauce

1/2

teaspoon

MSG

monosodium glutamate

3

ounces

walnuts

chopped

1

12 ounce

package buttery crackers
Instructions
Allow cream cheese to soften at room temperature for about 20 minutes.

Finely chop green onions and dried beef.

Mix the onions, beef, Worcestershire sauce, MSG and softened cream cheese thoroughly.

Form into ball; roll ball in walnuts. Serve immediately with crackers or wrap in plastic wrap and chill until serving.
Recipe Notes
Source: Food.com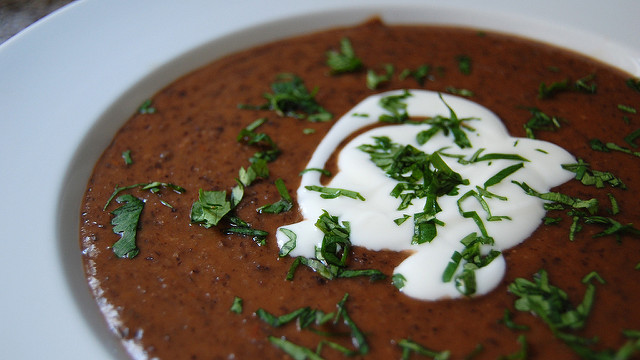 Black Bean Soup
This soup recipe was modified from The American Diabetes Association and The American Dietetic Association Family Cookbook Volume II. It is lower in sodium than that version yet has all the flavors you expect from a hearty soup such as this.
Servings
8
1-cup servings
Ingredients
1

lb.

dried black beans

2

quarts

water

1 3/4

tsp.

salt

2

Tbsp.

olive oil

2

cups

chopped onions

1

cup

chopped green pepper

optional

2

tsp.

minced garlic

1

tsp.

ground cumin

1

tsp.

oregano

1/4

tsp.

dry mustard

1

Tbsp.

lemon juice

3/4

tsp.

MSG

1

dollop

sour cream

optional; 1 dollop per bowl
Instructions
Presoak beans in water overnight or use quick-cook method on package.

After soaking beans, add salt and bring to a boil; cover and simmer on low heat for 2 hours.

Heat oil, add onions, and sauté about 5 minutes. Add green pepper and sauté until onions are tender.

Stir in remaining ingredients. Add about 3/4 cup hot bean liquid, cover and simmer 10 minutes.

Add onion mixture to beans and continue to cook 1 hour, stirring occasionally.

Serve with rice, if desired.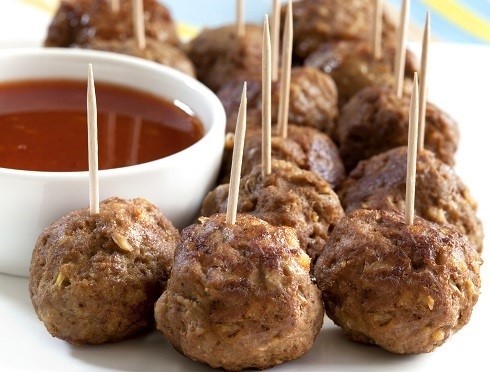 Sweet and Sour Meatballs
Ingredients
1 1/2

lb.

lean ground beef

1

egg

1/2

cup

milk

1/2

cup

seasoned dry bread crumb

1

tsp.

seasoning salt

1/2

tsp.

fresh ground black pepper

3

Tbsp.

minced dehydrated onion or 1 medium onion

finely chopped

1/2

tsp.

MSG

1

tsp.

Worcestershire sauce

1

10 oz. jars grape jelly

1

12 oz. jars chili sauce

1

tsp.

soy sauce

1/2

tsp.

ground ginger

Salt & freshly ground black pepper

optional
Instructions
Combine first 9 ingredients thoroughly. Form into 3/4" meatballs by using a melon-baller to scoop the meatballs; roll balls between the palms of your hands to shape them; set meatballs on a cookie sheet as you go, and chill to set them. NOTE: do not precook the meatballs.

Combine jelly, chili sauce, soy sauce and ginger in a large deep skillet or serving pan over low heat. Stir until smooth and heat to boiling, stirring frequently.

Add meatballs; bring back to a boil; reduce heat, cover, and cook over moderately low heat for at least 30-40 minutes, turning gently once.

If desired, blot the surface of the sauce with paper towels to remove any grease. (Note: There should be little or no grease if you use lean ground beef.) If desired, adjust sauce seasoning with salt and pepper to taste.

Serve hot in a chafing dish or keep warm in a small crockpot.
Recipe Notes
Recipe courtesy of Food.com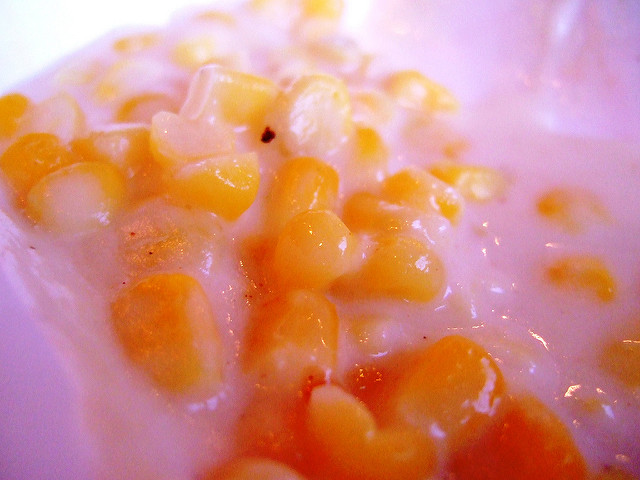 Gulliver's Creamed Corn
Ingredients
2

20-oz. packages frozen corn kernels

thawed

1

cup

whipping cream

1

cup

milk

1

tsp.

salt

1/4

tsp.

MSG

2

Tbsp.

sugar

white or cayenne pepper

to taste

2

Tbsp.

flour

2

Tbsp.

butter
Instructions
Place corn kernels, whipping cream, milk, salt, MSG, sugar, and pepper in a large stockpot. Bring to a slow, low boil beginning on medium heat, stirring frequently. Simmer for 5 minutes on low heat.

Melt butter in the microwave, or in a small saucepan on low heat. Whisk in flour until smooth. Stir into the corn until well blended.  Serve hot.
Recipe Notes
Popular brands for MSG that you can most likely find in your local grocery store in the spices/seasonings section: Accent, Ajinomoto or Vedan brand.
Recipe courtesy of Allrecipes.com 
Photo credit: Flickr user, jypsygen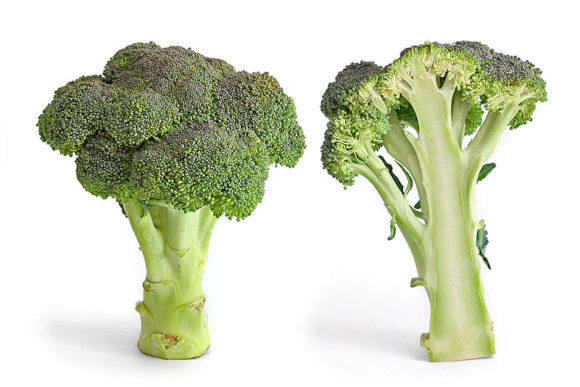 Cauliflower and Broccoli Au Gratin
Makes 4-5 servings
Ingredients
1

10-ounce

frozen broccoli

1

10-ounce

frozen cauliflower

1

tablespoon

butter

1½

tablespoon

flour

1/4

teaspoon each

seasoned salt and pepper

1/8

teaspoon

MSG

(umami seasoning)

2

cups

hot milk

1/4

cup

chopped onion

1

jar

pimentos

2 oz., drained

3/4

cup

Cheddar cheese

grated

10

soda crackers

crushed

paprika

to taste
Instructions
Cook vegetables as directed. Drain and pour into 2 quart casserole dish.

Melt butter on stove. Stir in flour and seasonings, stirring until smooth.

Remove from heat, stir in milk. Replace on heat and stir over low heat until thick.

Sprinkle onion, pimento and cheese over vegetables; pour sauce over all.

Top with crackers and paprika. Bake at 350 degrees F for 45 minutes.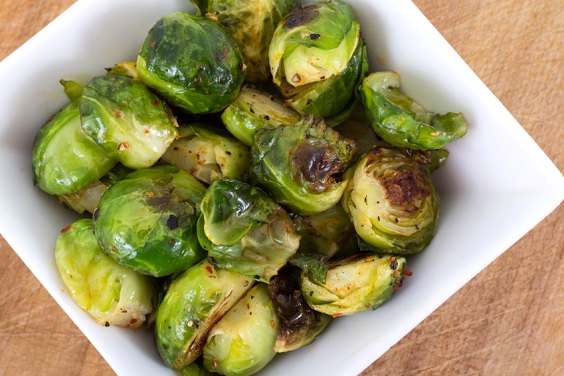 Miso Roasted Brussels Sprouts
Ah, Brussels sprouts, those little cabbages that my mother desperately tried to get us to eat. This particular recipe already has a terrific umami flavor thanks to the miso paste, but I still use a sprinkle of MSG.
Ingredients
1

pound

brussels sprouts

1 ½

Tbsp.

olive oil

2 ½

Tbsp.

white shiro miso paste

1

Tbsp.

maple syrup

1

Tbsp.

cider vinegar

1

tsp.

low sodium tamari or soy sauce

½

tsp.

Sriracha or other hot sauce

optional

Dash of MSG

popular brand names for MSG are Ac'cent® and Ajinomoto®
Instructions
Preheat the oven to 400 degrees F.

Cut off the brown ends of the Brussels sprouts and pull off any yellow outer leaves. Cut them in half lengthwise.

Mix the oil, miso paste, maple syrup, vinegar, tamari, MSG, and Sriracha together in a large bowl. Remove about 1 tablespoon of the sauce and save it to toss with the Brussels sprouts later.

Add the Brussels sprouts to the bowl and toss to coat them with the sauce. Transfer the Brussels sprouts to a baking sheet sprayed with olive oil cooking spray, and spray them once or twice during cooking.

Remove the tray from the oven and drizzle the reserved sauce on top. Toss to combine. Serve warm.
Recipe Notes
Recipe courtesy of Foodiephysician.com
NOTE: For a change of pace, add these Salt and Vinegar Broiled Fingerling Potatoes to the menu in place of (or in addition to) sweet potato casserole.

The MSGdish Team wishes you a joyful Holiday Season. May your holidays sparkle and shine, especially while you dine!
Main image courtesy of Flickr user Derek Law.