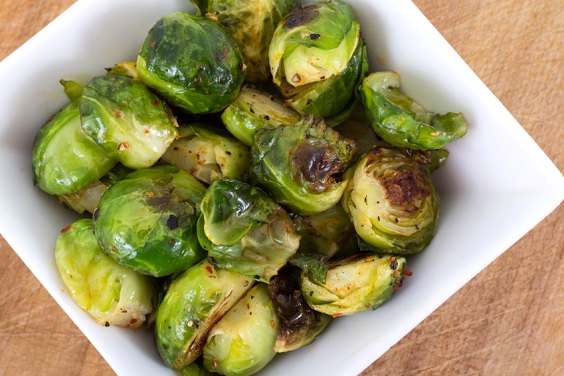 If I had to guess, I would say there are a billion recipes on the Internet that use vegetables. I counted. No, make that a trillion (kidding!).
As an adult, I love vegetables of all kinds. Cannot think of one I don't like. Parsnips. Turnip greens. Lima beans. You name it. I didn't always like them as a kid; in fact, I despised most of them. Somewhere over the years, my tastes in food changed into that of more discerning diner, for which I am grateful. I don't attribute that to being an adult, because some adults I know still don't care for vegetables. Perhaps being a student of nutrition, I learned to appreciate an entire new world of tastes as I studied the health benefits of veggies.
In my search through the huge quantity of vegetable recipes online, I found that many lacked je ne sais quoi ("a pleasant quality that is hard to describe" per Webster). Yes, many recipes I tried were good but missing that special something. However, once I discovered vegetable dishes that were only somewhat appealing, it dawned on me they were lacking the umami taste I craved. Adding a dash of MSG, aka umami seasoning, provided a distinct umami flavor that had been MIA. Thus, I became convinced that a plain vegetable dish could be made so much better with MSG and the fifth taste (umami) it provides.
Here are three recipes to which I added a small amount of MSG during preparation. (Note: MSG is not found in the original recipes but I have added it as an option). Experiment for yourself! Try adding a little MSG to any of your savory recipes, be they soups, side dishes, entrees or sauces. For more information on how the addition of some MSG can be used in cooking, please visit this informative article.
Savory Vegetable Dishes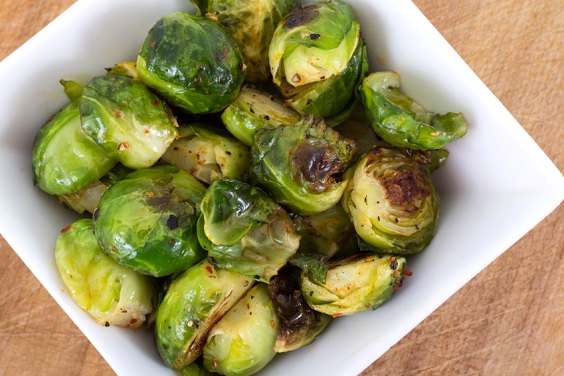 Miso Roasted Brussels Sprouts
Ah, Brussels sprouts, those little cabbages that my mother desperately tried to get us to eat. This particular recipe already has a terrific umami flavor thanks to the miso paste, but I still use a sprinkle of MSG.
Ingredients
1

pound

brussels sprouts

1 ½

Tbsp.

olive oil

2 ½

Tbsp.

white shiro miso paste

1

Tbsp.

maple syrup

1

Tbsp.

cider vinegar

1

tsp.

low sodium tamari or soy sauce

½

tsp.

Sriracha or other hot sauce

optional

Dash of MSG

popular brand names for MSG are Ac'cent® and Ajinomoto®
Instructions
Preheat the oven to 400 degrees F.

Cut off the brown ends of the Brussels sprouts and pull off any yellow outer leaves. Cut them in half lengthwise.

Mix the oil, miso paste, maple syrup, vinegar, tamari, MSG, and Sriracha together in a large bowl. Remove about 1 tablespoon of the sauce and save it to toss with the Brussels sprouts later.

Add the Brussels sprouts to the bowl and toss to coat them with the sauce. Transfer the Brussels sprouts to a baking sheet sprayed with olive oil cooking spray, and spray them once or twice during cooking.

Remove the tray from the oven and drizzle the reserved sauce on top. Toss to combine. Serve warm.
Recipe Notes
Recipe courtesy of Foodiephysician.com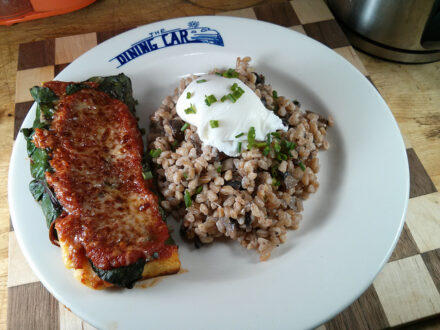 Farro Salad with Roasted Mushrooms and Parmesan
Mushrooms. "Hated" them too but now I'm not sure I even tasted them as a child, perhaps because they sure are not very pretty to look at (sorry for the mushroom bashing!). Now I know what I was missing… mushrooms taste good! Alas, I cannot get back those years of not eating one of the very unique and most flavorful foods. Who knew back then that they are one of the world's best sources of umami! Parmesan cheese also is packed with umami, and when combined with farrow (a hearty grain with a nutty flavor) and mushrooms, this recipe is a true umami bomb.
Ingredients
1

cup

uncooked farro

Salt

½

pound

fresh mushrooms

use a mix of your favorites

Olive oil

Freshly ground black pepper

2

Tbsp.

lemon juice

¼

cup

finely chopped or crumbled parmesan

don't grate; a coarser texture works best

¼

cup

roughly chopped parsley

Dash of MSG

popular brand names for MSG are Ac'cent® and Ajinomoto®
Instructions
Heat the oven to 350 degrees F.

In a medium saucepan, combine the farro and enough cold water to cover it by about an inch. Soak for 20 minutes. Drain well and return the farro to the pan, again covering it with cold water. Add a few generous pinches of salt and bring to a boil over high heat. Lower the heat, cover and simmer for 20 minutes, until the farro is tender but still has some bite.

While the farro is cooking, clean and trim the mushrooms and then cut them into bite-sized pieces. Arrange them on a rimmed baking sheet and drizzle generously with olive oil. Sprinkle with salt and pepper, and toss gently to distribute everything; spread the mushrooms out evenly on the baking sheet and put in the preheated oven for about 20 minutes, stirring halfway through, until crisp around the edges and cooked through.

When the farro is cooked, drain it well and spread it on a clean baking sheet to cool. Do the same with the mushrooms once they are cooked. When the farro and mushrooms are close to room temperature, or just barely warm, combine them in a serving bowl.

Add the lemon juice and 6 tablespoons of olive oil, tossing gently to combine. Then add the parmesan, parsley, MSG, and a generous grinding of pepper and fold gently. Taste and add more salt and pepper if necessary. Serve at room temperature.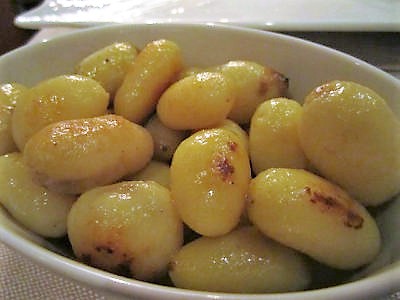 Salt and Vinegar Broiled Fingerling Potatoes
These potatoes are reminiscent of the freshly cut, French fries we used to get at the county fair, which we doused with vinegar! This version of vinegar-flavored potatoes is much healthier since the potatoes are baked and not deep-fried.
Ingredients
1

lb.

fingerling potatoes

sliced lengthwise to 1/4-inch thickness

2

cups

white or malt vinegar

Extra virgin olive oil

Sea salt

Pepper

Dash of MSG

popular brand names for MSG are Ac'cent® and Ajinomoto®
Instructions
In a small pot, combine the potato slices and vinegar. Bring to a boil, then lower the heat and simmer until fork-tender, about 8 minutes. Let cool in liquid for 30 minutes. Then drain well and pat potatoes dry with paper towels.

Preheat the broiler with a rack about 6 inches below the heat source. Transfer the potato slices onto a sheet pan, sprinkle very generously with olive oil, MSG, salt and pepper, and toss to coat. Arrange the potato slices in a single layer.

Broil until lightly browned on top, about 7 minutes. Then flip the slices and broil until the underside is lightly browned, about 5 minutes more. Serve warm.
 Find more delicious, savory recipes in the MSGdish Savory Cuisine Corner.