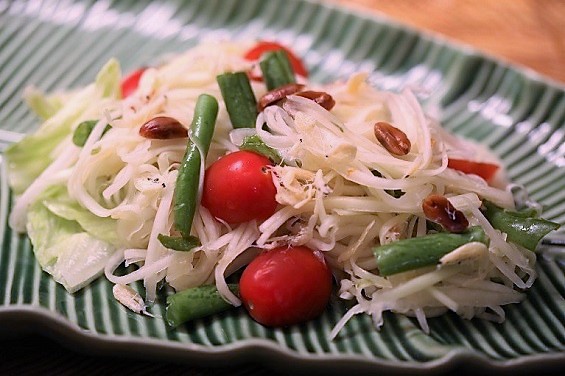 Thailand has some of the most iconic food in Asia. New York Times writer Thomas Fuller called it "one of the world's most sophisticated and flavorful cuisines." Chef Chris Koetke would agree. He regularly espouses his love of som tum, which means green papaya and is a popular if not the most recognizable of Thai salads. Chef Koetke has visited Thailand a number of times and as a result loathes the overwhelmingly sweet version of som tum and other dishes that are typically found in the U.S. "Thai food is way too sweet in this country, [it] should taste acidic and hot; spicy," he tells his audiences and students. When he visits a Thai restaurant in the U.S. he specifically tells the waiter to serve him the "real stuff," emphasizing that the chef shouldn't hold back.
No single ingredient in a good som tum acts alone; the rich flavors of som tum come from its layers of umami—dried shrimp, fish sauce and tomatoes mixed with the bitterness of the unripened papaya which also gives crunch and color, along with the sweetness of palm or cane sugar. Is your mouth watering yet?
Chef Koetke has graciously shared the recipe for his popular version of som tum. You don't even have to be a pro to get it right because this delicious and authentic recipe is so easy.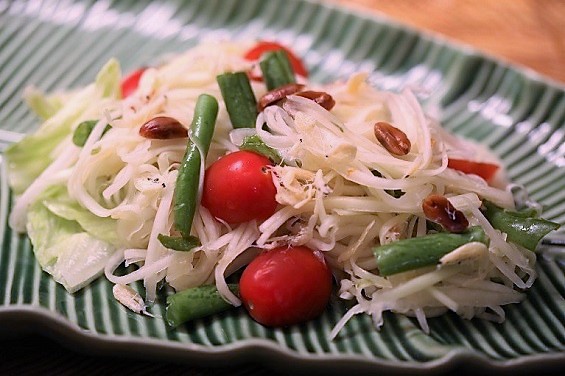 Som Tum (Green Papaya Salad)
Print this out and impress everyone with your worldly cooking skills. Som Tum done right!
Ingredients
10

oz.

green papaya

5

cloves

garlic

chopped

4-6

bird's eye chilies

4

cherry tomatoes

halved

3

oz.

long beans

cut into 1 inch pieces

2 - 4

Tbsp.

roasted peanuts

2

Tbsp.

dried shrimp

optional

2

Tbsp.

fish sauce

2

Tbsp.

palm sugar

grated if purchased as a whole piece (can substitute sugar)

3

Tbsp.

lime juice

To garnish: 1 cup shredded red cabbage, fresh bean sprouts, and ½ cup long beans, cut into 1-inch pieces
Instructions
Peel papaya. Cut flesh into a fine julienne. Discard seeds. Reserve.

With a mortar and pestle, pound chilies and garlic together to form a chunky paste.

Add peanuts, dried shrimp, tomatoes, and beans. Mix to incorporate.

Add fish sauce, palm sugar, and lime juice.

Add shredded papaya, fold it in.

Put on a serving platter and garnish with red cabbage, fresh bean sprouts and long beans.
Recipe Notes
Recipe courtesy of Chef Chris Koetke

Note: For vegetarian som tum, omit the dried shrimp and substitute soy sauce for fish sauce.