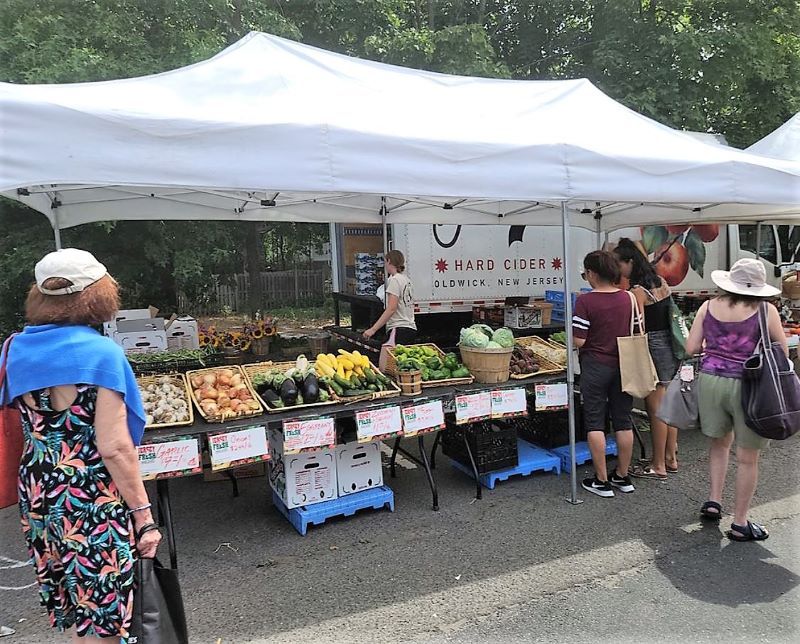 The delightful effect of the popularity of the farm-to-table trend has been the increased growth and number of farmers markets, providing consumers with access to fresh, delicious and locally produced products during the height of the summer growing season.
Added benefits of shopping at farmers markets include supporting local farmers, and the opportunity to learn more about how and where the food is grown by meeting and talking directly to the farmers themselves. Shoppers can discover new seasonal produce that they and their families have never tried before, and expand both taste and nutritional choices.
The beauty of the sight, smell (and samples!) of the produce from farmers markets has tempted many a person to tote home a heavy bounty of fresh, savory vegetables. Next step: How to turn the veggies into tempting dishes for the family table. From simply slicing and adding the produce into a fresh salad, to tossing a quick stir-fry, to more complex combinations, the farmers market ingredients offer the basis of delicious dishes.
And to take it to the next level of even more flavor? Include ingredients that contain glutamate, to produce (or enhance) a rich umami flavor in your dish.
Glutamic acid (glutamate), a naturally occurring amino acid found in many foods, is responsible for prompting the umami taste. Glutamate content is particularly high in seaweed, green tea, aged cheeses and fermented products.
And when MSG is added to foods with inosinate and guanylate, the umami flavor is sensed more strongly than if each of the ingredients were used individually. Inosinate and guanylate are ribonucleotides that also impart an umami flavor. Inosinate is naturally and primarily found in meat and fish, whereas guanylate is abundant in the mushroom family, such as dried shiitake mushrooms.1
Some vegetables are naturally high in glutamate, though not approaching the levels found in meat, seafood and fermented products. Glutamate levels in tomatoes, peas, corn, mushrooms and carrots rank among the highest in the plant kingdom. Adding garlic, onions, or ginger to the dish will also up the glutamate content and help increase the umami flavor.
To really explode the umami flavor, experiment using the addition of these ingredients to your veggie dishes:
Dice sundried tomatoes and add to a recipe that already contains fresh tomatoes
Include 2-3 teaspoons of soy sauce in a vegetable stir-fry
Add a shower of grated Parmesan cheese
Use some MSG to contribute an extra pop of umami flavor
Keep in mind: To enhance the unique umami taste, glutamate, inosinate or guanylate must be present in the ingredients. A recent recipe on a popular website mistakenly stated that the combination of a sweet ingredient and a salty ingredient – marshmallows and potato chips in this case – resulted in producing the umami taste. While the potato chips might provide a miniscule amount of glutamate, it's not enough to impart the taste of umami. Most certainly a combination of sweet and salty, though tasty, does not result in the magic umami flavor either. Instead, take a chef's tip – Chef Chris Koetke of Ajinomoto – and add umami flavor by simple additions of MSG and other glutamate-rich ingredients.2 Check out his other flavor-boosting recommendations for creating delicious dishes here.
And try the following recipes to enjoy the bounty of farmers markets!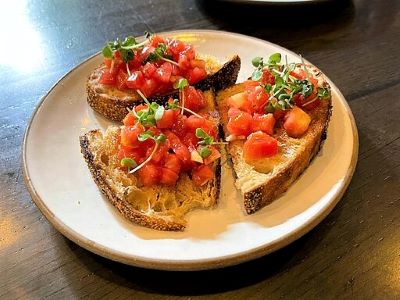 Double Tomato Bruschetta
Enjoy the bounty of farmers markets! This delicious bruschetta features fresh plum tomatoes, fresh basil, and sun-dried tomatoes.
Ingredients
6

Roma (plum) tomatoes

chopped

½

cup

sun-dried tomatoes

packed in oil

3

cloves

minced garlic

¼

cup

olive oil

2

Tbsp.

balsamic vinegar

¼

cup

fresh basil

stems removed

¼

tsp.

salt

¼

tsp.

ground black pepper

1

French baguette

2

cups

mozzarella cheese

shredded
Instructions
Preheat the oven on broiler setting.

In a large bowl, combine the Roma tomatoes, sun-dried tomatoes, garlic, olive oil, vinegar, basil, salt, and pepper. Allow the mixture to sit for 10 minutes.

Cut the baguette into 3/4-inch slices. On a baking sheet, arrange the baguette slices in a single layer. Broil for 1 to 2 minutes, until slightly brown.

Divide the tomato mixture evenly over the baguette slices. Top the slices with mozzarella cheese.

Broil for 5 minutes, or until the cheese is melted.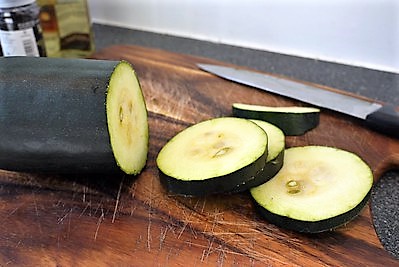 Farmers Market Corn Toss
Enjoy the bounty of farmers markets! This veggie "toss" with sweet onions, red peppers, zucchini, and corn fresh off the cob is amazing!
Ingredients
1

Tbsp.

olive oil

1

small sweet onion

chopped

1

red pepper

chopped

2

ears

corn on the cob

kernels removed from cob

1

large zucchini or 2 small ones

sliced

1/4

cup

fresh parsley

chopped

1/4

tsp.

black pepper

1/4

cup

grated Parmesan cheese

divided
Instructions
Heat oil in large skillet on medium heat. Add onions and red peppers; cook and stir 3 min.

Stir in corn and zucchini; cook and stir 5 min. or until all vegetables are crisp-tender. Remove from heat.

Stir in parsley, black pepper and 2 Tbsp. cheese.

Top with remaining cheese.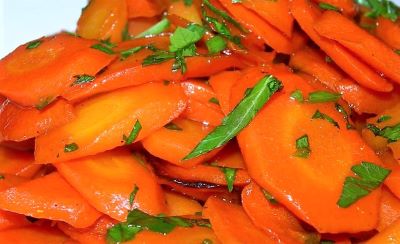 Glazed Carrots
Enjoy the bounty of farmers markets! Scrumptious carrots glazed with butter, brown sugar, and seasonings.
Ingredients
1 1/2

lbs.

carrots

peeled and cut into 1/2-inch-thick slices

¼

cup

butter

¼

cup

brown sugar

¼

tsp.

MSG

(aka umami seasoning)

1/8

tsp.

salt

1

Tbsp.

chopped parsley
Instructions
Place the carrots in a large pan and add 1 1/2 cups of water. Bring the carrots to a simmer. Cook for 8-10 minutes or until carrots are tender. Drain off any excess water.

Add the butter, brown sugar, MSG and salt to the pan. Stir to coat the carrots. Cook for an additional 4-5 minutes, stirring occasionally, until a sauce has formed.

Sprinkle with parsley if desired, and serve.
Did you know that there's a National Farmers Market Week?! Now in its 24th year, National Farmers Market Week (August 6-12, 2023) is an annual celebration that highlights the vital role farmers markets play in our nation's food system. More info.
References:
List of Umami Rich Ingredients. Umami Information Center. https://www.umamiinfo.com/richfood/
Q&A with Chris Koetke, Ajinomoto Health & Nutrition North America, Inc. Prepared Foods. May 14, 2021. https://www.preparedfoods.com/articles/125613-qa-with-chris-koetke-ajinomoto-health-nutrition-north-america-inc