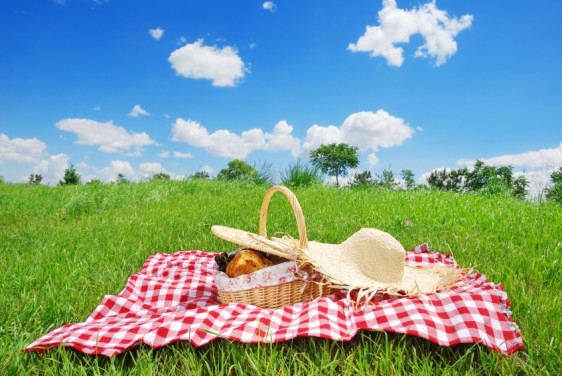 Summer is in full swing so it is officially time for picnics. Whoo-hoo! Although I have mentioned summertime and grilling in a previous blog, I wanted to again explore one of my favorite times of year. PICNIC TIME!
Kind of a silly word when you think about how it is spelled. PICNIC. Why no 'k' at the end? When looking further into the history of the word, here is what I learned. "The first usage of the word is traced to the 1692 edition of Tony Willis, Origines de la Langue Française, which mentions pique-nique as being of recent origin; it marks the first appearance of the word in print. The term was used to describe a group of people dining in a restaurant who brought their own wine. The concept of a picnic long retained the connotation of a meal to which everyone contributed something."
But let's get back to the real meaning of picnic (from my perspective). It translates to GREAT FOOD…and lots of it!
Growing up, picnics usually consisted of hamburgers and/or hot dogs (or even thick slices of bologna) cooked over blazing charcoal briquettes, all prepared in the backyard ….when it was too hot to cook in the kitchen. Yup, no gas grills or air conditioning back then. Or, for holidays or special occasions, my Mom and aunts would cook up some incredibly divine fried chicken to go along with mustard potato salad (made 100% from scratch). They'd even bake a few fruit pies without the help of premade pie crusts (usually done in the evening to beat the heat). The next day, the chicken and tater salad would then be put in a large cooler for the hour-long drive to a picnic area close to our favorite lake. I still remember how fun these ventures were, but am not so sure the food safety police today would have approved…but none of us ever got sick from room temperature chicken!
I digress.
Needless to say, if you were to search the Internet today, you'd come up with the most basic of picnic foods to hardcore guidelines on how to throw a gourmet picnic (really?). Whatever meets your 'fancy'!
The bottom line when it comes to a picnic? All that's needed are family and friends, good conversation and GREAT FOOD. And what makes food GREAT? It's the ingredients and preparation method that enhance the natural flavors of the food. For example, cooking hamburgers on a hot grill causes the exterior to caramelize, bringing out what we now know as umami flavor. The same goes for the pan-fried chicken.
So, if you want to step up your next picnic just a notch, why not try two recipes that both offer distinct umami flavor…from the bacon that is key ingredient in Authentic German Potato Salad to the natural umami goodness of mushrooms (via the Garlic Marinated Mushrooms recipe).
Bon appetit! And don't forget the red checkered tablecloth!