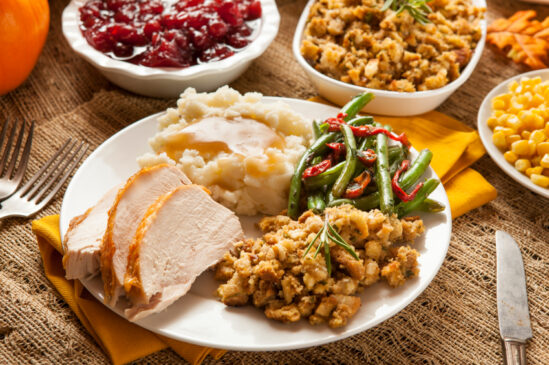 Planning your Thanksgiving menu? You might not realize it, but there's a good chance that you're thinking umami, too. Yes, I know the Japanese word umami (loosely translated as deliciousness) seems pretty far away from the concept of this quintessential American feast, but if you think about it, creating a delicious traditional Thanksgiving meal relies on lots of savory dishes that do contribute their fair share of umami taste. Are you still with me? Good. Somewhere between setting the table and watching football with your second piece of pie in hand is where the umami fits in. Check it out…
The bird…and thank goodness for gravy
The bird itself doesn't contribute much umami, but not to worry, there's a good chance that most you will make up for that with a basting liquid of some kind (often broth) and gravy to serve alongside it at the table. Typically, gravy is made from broth, little bits of giblets, some pan drippings, seasonings and some thickener—all cooked down into thick, liquid deliciousness. Consider enhancing the taste of your gravy by using a dash of soy sauce or tamari, a pinch of monosodium glutamate (MSG), or mushrooms, which is what's demonstrated here (interesting Umami Gravy from the blog Nom Nom Paleo). Or, for those of you who are gravy-challenged, gravy straight from a jar also does the trick (and it often has extra umami ingredients added to it).Either way you roll, your guests will be happy that the gravy is flowing because it injects a bit more umami goodness into the meal (not to mention makes up for a slightly dry bird—not that that would ever happen to you).
Veggies we love
Peas and potatoes provide more umami than you might think, and don't they turn up on many a holiday table? You know it. Other veggies are high in glutamate as well, but they probably aren't as common on the Thanksgiving table. And don't forget that sprinkle of cheese tossed over the salad or worked into the mashed potatoes! Parmesan and Roquefort are especially umami-rich.
Don't forget the dressing…or stuffing
On their own, cubes of semi-dried bread are not what we'd consider a high-umami ingredient, but add some broth, maybe some mushrooms, some walnuts or even oysters if oyster dressing is popular at your table, and you've got something that provides lots of umami appeal. (Incidentally, there is actually such a thing as an Umami Oyster—look for them on the East coast.) Even cornbread stuffing would work, since corn does provide some umami. Lots of us use premade, purchased broth, and it's sometimes enhanced with monosodium glutamate or other ingredients that provide umami to give it a more well-rounded, flavorful taste. Bouillon cubes do the same. You could also make your own umami-licious broth of course.
If you find yourself wanting to know more about umami in food, dig into renowned chef Heston Blumenthal's book (with a big lineup of awesome chef contributors from around the world), Umami: The Fifth Taste. For additional umami-rich recipe ideas and inspiration, check out our Savory Cuisine Corner on MSGdish.