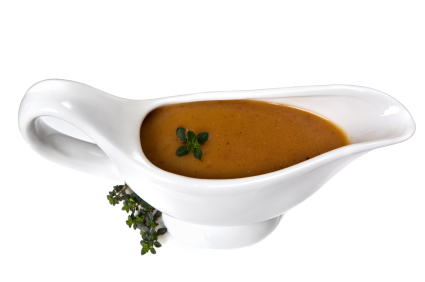 Gravy, gravy everywhere — but how do you make sure it's a real complement to your dish? (And yes, one that will get compliments!)
Between Thanksgiving and the New Year, gravy will be a mainstay in our diets – be it an accompaniment to turkey, roast beef or pork and their yummy side dishes such as mashed potatoes, stuffing or popovers.  But sometimes, the gravy just does not turn out "right."
Some food scientists in the UK think that soy sauce could be the missing ingredient. An article in the UK Daily Mail notes that the Royal Society of Chemistry (RSC) has turned its attention to the subject of gravy as part of its Food Year, "a series of events to demonstrate the role of chemistry in providing healthy and sustainable food."
According to RSC member Dr. John Emsley, a food scientist, "a touch of soy sauce" may be just the ingredient to bring the gravy up to par as far as flavor is concerned. "Dr. Emsley says this should be used in place of traditional gravy browning because monosodium glutamate from the soy sauce brings out the meaty flavour," the article notes.
This quote from Erma Bombeck is near and dear to my heart: "I come from a home where gravy is a beverage!"  I plan on incorporating this soy sauce with MSG suggestion myself this holiday season…and will sit back and wait for the compliments from my guests!
And Happy Thanksgiving everyone!