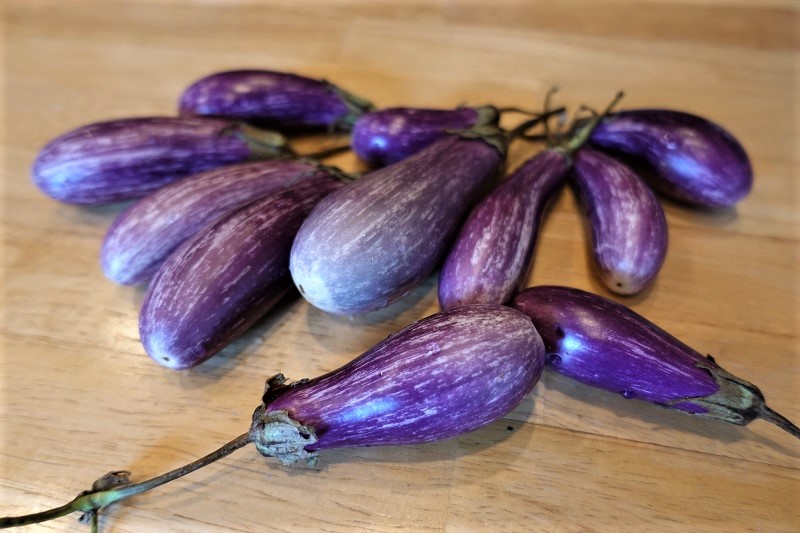 I found this very funky fruit called Fairy Tale eggplant (yes, eggplant shares the tomato's is-it-a-fruit-or-a-vegetable dilemma #learnedsomethingtoday).
I have to admit that going grocery shopping is one of my favorite activities. Yes… Spending hours of my day searching for the perfect and healthiest product on the shelf, reading all the nutrition facts information on the labels, and knowing all the latest healthy products in the market are things that I TOTALLY do. If I can make an excuse every day to go to a Trader Joe's or Whole Foods, I WILL!
So, now that you guys probably think that I'm weird, here goes my second confession of the day: I can't wait to wake up early on Saturday morning to go to the farmer's market. That's where I found this very funky fruit called Fairy Tale eggplant.
Fairy Tale eggplants have white and purple markings on the outer skin and, when cooked, this funky look, unfortunately, goes away. The taste though is sweeter and less bitter than the Italian eggplant, making it perfect for eating, especially, when seasoned with umami ingredients, and that is what inspired me to create this recipe.
Another ingredient you'll find in this umami recipe that has the same umami flavor is the nutritional yeast flakes. It is often used in vegan cooking, and although I am not vegan (yet), I use nutritional yeast flakes in the majority of my recipes (you'll see!).
Studies about nutritional yeast have supported its potential health benefits, including being an excellent source of vitamin B — similar to a B complex that you find in pharmacies, but in capsules instead (not so fun).
Nutritional yeast is made of the same type of yeast – Saccharomyces cerevisiae – used to bake bread and brew beer; however baker's yeast, brewer's yeast and nutritional yeast are very different products.
In addition to imparting the umami taste, nutritional yeast is low in sodium and calories. Nutritional yeast is also fat-free, sugar-free, gluten-free and vegan. And if you can't find nutritional yeast flakes, or you just don't want to go the vegan way, shredded parmesan cheese will work too. 
This umami recipe is especially fitting for those Fairy Tale eggplants, but you can certainly use any type of eggplant you wish. 
Ready to go to the happily ever after? 
Umami Recipe: Rosemary Fairy Tale Eggplant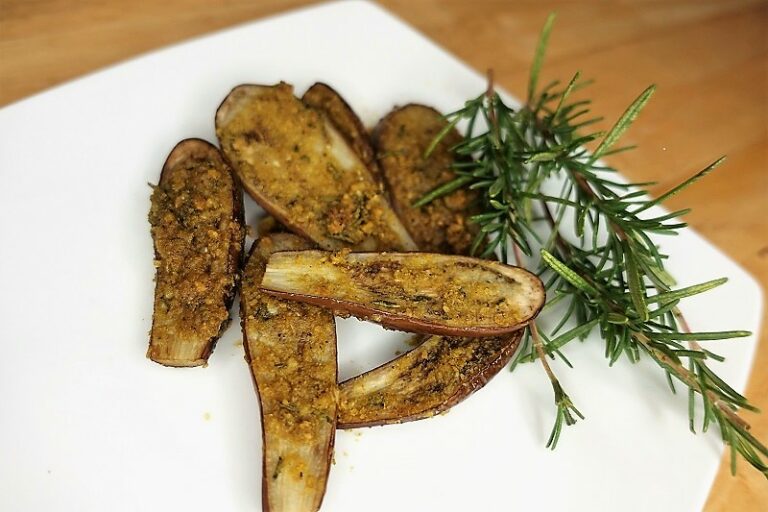 Umami Rosemary Fairy Tale Eggplant Recipe
The taste of the Fairy Tale Eggplant is sweeter and less bitter than
the Italian eggplant, making it perfect for eating, especially when seasoned
with umami ingredients.
Ingredients
10

fairy tale eggplants

1

cup

olive oil

1/2

cup

nutritional yeast flakes

1

sprig

rosemary

3

cloves

fresh garlic

1/4

tsp.

MSG *

(duh - umami seasoning!)

black pepper to taste
Instructions
Wash and cut eggplants in half lengthwise. Place them facing
up on a baking sheet while the oven is pre-heating to 400° F.

Add all the other ingredients in a food processor and mix
everything. Add the olive oil slowly, until you get a pasty texture.

Brush the eggplants with the mix, and bake for 10 minutes or
until tender.
Hope you enjoy the video I put together while making this delicious dish!:
Check out other featured Umami Recipes!