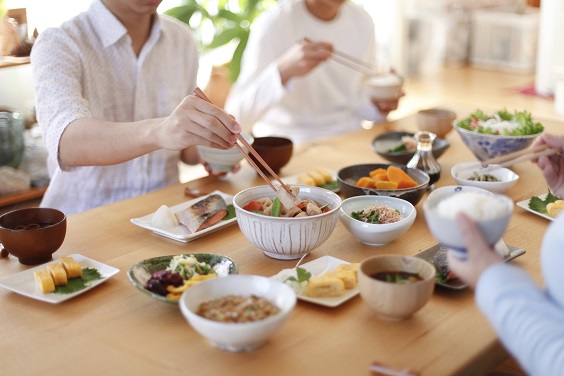 Umami. It's the flavor that's savored around the world, from Asia to Europe to the United States. While this fact may not be widely known, foods that are ripe with umami goodness have been used for ages (i.e., a long, long time) in the cuisines of many countries.
According to the Umami Information Center, "There are a great variety of traditional seasonings and foods in the world. Most of them are fermented, dried, or salted for the purpose of long preservation. In this process, glutamate and other umami substances increase and add richness to the dish." If interested, you can visit that website and read about how umami-rich ingredients vary from region to region around the world.
As we discussed in a previous blog, chefs worldwide are praising umami's benefits. "Umami is a HOT topic in the culinary circles but it also is different in various parts of the world: In Thailand it's fish sauce. In Japan it's miso and soy sauce. In Italy it's Parmigiano-Reggiano. In Spain it's cured meats. In Australia it's vegemite. In Korea it's kimchi." In the U.S. it's anything made with tomatoes, cheese or mushrooms (to cite just a few foods!).
Worldwide Love of Umami
To visually demonstrate just how widespread the love of umami is, this amazing graphic shows where and how umami-rich foods are used:
For the purpose of this blog, let's take a look at two of the many regions where umami is an important culinary consideration.
Great Britain: We've previously highlighted two restaurants in London – Umami and The Hawksmoor – the latter of which serves a Longhorn beef burger specially constructed, not just with the umami taste in mind – but around it. But as its executive chef Richard Turner points out: "We build our entire menu on it." The article we cited (about umami in the UK) also discusses a redesign of British Airways' in-flight menu "to increase the amount of umami in the food, based on information that while other tastes recede in the arid atmosphere of the cabin, umami does not."
Another article from a London newspaper has commented, "A gourmet paradox, umami is both ubiquitous and elusive, present but often unrecognised. It is that extra mouthful-ness that makes us go "mmmmm" – to taste umami is to savour the savoury long after the morsel itself has disappeared."
The author of this article provides readers with three recipes that "will show you how to create your own umami-packed flavour bombs using accessible everyday ingredients… with explosive results." All three recipes look delicious but this recipe for Fondant Hasselback Potatoes sounds mighty good to me!
Italy: In The Italian Dish blog, the blogger writes: "What's a Japanese word doing in an Italian food blog? Because it's something every Italian nonna knows about when it comes to adding flavor to dishes. And if you don't know what umami is, you will. It's one of the hottest subjects in the cooking world right now." The blogger offers another secret about umami: "It's why Italian cooks often add an anchovy in the beginning when cooking a sauce. Even if you don't like the taste of anchovies, you will never know it is there. It completely dissolves but it adds a depth of flavor you would not have otherwise. Don't say, 'Ew! I don't like anchovies!' Take advantage of the glutamate in this food and enhance your cooking – your umami!"
Check out this blog to find this umami-laden recipe for Spaghetti with Anchovies, Capers and Bread Crumbs. Delizioso and Salato!
In addition, you can check out this video featuring Chef Chris Koetke about umami-rich foods, and how to experiment with the umami flavor in your cooking: