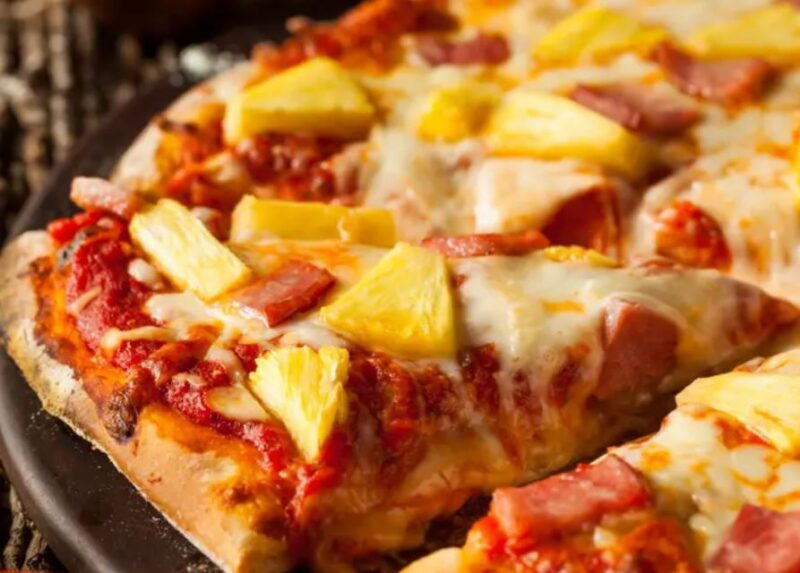 Sweet AND Savory flavors together in a dish?… win-win! Sometimes contrasting flavors are a perfect marriage. Think about the Maple Bacon Effect. Right?!
Finding those perfect sweet-savory pairings takes some experimenting in the kitchen. So, to help you get started, this blog will provide a few scrumptious suggestions.
First example (well, not counting the maple-bacon one previously mentioned): pineapple on pizza. Some sweet and savory food fanatics will tell you that pineapple belongs on pizza! True, it works so perfectly… a little bit of sweetness to cut through a salty-savory pizza. Pineapple adds a much-needed pop of sweet to the flavor profile.
And how about pineapple on a salmon burger? Here's a delicious recipe to try: Hawaiian Salmon Patty Burgers.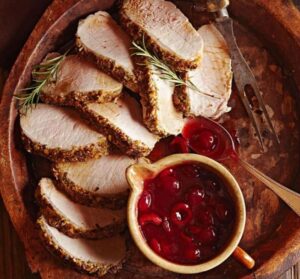 Have you had pork loin (or pork chops) with cherry sauce? So good!
And of course, grapes in your chicken salad provide crunch and sweetness.
Let's get a bit daring… chopped, fresh apples added to your favorite vegetarian chili recipe. Or, maybe this appeals to you – pears sautéed in brown sugar added to your traditional mac and cheese. Sprinkle on some bacon as well… comfort food at the next level! Or, how about some feta cheese sprinkled in with your watermelon side dish?
And if you're a fan of mango try adding some slices to top off sloppy joe sliders (along with some jalapeno slices for a nice kick). Cooking your favorite chicken dish this week? Delight your fellow diners with some chopped prunes and chopped olives when you serve this Sweet and Savory Chicken dish.
Something you didn't know about Elvis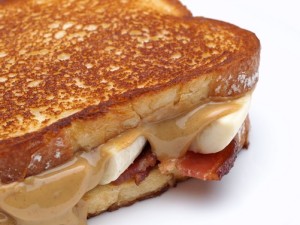 What does Elvis Presley have to do with one of today's most talked about food pairings, where savory meets sweet?
How about his love for a peanut butter, banana and bacon sandwich?
One of the "King's" favorite sandwiches (and its unusual ingredient combo) was a bit before its time. The sweetness of the banana nicely complements the salty of the peanut butter, leaving the bacon to provide the savory/umami taste that makes it all work in sync. You could say that in addition to his music, Elvis clearly took peanut butter and jelly to a whole new level!
Umami = Savory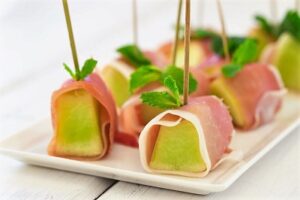 What we didn't know back then was that one of today's hottest culinary trends would be combining sweet ingredients with savory ones to yield some "off the taste chart" delicious recipes. Certainly we know what a sweet taste is all about but where does the savory come from? It's mostly from the umami taste that many foods (like bacon or cheese) provide. Think about this: it's the UMAMI that makes the prosciutto-wrapped melon so divine!
Almost everywhere you look, there are sweet and savory food items, some of which we now take for granted. "Salted caramel something" has become a mainstay in grocery stores and on restaurant menus. This is a great example of a delicious savory-sweet combination.
If you happen to be one who doesn't like to be very adventurous with your food, we encourage you to step outside the box and give some of these savory and sweet recipe ideas a try. They are delicious and we guarantee you won't get All Shook Up!!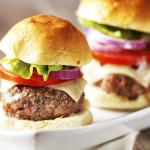 Learn more about The Umami Connection.