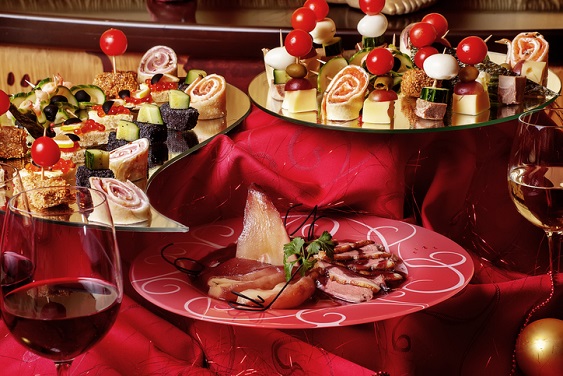 What makes a holiday party a blast? The answer is simple. You need the right blend of great food with tons of flavor, shared with fun friends, and above all – relaxed hosts. The winter holiday party season is greatly anticipated, but all too often one of the most stress-inducing times of the year. A little bit of savvy planning can make your holiday party easy. Here is a sample menu, suggested recipes and simple tips to knock out your guests with your party personality and not with your cooking cares.
Make It Yesterday — Party Today Recipes
Brie Wedge with Roasted Raspberry Chipotle Sauce
Spinach Cheese Stuffed Mushrooms
Shrimp Cocktail with Classic Cocktail & Lemon Vinaigrette Sauces
Sweet Pea Dip with Fresh Vegetables
A Workable Menu: Plan a flavorful menu that can be almost completely cooked in advance and simply re-heated when your guests arrive. One of the worst mistakes you can make is planning a menu that requires you to be in the kitchen cooking throughout your party, ignoring your guests (see some great do-ahead recipes below).
Keep things simple. Purchase some pre-made items. With a little creativity, they become elegant appetizers. Brie Wedge with Roasted Raspberry Chipotle Sauce pairs the rich umami taste of cheese with a snappy fruit sauce. And the Shrimp Cocktail sauces can be simplified with pre-made items.
For food that is best served warm, prepare it in the serving dish, bake at the last minute and place the hot dish directly onto the table. Spinach Cheese Stuffed Mushrooms really ups the flavor with umami taste from both the cheese and the mushrooms (each are high in glutamate; see info below).
Choose dips and cut up veggies such as Sweet Pea Dip with Fresh Vegetables. While the umami taste is commonly associated with "meaty" flavor, vegetables also contain glutamate and thus provide delicious umami taste.
Display a brilliantly laid out dessert buffet: Leave a lasting memory of a great party with a dessert table. Cut fancy (store-bought!) cakes or cheesecake into sections. Present with a bowl of whipped cream, and stacks of little candies that guests choose to decorate their cakes.
Offer coffee with liquor, or rum and ice cream as optional additions, and cinnamon stick stirrers.
Timing: A funny thing happens when you are in the home stretch of party preparations, and guests are due within an hour or two. The few little things you have left for the last minute take twice as long to accomplish. Since there is no possible way to guess the possible mishaps and interruptions, double the time you estimate will be required at the end. That way you'll be prepared for any last minute surprises that interrupt your party preparations. And your guests will find relaxed and prepared hosts partying at their own party!
Do-Ahead Recipes:
Brie Wedge with Roasted Raspberry Chipotle Sauce
Warm a wheel of brie in microwave on "defrost" setting for no more than 10-15 seconds (depends on size of the Brie wheel). Pour on bottled Raspberry Chipotle Sauce. Serve with crackers.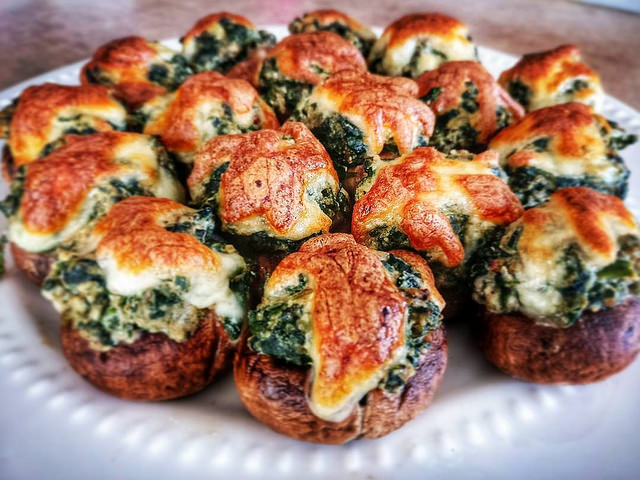 Spinach Cheese Stuffed Mushrooms
Ingredients
48

fresh whole baby portabella or white mushrooms

1 ½ to 2 inches in diameter

1

package 8 oz. cream cheese

softened

1

box 9 oz. frozen chopped spinach

thawed, squeezed to drain

1

cup

freshly grated Parmesan cheese

½

tsp.

salt

¼

tsp.

freshly ground black pepper

1/8

tsp.

ground red pepper

cayenne

¼

tsp.

MSG

½

cup

panko crispy bread crumbs

2

Tbsp.

butter or margarine

melted
Instructions
Preheat oven to 350°F. Remove stems from mushroom caps; reserve caps. Discard stems.

In large bowl, mix cream cheese, spinach, 1/2 cup of the Parmesan cheese, the salt, both peppers and MSG until well blended.

In small bowl, mix remaining 1/2 cup Parmesan cheese, the bread crumbs and butter.

Spoon filling into mushroom caps, mounding slightly. Place mushrooms in ungreased 17x12-inch half-sheet pan. Sprinkle bread crumb mixture over filled mushroom caps, pressing lightly.

Bake 20 to 22 minutes or until thoroughly heated.
Recipe Notes
Mushrooms, filling and topping can be prepared the day before, packaged separately and refrigerated. On the day of the party fill mushrooms, refrigerate, and then bake just before the party.
Parmesan Cheese: Levels of glutamate (1200mg/100g)
Mushrooms: Levels of glutamate (180 mg/100g)
Recipe courtesy of BettyCrocker.com 
Photo credit: Flickr user, Team WayLay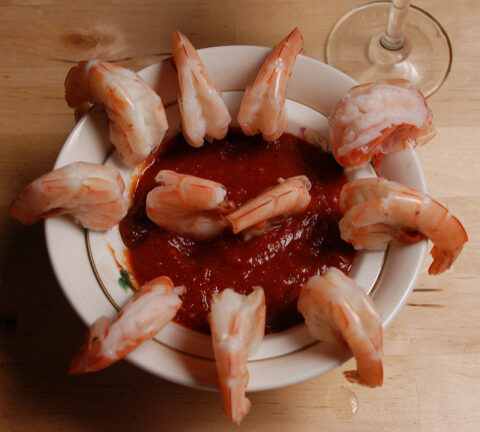 Shrimp Cocktail with Classic Cocktail & Lemon Vinaigrette Sauces
Ingredients
1

lemon

halved

1

onion

quartered

10

whole black peppercorns

1

bay leaf

2

Tbsp.

salt

2

lb.

large uncooked

peeled shrimp
Cocktail Sauce
1

cup

ketchup-based chili sauce

1

tsp.

fresh lemon juice

¼

tsp.

Worcestershire sauce

8

dashes hot pepper sauce

Salt
Lemon Tarragon Vinaigrette
2

Tbsp.

fresh lemon juice

2

Tbsp.

minced shallot

1

Tbsp.

chopped fresh tarragon

1

Tbsp.

Dijon mustard

1/2

cup

olive oil

Salt

freshly ground pepper
Instructions
Fill a large pot 3/4 full with water; squeeze juice from lemon halves into pot and add lemon halves. Add onion and next 3 ingredients to pot. Bring to a boil over high heat, then reduce heat to medium; simmer for 5 minutes for flavors to blend.

Add shrimp; cook until just opaque in center, 2-3 minutes. Drain and transfer shrimp to a large bowl of ice water; let cool. Drain again. DO AHEAD Shrimp can be poached 1 day ahead. Cover and chill.

Arrange shrimp over a bed of ice. Serve with Cocktail Sauce and Lemon-Tarragon Vinaigrette.

For the cocktail sauce: Whisk first 4 ingredients together in a small bowl to blend. Season to taste with salt. DO AHEAD: Cocktail sauce can be made 5 days ahead. Cover and chill.

For the Lemon Tarragon Vinaigrette: Combine lemon juice, shallot, tarragon, and Dijon mustard in a small bowl. Gradually whisk in oil. Season to taste with salt and pepper. Vinaigrette can be made 3 days ahead. Cover and chill.
Recipe Notes
For 20 people, buy 4 pound shrimp. For 30, buy 6 pound shrimp. Cook in batches. Place some shrimp on a platter of ice; refrigerate the rest for replenishing.
Shrimp: Levels of glutamate (40 mg/100g)
Recipe courtesy of Bonappetit.com
Photo credit: Flickr user, Pete Jelliffe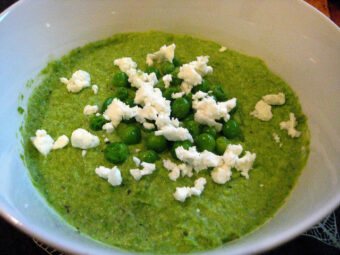 Sweet Pea Dip with Fresh Vegetables
Ingredients
2

cups

frozen peas

Salt

1

cup

ricotta cheese

Grated zest of 12 lemon

½

cup

grated Parmesan cheese

2

Tbsp.

fresh mint

Freshly cracked pepper

2

Tbsp.

olive oil
Instructions
Boil peas in salted water for approximately 30 seconds. Remove, drain and cool in ice bath.

In food processor combine the ricotta, lemon zest, parmesan and mint. Process briefly. Add peas and pulse until mixture just comes together. Keep some texture, not making it totally smooth. Salt to taste. Spoon into serving bowl. Crack pepper on top and drizzle with olive oil just before serving.

Do ahead: Cover and refrigerate for up to 24 hours.

Serve with fresh vegetables.
Recipe Notes
Green peas: Levels of glutamate (106 mg/100g)
Carrots: Levels of glutamate (33 mg/100g)
Broccoli: Levels of glutamate (176 mg/100g)
Recipe courtesy of Foodnetwork.com
Photo credit: Flickr user, Alexandra Moss