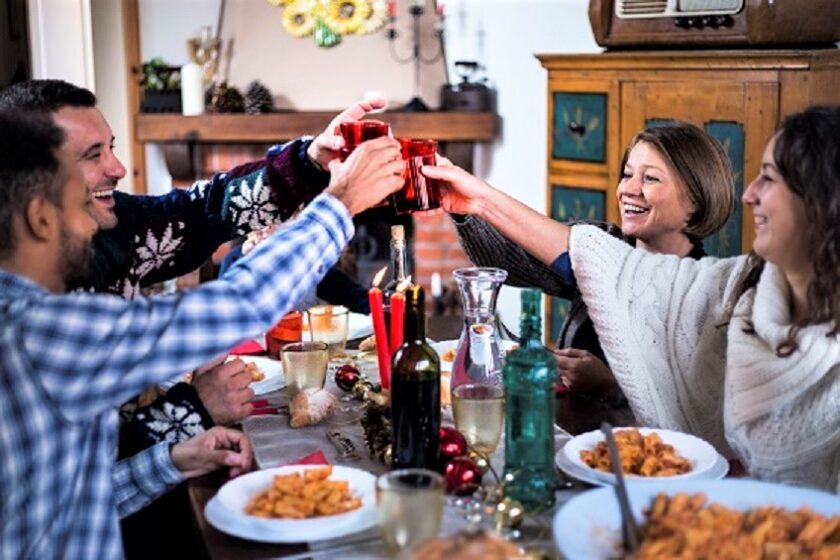 There is no happier time than traditional fiestas during the holidays. The bright lights, the music of the season, the surprise gifts and the special meals, which we prepare especially during the fiestas, fill our hearts with great joy.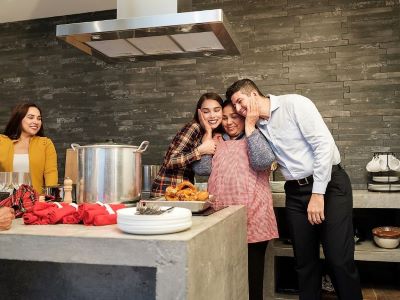 At the same time, it is a time when we focus on preparing the most delicious meals without thinking about nutritional value. But what if there are family members or friends who have certain health conditions that require you to watch what they eat? How can we adapt our favorite recipes to different health conditions? I want to share with you that there is a way to maintain the authentic flavors of our culture while providing meals with less salt, sugar, and harmful fats.
Click here for the Spanish version of this blog. 
The recipes I'm featuring below use an umami seasoning such as MSG (monosodium glutamate), which is an ideal seasoning to intensify the flavors of our Latin food. Many Latinos grew up with this beloved seasoning in our kitchens. MSG (aka "umami seasoning") has revolutionized our foods for decades. Unfortunately, many people are confused with this seasoning. MSG enhances the natural savory taste in foods. MSG is simply a combination of the amino acid glutamate with a small amount of sodium, making it a very flavorful seasoning to reduce sodium. In fact, MSG has two-thirds less sodium than table salt. Glutamate, which is part of umami seasoning, is found naturally in common foods such as various types of meat, fish, cheese and vegetables.
Here I present practical suggestions to improve some of my favorite Latin fiesta dishes.
Modifications to Get More Umami Flavor

For this recipe:

Try this recipe:

Rice with Pigeon Peas

Ingredients:

1 tablespoon vegetable oil
½ – 1 cup sofrito sauce (prepared or homemade*)
1 (8-ounce) can tomato sauce
¼ cup tomato paste
1 (15-ounce) can green pigeon peas (gandules), rinsed and drained
4 cups reduced sodium chicken or vegetable broth
2 teaspoons adobo all-purpose seasoning with umami seasoning**
1 ½ cups short grain brown rice, uncooked
Cilantro sprigs to garnish (optional)

Preparation:

In a large pot, heat oil over medium heat. Add sofrito sauce*, tomato sauce, tomato paste, pigeon peas. Cook, uncovered, about 5 minutes, until rice is tender but firm.
Add broth, adobo umami seasoning** and rice. Cover and bring to a boil, then reduce heat to low. Cook for about 25 minutes, until most of the water is absorbed and the rice is tender.
Remove rice from heat, covered, and let stand for 5-10 minutes. Garnish with cilantro sprigs, if desired.

Serves: 8 portions (1 cup each)    

*You can buy prepared sofrito sauce in a jar, or make your own by blending 3 garlic cloves, ¼ large white onion, 1 large green bell pepper, 1 small yellow or red bell pepper, ½ cup fresh cilantro, and 1 tablespoon vegetable oil.

** Adobo Umami Seasoning

3 tablespoons garlic powder
2 teaspoons black pepper
½ teaspoon umami seasoning (MSG)
1 teaspoon dried oregano
½ teaspoon ground turmeric

Chips and Dips

Substitutions for chips: Raw sliced vegetables like jicama, celery, carrots, cucumber, peppers, or zucchini. Can also try roasted peppers, zucchini, or eggplant and sprinkle with umami seasoning.
Bean Dip: Mix 1 cup salsa with 1-1/2 cups canned black beans (drained and rinsed) and 1 teaspoon umami seasoning (MSG). Mash beans with salsa and seasonings. You may add 1 tablespoon of plain Greek yogurt to make it creamy.

Dressing
Use a drizzle of olive oil and squeeze fresh lemon or lime juice on salad and add umami seasoning and pepper.
Prickly Nopales Salad

Ingredients:

1 cup fresh or frozen nopales, sliced
1 small red onion, thinly sliced (about 1 cup)
3 tablespoons apple cider vinegar
¼ cup cilantro, finely chopped
½ teaspoon fresh oregano, minced
1 teaspoon umami seasoning (MSG)
½ cup Chihuahua cheese, shredded
1 teaspoon extra virgin olive oil
4 medium tomatoes, diced
3 small radishes thinly sliced, optional

Preparation (10 minutes):

In a microwave safe dish, place nopales and cook on high for 2 to 3 minutes or until soft and tender.
In a large bowl, combine cooked nopales, onion, vinegar, cilantro, oregano and umami seasoning. Set aside to allow marinating for a few minutes.
Add cheese, olive oil, and tomato to the nopales mixture.
Serve on a medium platter and garnish with radishes, if desired. 

Serves: 5 portions (~ 1 cup for each serving)

Nachos de Camotes con Pico de Gallo

Ingredients:

1 tablespoon olive oil
2 medium-size sweet potatoes or russet potatoes, unpeeled and thinly sliced
½ teaspoon umami seasoning (MSG)
¼ teaspoon ground cumin

Pico de gallo salsa

1 cup tomatoes, diced
2 tablespoons fresh cilantro, chopped
½ cup red onion, diced
1 tablespoon jalapeño, chopped
1 teaspoon fresh lime juice

Toppings

1/3 cup cheddar cheese, shredded
1/3 cup Chihuahua cheese or Monterey Jack cheese, shredded
¼ cup light sour cream or Mexican cream
1 ripe avocado, pitted, peeled, and diced

Preparation:

Preheat oven to 400° F. Brush medium sheet pan with oil.
Drizzle sliced sweet potatoes with the oil and sprinkle salt, toss to coat. Spread the sweet potatoes in a single layer on a sheet pan and bake until they are crisp and lightly browned on the bottom, about 25 minutes. Flip sweet potatoes and cook for another 8 to 10 minutes.
While sweet potatoes cook, combine salsa ingredients and set aside.
Top cooked sweet potatoes with cheeses and return the sheet pan to the oven, and bake until the cheese is melted, about 5 minutes.
Transfer to a large serving platter and serve topped with the salsa, sour cream and avocado.

Serves: 4 portions

Spanish Mediterranean Fish

 

Ingredients:

2 teaspoons olive oil
½ medium white onion, thinly slice
4 to 6 tomatoes, chopped
½ jalapeño chili (chili pepper), seeded, chopped
¼ cup canned diced pimentos
¼ cup green olives
¼ cup capers
2 fresh thyme sprigs or ¼ teaspoon thyme
2 fresh marjoram sprigs or ¼ teaspoon dried marjoram
1 laurel leaf
4 red snapper fillets or white fish
½ teaspoon umami seasoning (MSG)
Pepper to taste

Preparation:

In a large skillet, heat the oil at medium heat and cook the onions until tender. Stir in the tomatoes, chili, pimentos, olives, capers and herbs.
Seasoned fish fillets with umami seasoning and pepper. Place over the tomato sauce. Cover and cook for about 15 minutes or until fish is fully cooked.

Serves: 4 portions
Enjoy, and get those dancing shoes on! Happy fiestas!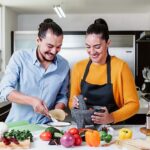 Related Reading:
How to Use Umami to Reduce Sodium in Latin Cooking