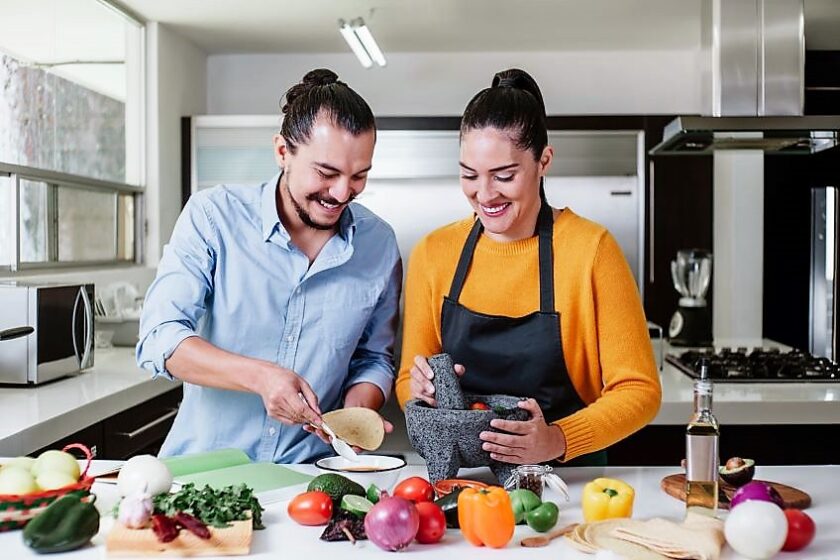 Culinary flavors reign in my Latino culture! For Latinos, flavor is an obsession.
The flavors of our favorite foods are always on our minds and conversations. Our encounters and even many of our dreams and desires are based on our culinary adventures.
Unfortunately, for us and anyone who enjoys Latino foods, salt is often used in excessive amounts. We tend to use it without measuring how much we are adding and this can contribute to high blood pressure, which is a risk factor for heart disease, stroke and kidney failure.
The American Heart Association recommends consuming no more than 2,300 milligrams (mg) of sodium per day, which is about 1 teaspoon per day. But if you have high blood pressure or are at risk for heart disease, you should limit your sodium intake to 1,500 mg a day. According to the American Heart Association as 1 in 6 adults should limit sodium to 1,500 mg per day.
Click here for the Spanish version of this blog. 
High levels of sodium are typically found in:
Soy sauce
Cheese
Condiments
Pickled food products
Teriyaki sauce or other packaged marinade sauces
Packaged cream sauces
Meat broth
If sodium is so popular in Latino cooking, how can we reduce it without affecting the great flavor of our dishes?
Here are 8 tips to maintain a robust Latin flavor with a little sodium in our favorite foods:
Prepare foods with very little added salt or no salt.
Use an umami seasoning such as MSG (monosodium glutamate), which is an ideal seasoning to intensify the flavors of our Latin food. Many Latinos grew up with this beloved seasoning in our kitchens. MSG (aka "umami seasoning") has revolutionized our foods for decades. Unfortunately, many people are confused with this seasoning. MSG enhances the natural savory taste in foods. Today, the formula and purpose remain the same = MSG is simply a combination of the amino acid glutamate with a small amount of sodium, making it a very flavorful seasoning to reduce sodium. In fact, MSG has two-thirds less sodium than table salt. It is also necessary to mention that glutamate, which is part of the umami seasoning, is found naturally in common foods such as various types of meat, fish, cheese and vegetables.
Increase ingredients that can enhance the flavor without salt. For example, use more onion, garlic, ginger, chilies, etc.
Use larger amounts of fresh or dried herbs to add flavor to your recipes and thus use little or no salt. Cilantro is one of the most favorite herbs in Latino cooking.
Use lemon juice or other citrus fruit juice. Also, the zest of citrus fruits provides a very refreshing and more intense flavor.
Chiles give a very outstanding flavor to foods. Learn how to use different chiles to bring out the flavors. For example, the chipotle chili is a chili that provides a delicious smoky flavor.
Experiment using low-salt products such as reduced sodium canned vegetables or canned beans. Did you know that just by draining and then rinsing canned beans and canned vegetables you can reduce the sodium by up to 40%?!
Always read the Nutrition Facts label and compare the sodium content with similar products. Choose products that are lower in sodium.
 Action steps you can start doing today to maintain your heart health:
Eat more fruits and vegetables
Cook with fresh herbs or dried spices
Add an umami seasoning to enhance the natural flavor of foods while reducing sodium intake
Use vinegars, lemon juice, or other citrus fruits like oranges and grapefruit
When eating salads at home, make your own dressing. The combination of oil and vinegar is excellent
When visiting restaurants ask for the dressing on the side and opt for steamed, baked or grilled dishes
Rinse canned foods like beans, vegetables, or canned meats to remove salted water
When shopping, select low-sodium or sodium-free products
Take the salt shaker off the table and remember that the American Heart Association recommends limiting daily sodium intake to 2,300 mg = 1 teaspoon of salt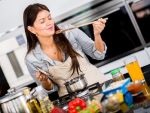 Related Reading:
Secrets of Tasty Latin American Cuisine with an Umami Boost (includes some of my favorite recipes with no added salt!).