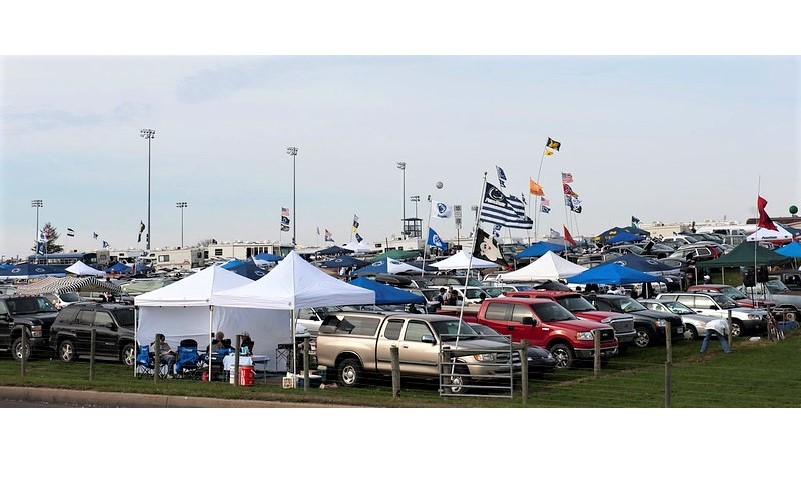 These meatballs are the best of many worlds. They are perfect for tailgating and potlucks, especially when they're deliciously part of "Blue and White" games. Let me explain…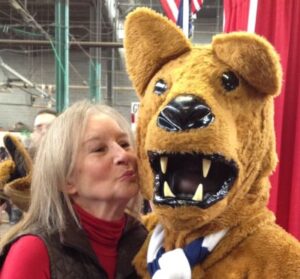 I am a member of a big college family of Penn State Nittany Lion alumni including my husband, his brother and wife, my father-in-law, and my daughter. Penn State University has always been part of our lives; we have been raised to "bleed blue and white." And at many family get-togethers, aunts, uncles, and cousins who did not attend Penn State have joined in as die-hard Penn State enthusiasts. Some of you may be the same way about your alma mater or favorite professional team.
Outside of academics, Penn State is well known for its football team and football culture. At Penn State's Beaver Stadium we are all family, and I love feeding family delicious foods. The area surrounding the stadium fills up with tens (if not hundreds) of thousands of fans on game day. Thankfully I don't have to cook for all of them!
Nowadays, football games and tailgating go hand in hand (see our recent blog, "Time for Tailgate Parties"). Few can deny that Penn State has one of the greatest tailgating traditions of any college team in the country. Every fall a sea of blue and white floods the area surrounding Beaver Stadium, with grills, tents and flags scattered across the landscape.
Tailgating Means Meatballs!
Starting in September, I happily dust off the coolers and slow-cookers and get ready for my specialty: Blue and White Meatballs (blue and white in spirit, not in color of course!). Years ago I adapted a meatball recipe from Sue Paterno, wife of the legendary Penn State football coach Joe. At every tailgate – and other family get-togethers throughout the year – my meatballs are requested (demanded!). I usually make at least 100 and at the end of these gatherings always come home with empty crockpots!
These meatballs can be prepared ahead and pulled out of the freezer to reheat at any time. They are also delicious as part of a full meal. And meal-prep friendly to boot – i.e., very little time to prepare and very little clean up.
Touchdown!: MSG
As a dietitian, the same goes for cooking with MSG (umami seasoning). It offers an easy boost of savory, umami flavor in so many recipes. At the same time, MSG provides a major health benefit containing 2/3 less sodium than table salt. As a plus, in this meatball recipe, Worcestershire and tomato sauce contribute additional umami flavor.
While you may not be part of the family who bleeds blue and white and who calls out to each other with a "WE ARE!" (to which the rest of the family responds "PENN STATE!"), you can be part of the MSG family of fans who enjoy nutritious, flavorful foods. Starting with Blue and white meatballs! (and yes, you can call them whatever colors you want!).
Let's get started: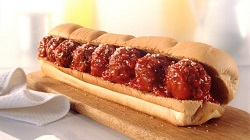 Blue and White Meatballs
Makes about 45-50 golfball-size meatballs.
Ingredients
3 1/2

lbs.

lean ground beef

2

teaspoons

Worcestershire sauce

1

large onion

minced

½

teaspoon

thyme

½

teaspoon

marjoram

½

teaspoon

salt

1

teaspoon

fresh ground pepper

1

teaspoon

MSG

(umami seasoning)

1

teaspoon

dried oregano

1 ½

teaspoons

garlic powder

3

eggs

½

cup

bread crumbs

sub rolls

provolone cheese
Instructions
Mix all ingredients in a bowl.

Roll into balls. I use an ice cream scoop to get my preferred size.

Brown in a nonstick skillet.

Place in a slow-cooker and cover with spaghetti sauce. Simmer/heat on low and serve with Italian sub rolls and provolone cheese.

Meatballs can also be frozen. Reheat in a 350-degree oven with fresh sauce over them and then place in crockpot. Or slowly defrost over several hours in crockpot over lowest heat, covered with tomato sauce.