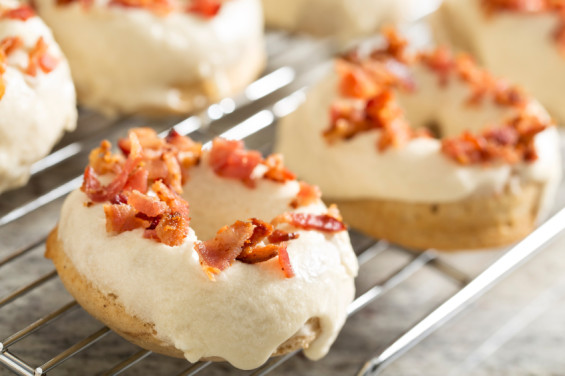 When Pablo Picasso said "Everything you can imagine is real," I'm not sure he was talking about food… especially not referencing the umami-rich maple bacon doughnuts that are finding their way into trendy bake shops, recipe pages in glossy magazines, and online.
When it comes to food, bacon and maple are just the beginning to a world of culinary possibilities. Why not let your imagination blossom? That is what many pastry chefs and bakers around the world are doing as they sing the praises of the savory goodness of umami.
"… lately chefs can't seem to get enough of it," according to SmartBrief "Umami takes over: Innovative chefs are embracing the 'fifth taste.' " The author of the article explains, "The Japanese word roughly translates to a 'pleasant savory taste.' It's a filling, savory, 'meaty' sensation one tastes in foods rich in glutamate."
As recently as 10 years ago, would pastry chefs and bakers have thought about incorporating savory umami ingredients into desserts and other sweets? I am not so sure, but it is a "burgeoning pastry trend with bacon-tinged desserts representing one of the most successful sweet-savory pairings…"
"The first approach in exploring umami's potential role in the pastry kitchen involves using umami-rich ingredients to make umami desserts. Even the most talented pastry chef is not going to make dessert with braised meats and anchovies, but other umami-rich ingredients—cheese, tomatoes, truffles, bacon, and green tea—are more versatile and can be employed with great panache."
The author continues: "While two of our most popular desserts—tiramisu and cheesecake—are based on fresh cheeses, but aged cheeses like Pecorino and Parmesan, one of the richest sources of umami, can fare equally well in the pastry kitchen where they create an even contrast of sweet and savory pleasure. Maple-walnut tart in parmesan crust with olive oil gelato and roasted grapes: The umami contributed by the Parmesan cheese tones down what could be a cloyingly sweet dessert and amplifies the meaty nuttiness of the walnuts while downplaying its bitter tinge. The fruity acidity of the olive oil and grapes adds harmony to the sweet and savory elements of this dessert."
My reaction: Yummy!
There is a catch, however. Using savory ingredients requires some experimentation so that the umami flavorful foods can combine to create a rich and satisfying dessert experience.
But aside from doughnuts and fancy pastries, can you also envision making "miso butterscotch ice cream?" Never heard of miso? Miso is one food ingredient that has umami in "spades" and is now playing a starring role in some delectable desserts. But what is miso anyway? According to RealSimple.com, it is a "rich, pungent paste made from steamed soybeans that have been fermented with rice, barley, or rye."
Are you up for taking the umami/sweets challenge? Here is a recipe for Butterscotch Miso Ice Cream. Another easy-to-love favorite would be these Maple-Bacon Cupcakes.
As a result of making either of these for your family, you will probably receive rave reviews. When you think about it, how different is the maple-bacon flavor combo from what oodles of people have been doing… eating a waffle embedded/topped with bacon, laced with melting butter and real maple syrup, at your local pancake/waffle restaurant? They were experiencing umami in its sweetest form, but likely did not know it!