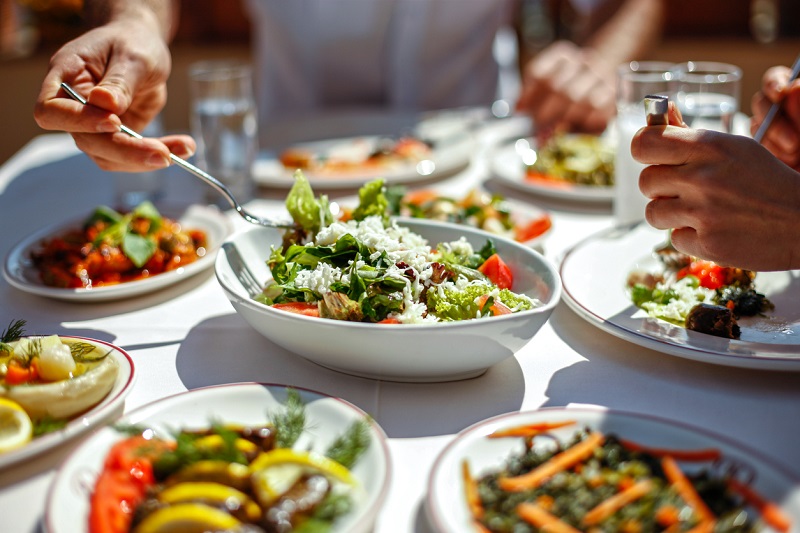 How to create flavorful meals with plant-based umami and leveraging the sweet, aromatic, meaty and vegetal flavor characteristics of various vegetables.
When I first started teaching culinary classes at a college, I decided to focus primarily on vegetarian dishes and expected students to be excited about this. Well, I quickly learned I was wrong. However, once they experienced first-hand making delicious, vegetarian meals they embraced them enthusiastically. Plant-centric menus and recipes are now more common, yet only 1 in 10 American adults eat the recommended 2½ cups of vegetables a day.1 2
Why is eating this minimal amount of vegetables a challenge? Common reasons include cost, food prep time and limited preferences for eating a variety of vegetables. Some of these concerns diminish with new cooking skills and purchasing tips, but the key is to create flavorful meals. Surveys of food choices show consumers rank the flavor of foods higher than price, convenience and even healthfulness which means there are opportunities to help people eat more vegetables by making them crave-worthy.3
Crave-worthy Meals and Plant-based Umami
The brain perceives flavors as a combination of textures, aromatic compounds and the five taste qualities – sour, sweet, bitter, salty and umami. We perceive umami primarily from glutamate (a non-essential amino acid) found in a variety of plants, meats, fish and poultry, either bound to other proteins or available as free glutamate. When this savory protein is in its free form, our taste receptors perceive it as umami. Glutamate increases food palatability, makes food more delicious and can also increase salt perception with less sodium.4
Knowing how to select savory and flavorful complementary ingredients is a technique that can turn a "let's try this" into a "when do we make this again" dish. When I develop or modify recipes or create meals on-the-spot, I want to maximize flavor, which is especially important for simple meals with few ingredients. Umami is one easy place to start since it's a taste quality that adults and children enjoy.
Umami Flavor Profiles in Vegetables
This flavor profile chart that I've created shows vegetables with varying levels of free glutamate but also sweet, aromatic, meaty and vegetal flavor characteristics that you can leverage in a dish. For example, around the world, aromatic vegetables form the base of most cooking. Their savory characteristics, which can also include sulphur-meaty flavors found in alliums like onions, are the foundation to making delicious food.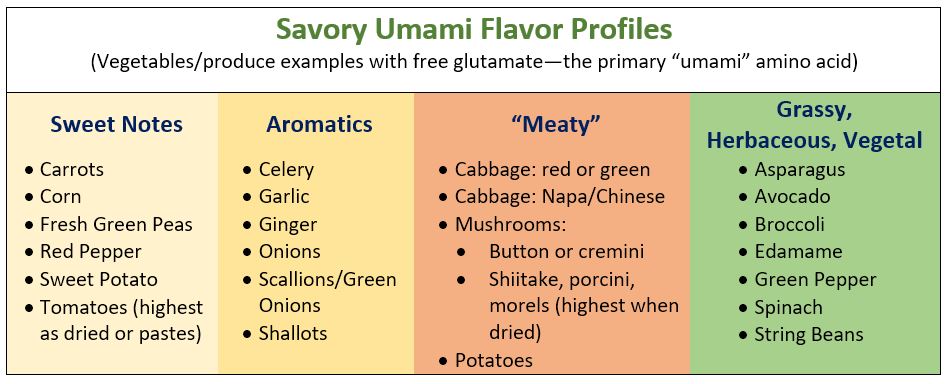 Many of these savory produce options appear in surveys of popular meals or ingredients. The Produce Marketing Association ranked 15 of these out of the 20 most popular vegetables in their 2018 consumer trends survey and Ranker.com lists 16 of these in their top 26 consumer poll of popular produce.5 6
Pairing Up Savory Umami Vegetables
Here's an example of ways to mix and match savory vegetables and highlight other taste and flavor characteristics. For example, I make a mushroom walnut ragout (walnuts are high in free glutamate) that begins with classic aromatics of garlic and onions which then evolve with tomato paste, spices, caramelized mushrooms, toasted walnuts and tamari. These ingredients create a meaty textured and flavored dish popular among meat-centric eaters.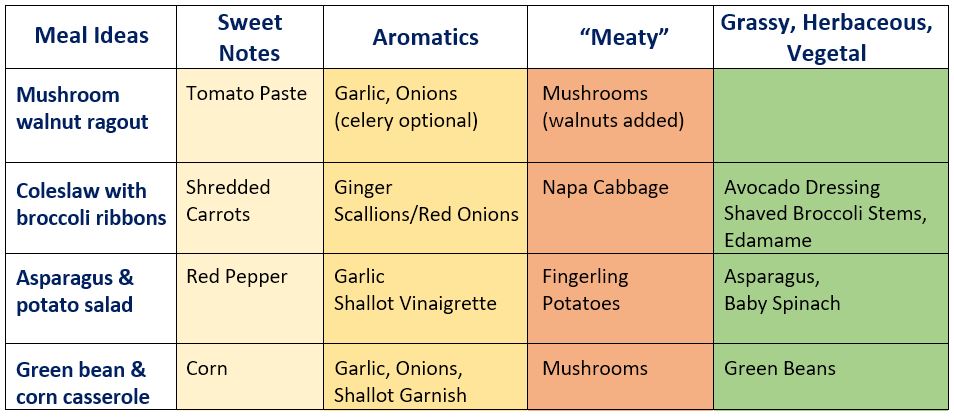 The other three meal ideas listed are ones that I imagine will work well, and I simply created them by combining complementary ingredients from the flavor profile chart.
Next time you follow a recipe, modify one or create a dish from scratch, consider how to include vegetables that expand your creativity in simple ways for cooking with flexibility and enjoying delicious, plant-centric meals.
References:
https://www.cdc.gov/mmwr/preview/mmwrhtml/mm6426a1.htm Adults Meeting Fruit and Vegetable Intake Recommendations — United States, 2013 Weekly July 10, 2015 / 64(26);709-713
IFICF: The International Food Information Council Foundation. 2018 Food and Health Survey: Consumer Attitudes Toward Food Safety, Nutrition and Health. https://foodinsight.org/wp-content/uploads/2018/05/2018-FHS-Report-FINAL.pdf
Marcus, J. Unleashing the Power of Umami: Inventive chefs and product developers are devising new applications for this time-tested food formulation tool, which amplifies flavor, aids in sodium reduction, promotes satiety, and more. Food Technology. 2009;63(11) http://www.ift.org/knowledge-center/learn-about-food-science/food-facts/unleashing-the-power-of-umami.aspx
Top 20 Fruits and Vegetables Sold in the U.S. The Produce Marketing Association website. https://www.pma.com/content/articles/2017/05/top-20-fruits-and-vegetables-sold-in-the-us Accessed June 25, 2019.
The Tastiest Vegetables Everyone Loves Eating. Ranker website. https://www.ranker.com/crowdranked-list/the-most-delicious-vegetables-v1 Accessed June 27, 2019.