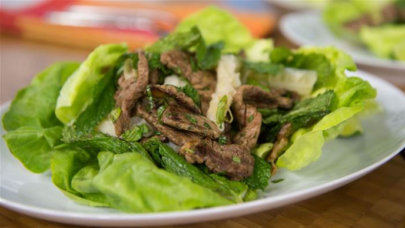 Early in the week, Kylie Lawson, military spouse and mother of two, unwittingly changed our plans for the weekend. In what ended up being a battle between savory foods, her Thai beef salad was pitted against an avocado, corn and bacon salad for The Today Show's salad edition of their Ultimate Cook-Off series.
"This authentic Thai recipe will overwhelm your every sense," Lawson told the show's producers. "All the ingredients create a burst of flavor that is unique and wonderful. Your taste buds will be forever grateful for introducing them to this fantastic dish."
That definitely sounds like an umami-full dish — and no wonder — two of the ingredients are fish sauce and MSG (umami seasoning). Those two are flavor powerhouses of savory dishes. Judges, Tony Goldwyn of NBC's Scandal and Jane Krakowski of Netflix's Unbreakable Kimmy Schmidt clearly agreed, as they deemed her the winner.
Lawson walked away with a Williams-Sonoma ten-piece cookware set… and our hearts. See below for the full recipe.
To see Kylie Lawson make her Thai beef salad, visit The Today Show's website.
Photo credit: Nathan Congleton/ TODAY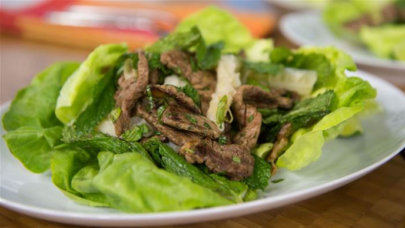 Thai Beef Salad (Larb Seen)
Ingredients
½

stalk

lemongrass

cut into 2 pieces

salt to taste

½

pound

honeycomb tripe

½

pound

chuck steak

thinly sliced

1

lime

juiced

1

tablespoon

ground toasted rice

¼

teaspoon

ground chili peppers

optional

1

Thai chili pepper

thinly sliced, optional

¼

teaspoon

MSG

2

teaspoons

fish sauce

½

cup

chopped cilantro leaves

¼

cup

chopped green onions

½

cup

mint leaves

thinly sliced

lettuce

for serving
Instructions
Bring a large pot of water to a boil.

Add the lemongrass to the water and season with salt. Add the tripe and boil for about 1 hour or until tripe is tender. Remove from water and set aside.

Heat a sauté pan over medium-high heat. Cook the steak in pan until slightly pink, then remove to a bowl.

Thinly slice the cooked tripe into 2-inch strips and place in a bowl with the steak. Season the meat mixture with lime, toasted rice, ground chili pepper, sliced chili, MSG and fish sauce and stir to combine. Taste and season with more lime juice or fish sauce as needed. Add the cilantro and green onions and mix well.

Plate over bed of lettuce leaves, sprinkle with the mint and serve.