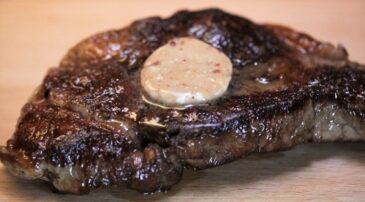 Beginning today, MSGdish is officially extending steak grilling season into October! You'll need the extra time to enjoy this steak with anchovy butter recipe over and over and over… All jokes aside, we know how difficult it is to get the right complementary sauce or dressing for steak. There are plenty of ways to do it right, but even more ways to stifle the natural juices of the meat.
But Chef Chris Koetke is on it! He has shared a family favorite with us that will get you a juicy, deeply flavorful steak every time!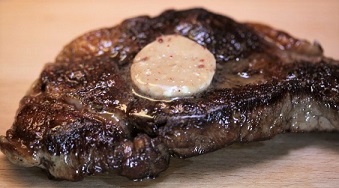 Steak with Anchovy Butter
Chef Chris Koetke has shared this family favorite recipe to help you cook a juicy, deeply flavorful steak every time!
Ingredients
8

Tbsp.

softened unsalted butter

2

oz.

can anchovies

drained and finely minced

6-8

dry-aged steak

rib, T-bone, porterhouse, strip, etc.

salt

black pepper

coarsely ground

olive oil
Instructions
Mix butter and anchovies together to make a smooth paste.

Roll the butter in a sheet of parchment to make a 1 ½-inch diameter log.

Refrigerate until needed.

Season the steak with salt and pepper.

In a hot sauté pan over high heat, add oil and then the steak. Sauté the steak on both sides until desired doneness. (The steak can also be grilled.)

Remove the steak and let it rest for a few minutes.

Slice 1-2 ¼-inch pieces of anchovy butter. Remove the parchment on the outside and place the slice(s) on top of the hot steak so that it melts on the hot surface.

Serve.