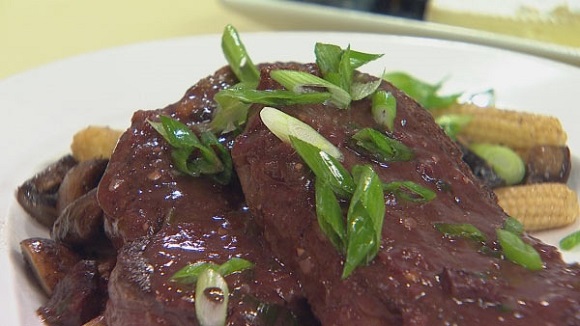 This recipe was a big hit at the 2015 Food & Culinary Professionals (FCP) workshop in Napa Valley, California, where our culinary expert "Chef Chris" (Chris Koetke) presented on all things umami.
FCP is a dietetic practice group of the Academy of Nutrition and Dietetics whose members are committed to developing food expertise throughout the profession of dietetics.

Recipe for Chef Chris' Sauteed Beef with Red Miso Sauce
Servings: 3
Ingredients:
3 6 oz. steaks
1/8 teaspoon salt
¼ teaspoon ground black pepper
1 Tablespoon vegetable oil
2 Tablespoons minced shallot (onions can be used if shallots are unavailable)
¾ cup red wine
¾ cup water
1 Tablespoon red miso
¼ teaspoon ground black pepper
2 teaspoons cornstarch dissolved in 2 Tablespoons cold water
½ Tablespoon butter
1 Tablespoon minced green onion
Directions:
Season steaks with salt and black pepper.
In a large sauté pan, sauté steaks in vegetable oil over high heat until desired doneness. Ideally, there should be plenty of browned bits stuck to the bottom of the sauté pan which will be needed for the sauce. Remove steaks from pan and keep warm.
Add shallots to the pan and sauté for several minutes until tender.
Add red wine, bring to a boil, and reduce by three-fourths the original volume.
Add water, bring to a boil, and reduce slightly. Whisk in miso and black pepper.
Pour dissolved cornstarch mixture into the sauce, stirring constantly. Add only what is need to thicken the sauce. Note: the sauce must fully boil for the cornstarch to thicken properly.
Stir in butter and green onion and serve with steak.
Nutritional Analysis: Cals: 607, T.Fat: 46 gm, S.Fat: 18 gm, Chol: 126mg, Sodium: 441mg, Carb: 6gm, Fiber: 1gm, Pro: 31gm