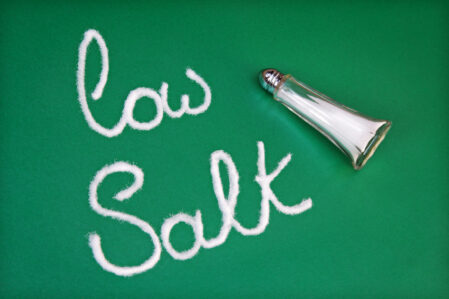 When it comes to music, I'm an "oldies" kind of gal. And when Motown comes on, I crank up the volume!
Growing up in Philadelphia, one local Motown group, the Stylistics, turned out hit after hit with great lyrics. One of my favorites Stylistics songs was Break Up To Make Up. It goes like this:
Tell me what's wrong with you now, tell me why I
Never seem to make you happy though heaven knows I try
What does it take to please you? Tell me just how
I can satisfy you woman, you're driving me wild
As a registered dietitian, I look at almost everything from a nutrition viewpoint. So I see the first verse of Break Up to Make Up from another perspective. Sodium! The Centers for Disease Control and Prevention (CDC) recommends consuming no more than 2,300 milligrams (mg) of sodium per day. And the American Heart Association (AHA) recommends an ideal limit of no more than 1,500 mg per day for the average adult. But the average American consumes more than 3400 mg daily. Eating too much salt (sodium) can raise blood pressure, a leading risk factor for heart disease and stroke.
It's time to break up with salt. OK – not a complete separation. But it is time to make up with ways to reduce the amount of sodium in what we eat and try cooking techniques and flavorful ingredients to enhance flavors of food with using less or no salt.
So from the Stylistics – "What does it take to please you? Tell me just how" – here are some easy ways to reduce sodium in your diet:
Pick fresh and frozen poultry that hasn't been injected with a sodium solution. Check the fine print on the packaging for terms like "broth," "saline" or "sodium solution."
Opt for canned vegetables labeled "no salt added" and frozen vegetables without salty sauces.
When cooking, use onions, garlic, herbs, spices, citrus juices and vinegars in place of some or all of the salt to add flavor.
Break the habit of adding salt to the cooking water of pasta and rice.
Compare nutrition labels of various brands of the same food item until you find the one that has the lowest sodium content, since this will vary from brand to brand.
Make smart swaps. For example, a McDonald's Egg McMuffin packs over 800 mg sodium yet 2 scrambled eggs have less than 200 mg. Some brands of salad dressing cram up to 700 mg per serving; switch to oil and vinegar with less than 5 mg sodium.
At restaurants, specify that you don't want extra salt added as your meal is prepared.
When eating out, order carefully. Avoid salty toppings such as barbecue or soy sauce. Go for dishes that are grilled, roasted, steamed, or baked.
Don't set out the salt shaker at dinner.
Add MSG to pump up food's taste. As a flavor enhancer, MSG can boost the savory taste of foods without adding excessive amounts of sodium because it contains two-thirds less sodium than salt.
Let me know if these tips work and your food is now singing "I can satisfy you (woman), you're driving me wild."
* * * *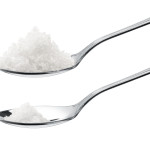 Related blog: How to Lower Your Sodium Intake with MSG, by Theresa Hedrick, MS, RD
Replacing the salt with MSG can lower the amount of sodium in a food without affecting the flavor. In fact, swapping salt for MSG can lower the sodium content of the food by up to 40% with no impact on how good it tastes. But how can something that contains sodium, monosodium glutamate (MSG), actually be beneficial in a low sodium diet? It's because MSG contains about 12% sodium while table salt contains 39% sodium.