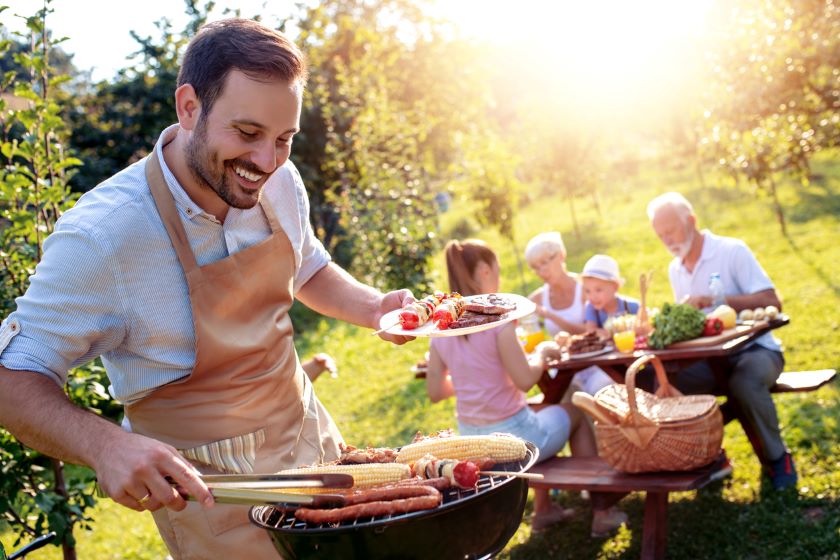 As we all start to enjoy the warm weather this time of year, besides the wonderful aromas of summer in the air what "summer smell" can you think of that's not natural but man-made – and it makes you hungry?! Hint: Think smoky and savory.
The smell of the backyard barbecue of course!
No matter what's cookin' on the grill it always seems like a special treat in a way. There's no other style of food quite like barbecue. When a food gets grilled and smoked, something magical happens, and the resulting product has inspired widespread passionate devotion. And whether you're a BBQ connoisseur or just an occasional rib-eater, there are some things you probably don't know about this wonderful style of cooking.
Fun Facts about Barbecue Popularity
Barbecue has been a staple of American culture since colonial times.
George Washington wrote of attending a "barbicue" in 1769 (note: good ole George was notoriously bad at spelling).
Lyndon B. Johnson, the 36th president of the United States, hosted the first barbecue at the White House, and it featured Texas-style barbecued ribs. More on that topic in a moment…
The most popular foods for cooking on the grill are, in order: burgers (84%), steak (83%), hot dogs (82%), followed by chicken and ribs.
The side dishes most commonly prepared on the grill are: corn (41%), potatoes (41%), and other vegetables (32%).
The most popular flavors of barbecue sauce are hickory, followed by mesquite, honey, and then spicy-hot.
70% of American households own a grill or smoker.
63% of the adult US population fires up the grill at least once per month, and 48% do so year-round.
The most popular grilling day of the year continues to be the Fourth of July, when 54% grill out.
Preferred fuel for the grill: 61% use gas (propane), 41% use charcoal, 10% use electric grills.
Source for many of these fun facts about barbecue popularity: Hearth, Patio and Barbecue Association, based on online consumer surveys.
Now, exactly why do so many of us like to cook out? For most of us who enjoy grilling and barbecuing, it's about the flavor. Other common reasons are for the lifestyle, for entertaining family and friends, and for convenience.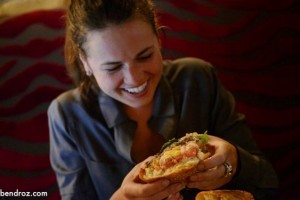 So let's delve into the most popular BBQ food that just begs to get grilled… the all American burger. A fantastic website for BBQ enthusiasts is AmazingRibs.com. And no surprise, the website is full of great tips for people who love to cook burgers on the grill.
On the "Hamburger Secrets" page guru "Meathead" Goldwyn advises, "Freshly ground meat produces the best beef flavor. Never buy anything labeled 'hamburger' or 'ground beef'." He adds a reminder not to mash the patty when it's cooking on a grill (keep that spatula for flipping!).
And he has some words of wisdom about MSG (aka glutamate seasoning, or umami seasoning) as a flavor enhancer. Mr. Goldwyn instructs:
"MSG (a.k.a. monosodium glutamate) is a first rate flavor enhancer that amplifies the natural flavors found in food. As a food additive, MSG is harmless in normal use. It is an effective flavor enhancer because glutamates are responsible for a basic taste sensation called umami, and we recommend it. I keep a jar next to the salt near the stove."
"Keep the mix-ins simple and few. Let the beef shine. Do consider adding 1/2 teaspoon Ac'cent (MSG) per pound of meat. It amplifies flavor. Don't believe all the scary stuff you read about MSG. It has never been proven in lab conditions to cause any headaches or illness, and nobody in China gets sick from MSG. Glutamate is found naturally in many foods."
Thinking about ribs instead of burgers? At the Rendezvous restaurant in Memphis (which Amazing Ribs refers to as "the most popular rib joint in the world"), Rendezvous offers its ribs "dry." That means without sauce, with just spices and herbs instead. The ribs at this Memphis restaurant, which was founded in 1948, are sprinkled liberally with a "secret seasoning" (as distinguished from a "dry rub" because it is not rubbed in).
Amazing Ribs has perfected their own recipe for this "Rendezvous style" rub. To make it easy to digest we've placed it right below.
Recipe for Rendezvous-style Rub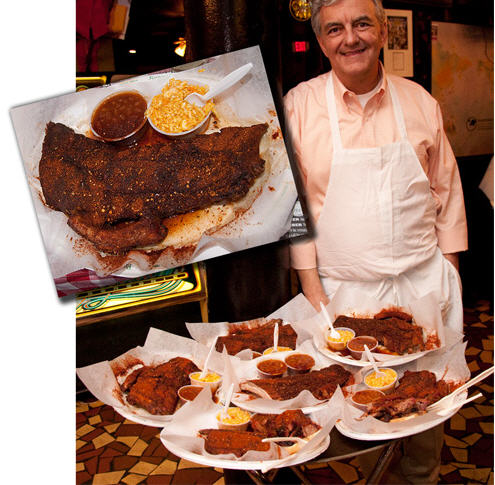 Rendezvous-Style BBQ Rub
Ingredients
8

tablespoons

American paprika

4

tablespoons

powdered garlic

4

tablespoons

mild chili powder

3

tablespoons

ground black pepper

4

teaspoons

whole yellow mustard seed

1

tablespoon

crushed celery seed

1

tablespoon

whole celery seed

1

tablespoon

dried crushed oregano

1

tablespoon

dried crushed thyme

1

tablespoon

whole allspice seeds

1

teaspoon

ground allspice

1

tablespoon

whole coriander seed

1

teaspoon

ground coriander

1

teaspoon

Ac'cent®

aka MSG or "umami seasoning"
Instructions
Mix together all ingredients; use as a dry rub on your choice of meats.

Makes a bit more than two cups, enough for about 12 pounds of ribs. Rub can be stored in an airtight container for months.
"About Ac'cent®. The label of the Rendezvous Famous Seasoning states that there is Monosodium Glutamate (MSG) in the blend. Ac'cent® is made of MSG and you can find it in the spice section of your store. MSG, also known as glutamic acid, is a flavor enhancer as well as a natural byproduct of some aging and fermentation processes. Click here to read more about it."
If you can't fathom ribs without a sauce, "Barbecue Diplomacy at LBJ's Texas White House" is a must read. Not only for some great tips about making awesome BBQ sauce and BBQ "mop" but for a nostalgic trip back to the 60's in the heart of Texas on President Johnson's ranch (and some superb photos!).
Most of the food at LBJ's barbecues was prepared by Walter Jetton. Here's his recipe for Mop Sauce that your next dinner guests who are brisket devotees will absolutely thank you for!
Walter Jetton's "Mop Sauce" for All Barbecue Meats
courtesy of AmazingRibs.com
A mop sauce enhances the meat's flavor while grilling and keeps the meat from forming a "bark" (that hard crunchy shell of spices) too quickly and drying out or burning. It is meant to be used as part of a continuous basting of the meat and also helps slow the cooking time so that you get a long, slow cook. Often a barbecue recipe will include several flavoring components: a rub used before cooking, a mop applied during cooking, and a barbecue sauce added at the end.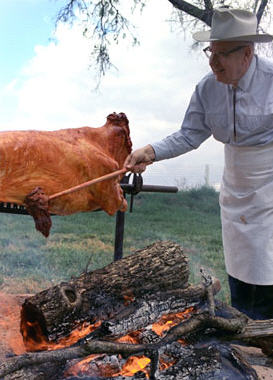 Walter Jetton's "Mop Sauce" (for BBQing meats)
Ingredients
2

teaspoons

salt

2

teaspoons

dry mustard

1

teaspoon

garlic powder

1/2

teaspoon

ground bay leaf

1

teaspoon

chili powder

1

teaspoon

Louisiana Hot Sauce

1/3

cup

Worcestershire sauce

1/6

pint

vinegar

3

cups

beef stock

3

ounces

vegetable oil

1

teaspoon

MSG

More Savory Goodness! -- monosodium glutamate
Instructions
Mix together all the ingredients and let the mixture sit overnight in the refrigerator.

Use liberally on your choice of meats.
Recipe Notes
Recipe courtesy of AmazingRibs.com
Note: A mop sauce enhances meat's flavor while grilling and keeps the meat from forming a "bark" (that hard crunchy shell of spices) too quickly and drying out or burning. It is meant to be used as part of a continuous basting of the meat and also helps slow the cooking time so that you get a long, slow cook.
Hopefully this blog got you craving something savory. Summer is here… time to get smokin'!