Print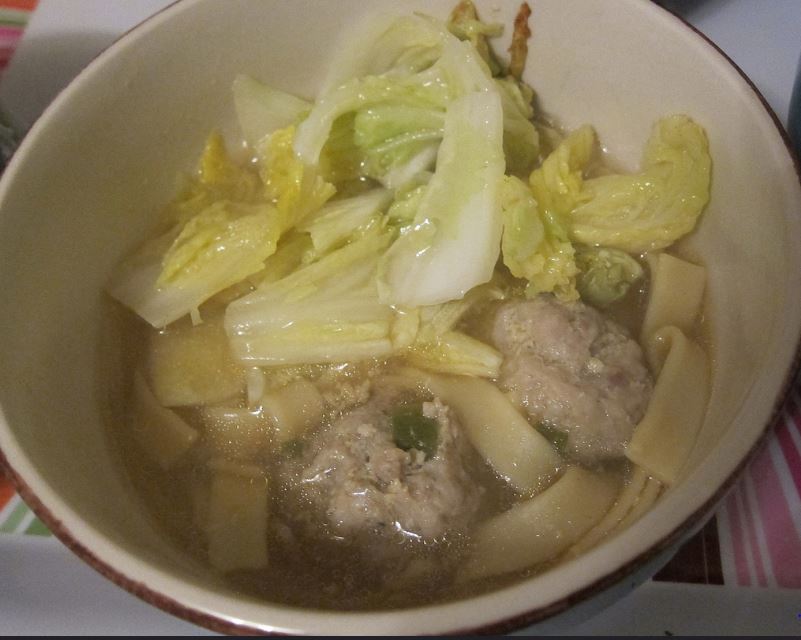 Chinese Lion's Head Soup
This is a family version of lion's head soup and it definitely fits the "comfort food" category, especially when enjoyed on a cold winter evening!
Mix the ground pork, egg, cornstarch, 2 teaspoons of sesame oil, ginger, MSG, salt, and half of the chopped green onions together in a bowl. Use your hands to mix until the ingredients are evenly distributed. Set aside.

Heat the vegetable oil in a wok or large skillet over high heat. When the oil is hot, fry the Napa cabbage, stirring constantly, until cabbage begins to wilt, 2 to 3 minutes. Pour in the chicken broth, water, and soy sauce. Bring to a boil, then lower the heat to medium.

Use a spoon to form the meat mixture into 1 inch balls. Drop them into the boiling soup. When the last ball has been added, cover with a lid and simmer for 10 minutes. Taste, and adjust salt before serving. Garnish with remaining green onions and a drizzle of sesame oil.

Optional: This dish is best served with white sticky rice.
Recipe courtesy of AllRecipes.com