Print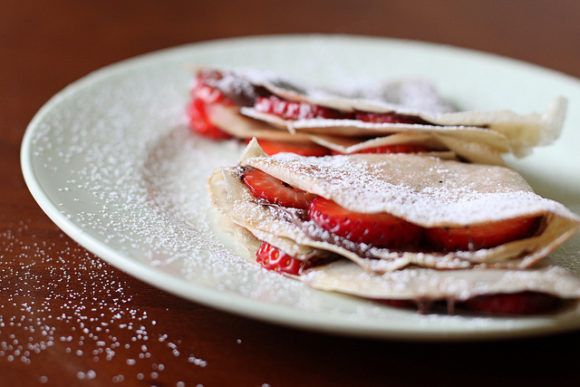 Koetke Family Crêpe Recipe
This recipe is very dear to me as it is my grandfather's and truly the best crêpe batter I have ever had!
Beat eggs until well mixed.

Add flour and mix using a wire whisk until the flour is just incorporated. This is an important step as over-mixing can result in tough crêpes.

Add milk, sugar, and salt. Mix to incorporate.

Add 1/2 stick melted butter--being sure that the butter is liquid, but not hot. Mix and let rest for 1/2 hour before using.

Heat a small sauté pan over moderate heat. Lightly coat with additional butter. Pour a small amount of crêpe batter, swirl the pan to spread the batter evenly over the bottom of the pan. Pour out any excess batter. Return the pan to the heat. When browned, turn over and finish cooking.

When cooked, remove crêpe from pan. Ideally, they are eaten hot from the pan with whatever toppings you desire (I love some simple real maple syrup.). If you are using the crepes for another preparation later, do not stack hot crêpes, but rather spread them out on a counter while they cool. Once cool, the crêpes can be stacked, wrapped in plastic wrap and held for 4-5 hours at room temperature.