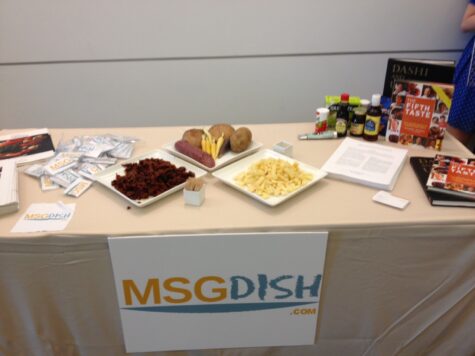 I just participated in a terrific meeting last week in Miami, the CAFÉ 2013 Leadership Conference. It's a very interesting mix of foodservice and school educators, trainers, and culinary professionals from around the U.S. and Canada. They get together each year for a program to share educational and industry trends. I was there because The Glutamate Association (I manage this group) hosted a session about the science behind the safety of sodium glutamate (also known as MSG) and how to achieve the umami flavor sensation. There were about 120 or so attendees.
Before my talk, we had a small tabletop exhibit where we offered a tasting of a fabulous aged cheddar cheese and rich sun dried tomatoes so people could experience umami firsthand.
Others said, "OK – I always thought I should stay away from this. Convince me." Everyone was open to the discussion, and most of those who started out a bit skeptical left at least looking at this whole topic a little differently.
The talk itself covered the history of umami, taste receptor mechanisms, background on dietary glutamate, the prevalence of that amino acid in our diets, AND MSG safety – all in 20 minutes! Since my background is in human nutrition, NOT culinary arts, I included some video snippets from my friend Chef Chris Koetke throughout for a little "culinary credibility." During the Q&A, I got a request to post my slides on the MSGdish website, so I've included the presentation below:
Clips from Presentation:
Chef Chris Koetke: MSG on Scrambled Eggs
Chef Chris Koetke: Where Umami Is Found